Best Oculus Quest 2 controller alternatives 2023
For when the Oculus Touch controllers aren't the right fit for the game you're playing.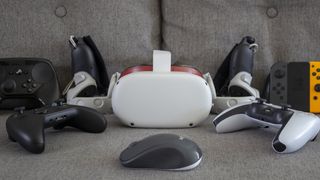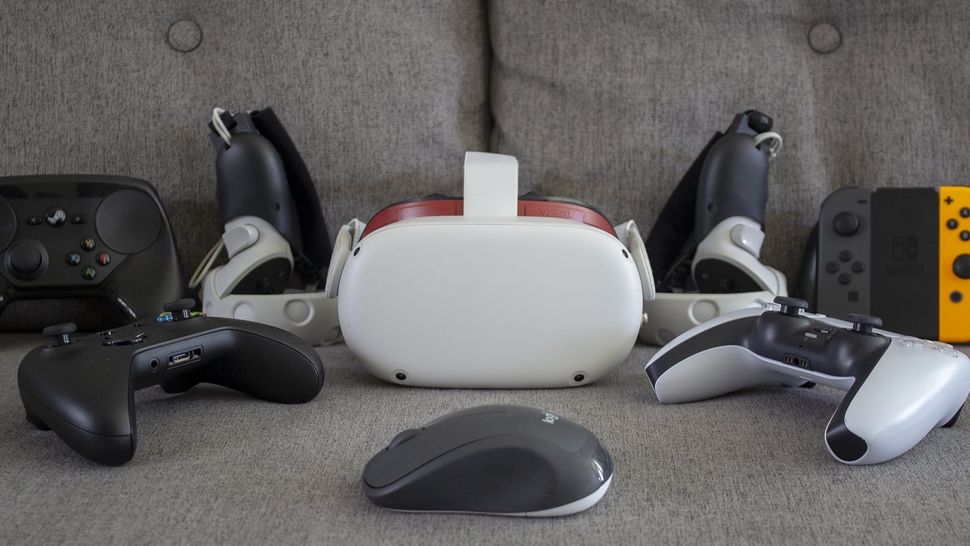 (Image credit: Nick Sutrich / Android Central)
The Oculus Touch controllers shipped with the Oculus Quest 2 are fantastic VR controllers. Although these controllers will have you covered for most games — especially ones that require lots of movement — some games just make more sense with a traditional gamepad or something more specialized like a HOTAS flight stick. Or if you're looking to satisfy a hardcore purist bent, you can even use a mouse and keyboard! No matter what you're looking for, these are the best Oculus Quest 2 controller alternatives for every situation.
These are the best Oculus Quest 2 controllers
Why you can trust Android Central Our expert reviewers spend hours testing and comparing products and services so you can choose the best for you. Find out more about how we test.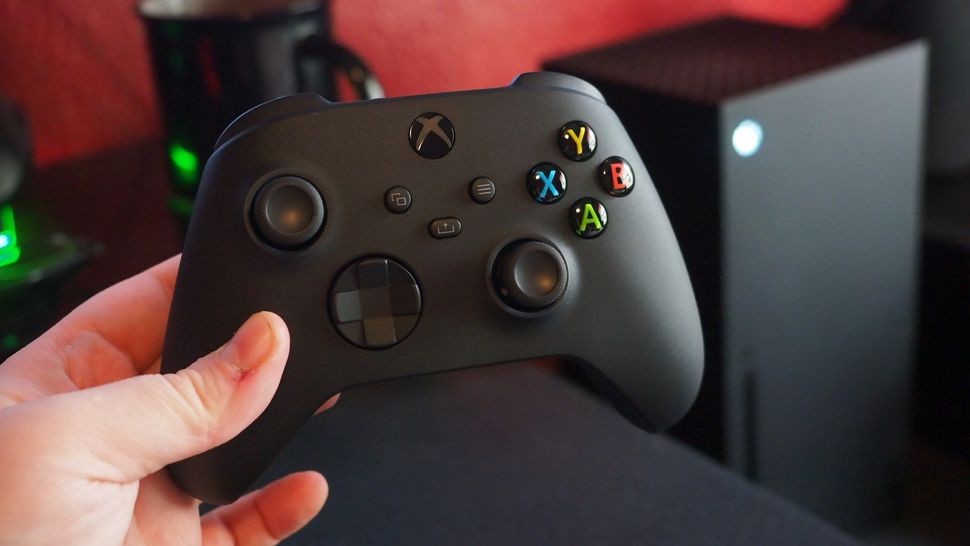 Xbox Core Controller
Best alternative controller
Reasons to buy
+
Excellent compatibility
+
Simple Bluetooth pairing
+
Super comfortable
Reasons to avoid
-
Might require an extra adapter for some PCs
There's really just no beating the sheer compatibility you'll get with an Xbox Core Controller. This controller comes packed-in with every Xbox Series X|S and features Bluetooth connectivity that perfectly pairs with your Oculus Quest 2 or gaming PC. Microsoft's Xbox controllers define how a great traditional controller should work and feel, and every game that supports a traditional controller works perfectly with this one.
While you can use most third-party Bluetooth controllers with your Quest, you're sure to experience some button mapping issues or other unexpected challenges. This isn't the case with the Xbox Controller. On top of its compatibility with your Quest, it's also easy to pair with a phone or gaming PC — although some gaming PCs might require the Xbox Wireless Adapter for Windows if they don't support Bluetooth connectivity.
The Xbox Core controller — and others like it — works best with sideloaded titles on Quest 2, while playing PC games with Quest can give you the perfect way to get a little personal space or to prevent younger eyes from catching a glimpse of M-rated games.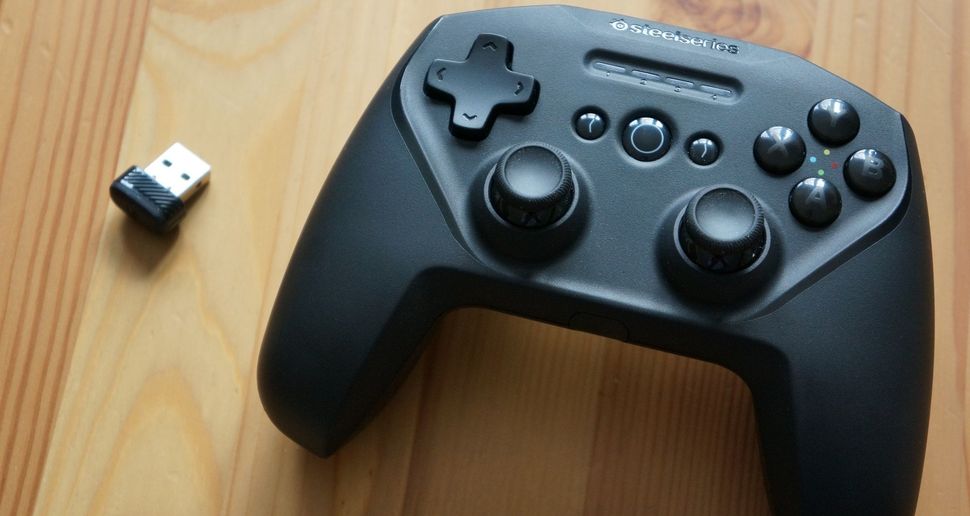 SteelSeries Stratus Duo
Best versatility
Reasons to buy
+
Works for consoles, PC, and mobile too
+
Comes with a USB wireless adapter
+
Simple Bluetooth pairing
Reasons to avoid
-
Not quite as ergonomic as an Xbox controller
-
Some quality control issues have been reported
SteelSeries' controller costs less than the Xbox Core Controller, but it still boasts all the same buttons and great Bluetooth connectivity that'll work perfectly with your Quest 2 or gaming PC (or even your phone). SteelSeries even throws in a USB adapter for a PC, meaning you won't have to buy an extra one if your PC doesn't have Bluetooth — unlike the Xbox Core Controller — making this an even better value than the price initially suggests, especially if you're an avid PC gamer in the market for a new gamepad.
SteelSeries Stratus Duo controllers are similar to the original Xbox Controller S in some ways, but feature the parallel dual joystick placement you'd expect from a PlayStation controller and a more traditional cross-shaped D-pad. If you prefer the stick alignment on a DuelSense or DualShock controller or just want to save some dough, SteelSeries is a fantastic choice, for the best PC VR games and any other PC or mobile games you want to play.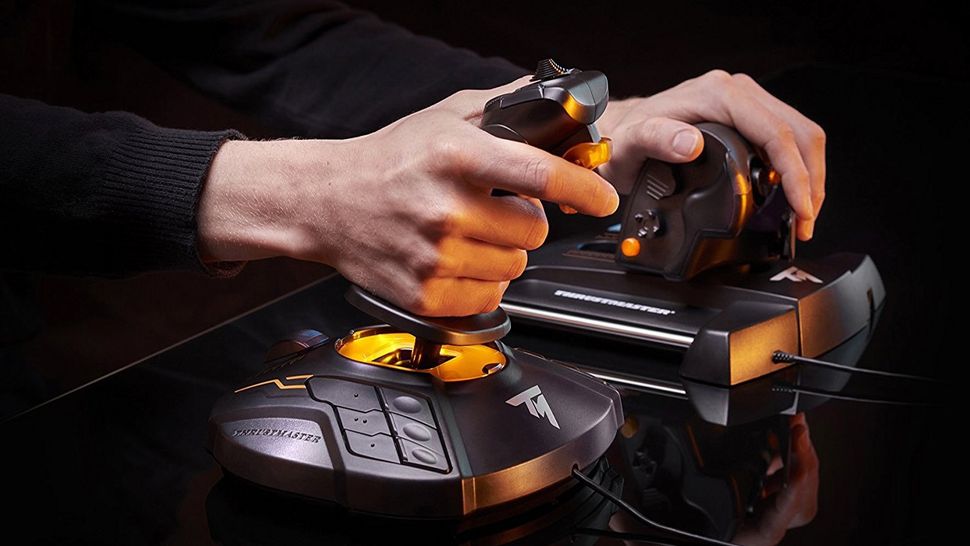 Thrustmaster T.16000M FCS HOTAS
Best HOTAS
Reasons to buy
+
Separate throttle and stick for better ergonomics
+
Solid construction
+
Lots of buttons
Reasons to avoid
-
No wireless option
-
Expensive
-
Needs to be plugged into a PC
If you've played Star Wars Squadrons using your gaming PC and an Oculus Quest 2, you'll know that it's challenging to precisely maneuver your ship in space using a the joystick on a controller. What better way to put yourself inside the cockpit of an X-Wing than to have your very own flight stick and thrust? A hands-on throttle-and-stick (or HOTAS) is the absolute best way to up the immersion of piloting and dogfighting games that also gives a far greater level of control over your movements.
Right now, no HOTAS pairs directly with the Quest 2. Thankfully there aren't any native Quest 2 games that would require one, so if you're going to pick up this HOTAS, you'll need to have it plugged into your gaming PC, where you'll be playing PC VR games with Quest 2.
The Thrustmaster T.16000M FCS HOTAS is a great value that separates the throttle from the stick, which allows for more ergonomic play. If you really want to go all-out, you can also grab an upgraded version on the Amazon page listing that includes separate pedals.
Thrustmaster T-Flight Hotas X Flight Stick
Best Value HOTAS
Reasons to buy
+
More affordable than many HOTAS
+
Single-body design keeps things simple
+
Quality construction
Reasons to avoid
-
No wireless option
-
Needs a PC to plug into
Sometimes, you just want a simple setup that isn't going to cost a lot of money. In that case, the Thrustmaster T-Flight HOTAS x Flight Stick may just be the perfect product. It retails for less than the Thrustmaster T.16000M and features everything in one plastic-molded body. That's the flight stick and thrust together in one package with just a single, easy-to-plug-in cable.
Like any HOTAS, remember that you'll only be able to use this by plugging it into a gaming PC and playing PC VR games with Quest 2. This will not plugin to or pair with your Quest 2, so it's important to know that before going all in. Two of the most popular games to use a HOTAS with are Star Wars Squadrons and Microsoft Flight Simulator, but you'll find there are plenty of VR-ready titles that support these incredibly immersive controllers.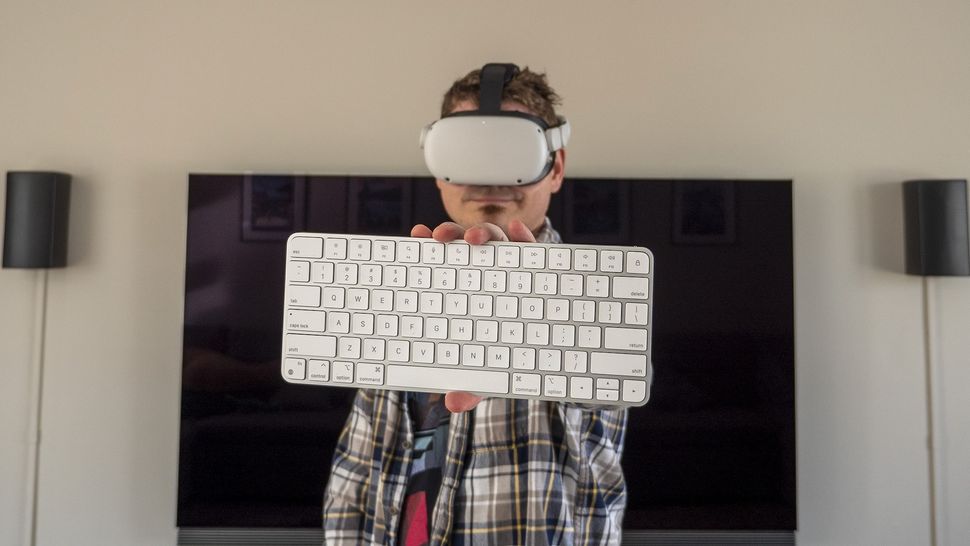 Apple Magic Keyboard
Best keyboard for VR
Reasons to buy
+
Works with Quest passthrough
+
Great key feel
+
Quiet keystrokes
Reasons to avoid
-
Not fully compatible with Windows
-
Not very ergonomic
-
Doesn't have the full set of keys
Did you know you can use a mouse and keyboard with the Quest 2? The Meta team have been slowly adding more and more keyboards and mice to the list of supported devices with each Quest update. The Apple Magic Keyboard and some of Logitech's keyboards are supported and visible in VR via passthrough, so you can see the keys on your desk while in virtual reality. Logitech makes great keyboards, but its Quest-supported offerings tend to sell out pretty quickly, whereas Apple's popular, minimalist keyboard isn't going anywhere.
Sure, it's not technically a controller, but it's worth mentioning here because you can use it with Quest 2 apps like Horizon Workrooms and Virtual Desktop. Meta's been pushing the Quest as a "work" device, but you can still use a keyboard casually for chatting with friends on Messenger or for playing Steam games with keyboard controls since you can play non-VR games in-headset if you want!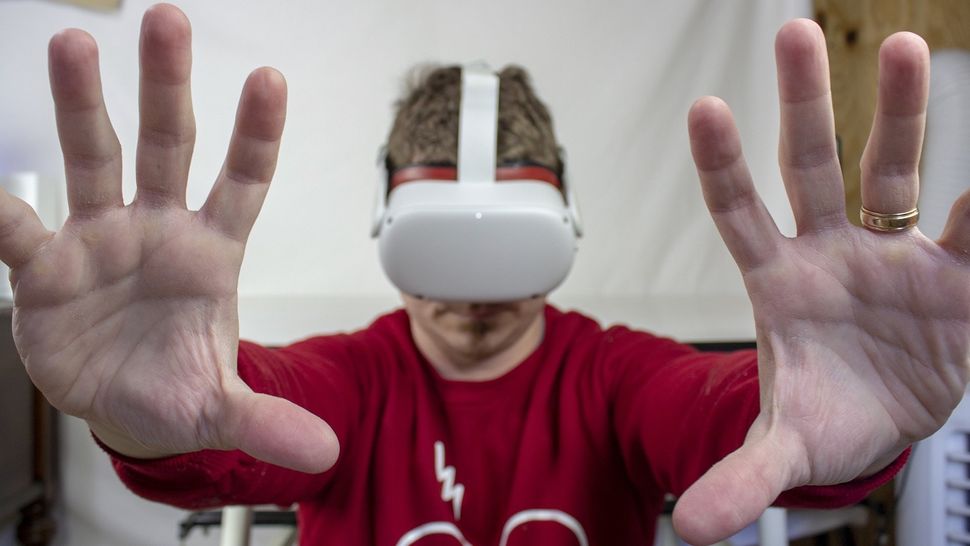 Your hands
No controller needed
Reasons to buy
+
Nothing to buy
+
Don't need to charge
+
Super immersive
Reasons to avoid
-
Tracking isn't always reliable
-
Need to make sure you have bright lighting in a room
-
Limited number of experiences
You might laugh at this one, but, truly, using your hands in VR is a sublime experience — when it works, that is. After all, there's no controller more precise than your own fingers. In ideal conditions, the Oculus Quest and Oculus Quest 2 can track hands in VR space thanks to the four cameras positioned outside the headset. Hand tracking is best used for navigating the menus and official Oculus entertainment apps. However, the best hand-tracking games for Quest 2 will give you a uniquely immersive experience, even if there are only a few games that support the feature.
While hand tracking is obviously free and provides the most immersive way to interact with things in VR, there are a few things to consider. First off, you'll want to make sure you're in a brightly lit room so the cameras can see your hands. Second, know that hand tracking isn't the most accurate thing in the world, and you'll likely come across several situations where the Quest 2 has a hard time understanding what you want to do.
Hand tracking is still in its infancy in VR. In fact, it's turned off by default on new Quest devices, so if you're OK with a bit of jankiness, give hand tracking a shot. If, for no other reason, it's a fun way to see how the future of VR could look once tracking improves in future headsets.
Bottom line
The Oculus Quest 2 was made to be played out of the box without anything else to set up or worry about, but the right accessories can take even the best VR experience even higher. A reliable classic controller like the Xbox Core Controller will make it both fun and easy to play VR games that don't have the motion control support we've come to expect from VR titles today. You'll also find that these are a great way to play classic games via emulators — which can be sideloaded onto Quest — or when playing traditional games on a giant virtual monitor with software like Virtual Desktop.
A good HOTAS is a must for anyone interested in flight sims and dogfighting games. They'll help transport you into the cockpit of an aircraft or your favorite Star Wars ship. Just remember that these all require a gaming PC to plug into, and all games that support them will be running on a gaming PC.
Lastly are the hands-only experiences powered by the four cameras on the front of an Oculus Quest or Oculus Quest 2. Oddly enough, your hands can actually become controllers within the Quest's menus and any supported titles, meaning you won't even need to remember to grab new batteries for those controllers to get a uniquely immersive VR experience.
Get the Android Central Newsletter
Instant access to breaking news, the hottest reviews, great deals and helpful tips.
Senior Content Producer — Smartphones & VR
Nick started with DOS and NES and uses those fond memories of floppy disks and cartridges to fuel his opinions on modern tech. Whether it's VR, smart home gadgets, or something else that beeps and boops, he's been writing about it since 2011. Reach him on Twitter or Instagram @Gwanatu