Best Garmin Venu 2 and 2S bands 2022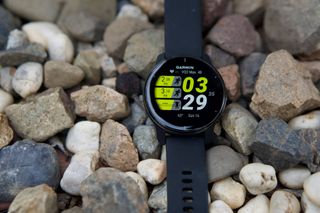 (Image credit: Michael Hicks / Android Central)
The Garmin Venu 2 and Venu 2 Plus are excellent lifestyle watches with superior health and fitness tracking. There are three sizes to choose from, and all use different quick-release bands, so be mindful when shopping for new ones. We've rounded up some of the best Garmin Venu 2 and 2S bands below. The Venu 2S uses 18mm bands, while the standard Venu 2 uses 22mm. If you opt for the newest variant, the Garmin Venu 2 Plus, you'll need 20mm bands. Check out some of these options!
Choosing the best Garmin Venu 2 and 2S bands
The Garmin Venu 2 and 2S are some of the best Android smartwatches on the market. These smartwatches might be expensive, but they're full of features that deliver a well-rounded wearable experience. Now that the new Garmin Venu 2 Plus is available, you can take that experience to the next level with voice assistants and Bluetooth calling. Regardless of which watch you prefer, one part of the experience is finding a watch band that works for you.
The Barton Soft Silicone Band is a popular favorite for many reasons. Not only is the silicone material waterproof and washable, but it's available in a multitude of color options. Some examples include Cool Grey, Aqua Blue, and Crimson Red. It also has a textured back, so you'll never have to deal with your band sliding around on your wrist during workouts.
Silicone bands are great for workouts and casual daily wear, but a time may come when you need to step up your fashion game. Whether you've got an important work event or a formal dinner on your calendar, there are numerous stylish bands for you to pick from. The Wristology Leather Band is a timeless classic suitable for all occasions. However, if leather's not your style, consider the Wristology Metal Mesh Band instead. It's sleek, fashionable, and undeniably attractive.
If you agree that the Venu 2 models are some of the best Garmin smartwatches out there, all that's left to do is find a band that will meet all your needs. Whether you're focused on comfort, fashion, or both, there's plenty more where that came from. These are just a few of the best Garmin Venu 2 and 2S bands you can buy. Happy shopping!
Android Central Newsletter
Get the best of Android Central in in your inbox, every day!
Thank you for signing up to Android Central. You will receive a verification email shortly.
There was a problem. Please refresh the page and try again.