Best External Battery Packs for Galaxy S7 and Galaxy S7 edge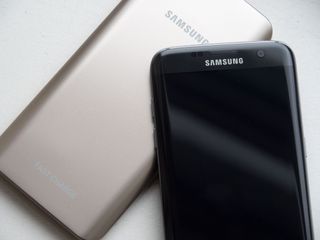 Our phones just keep adding new capabilities, but their batteries never feel like they last any longer than the day they came out of the box. A year on, the Galaxy S7 and S7 edge are still great phones — but if you find your battery is dying earlier than you'd expect, you may want to check out a portable battery pack for those heavy days.
They're entirely portable, relatively inexpensive, and could keep your phone going when you need it most. We've rounded up the best battery packs to use with your Galaxy S7 and Galaxy S7 edge.
Aukey Portable Power Bank (10,400mAh)
Why you can trust Android Central Our expert reviewers spend hours testing and comparing products and services so you can choose the best for you. Find out more about how we test.
This portable battery is Aukey's bread and butter — a simple 10,400mAh pack with a single USB port to charge up your phone. It has enough juice to charge up your phone twice with a bit left over, and still manages to remain relatively compact.
The metal construction means it can stand up to plenty of bumping around in your bag or pocket. And with Quick Charge tech on board it'll charge up your phone as fast as a wall plug can. Not a bad deal for just under $30.
See at Amazon (opens in new tab)
EasyAcc Monster (20,000mAh)
Charge your Galaxy S7 and up to three other devices at the same time with the EasyAcc Monster. They're not kidding about the name. This thing has enough juice to charge your GS7 around six times over, which makes it great if you're headed out of town for a few days and aren't sure if you'll see a wall socket any time soon.
It has a built-in flashlight and can auto-detect components and adjust the maximum output accordingly, which makes it great if you want to charge up multiple devices on the go. Does the whole family have Galaxy S7s? Charge them all at the same time for just $32 with this battery.
No need to worry about overcharging and shorting, since the EasyAcc has a built-in surge protector, which is ideal since you'll have to wait 6 hours for this one to charge back up fully.
See at Amazon (opens in new tab)
Samsung Fast Charge Battery Pack (5,200mAh)
This is actually not the latest battery pack from Samsung, but that doesn't mean anything when it comes to actually using it. But it does mean you can get a great deal on a really good battery from the same company that made your phone.
With 5200mAh capacity it's only good for a little more than a full charge of your phone, but in return it's light and svelte — it's roughly the same dimensions as a Galaxy S7 edge. That means it's super easy to slide in a pocket with a USB cable for when you need to top up your phone in the evening.
You can find Samsung's battery for about $40, or sometimes a bit less if you shop around.
See at Amazon (opens in new tab)
Unifun 10,400mAh Waterproof Power Bank
Calling all campers! Unifun's power bank is rugged and waterproof, so you can charge your Galaxy S7 or S7 edge when you're really on the go. It's rated IP66 for water and dust resistance, while also having anti-shock and anti-skid protection.
This pack even has a strap hole, so you can attach to a belt loop or clip, which is great if you're working outside all day or constantly on the go; just run a cord to your pocket and away you go.
It's a little bulky, at 6 inches by almost 3 inches, but you'd expect something so rugged to be a little on the bulky side. Especially at the price: under $20 for all those features is great.
See at Amazon (opens in new tab)
What's your favorite?
Which battery packs are you using to charge your Galaxy S7 and Galaxy S7 edge? Sound off in the comments below!
Update July 2017: Updated with the latest battery packs, pricing and links for the Galaxy S7 and S7 edge.
Get the Android Central Newsletter
Instant access to breaking news, the hottest reviews, great deals and helpful tips.
Andrew was an Executive Editor, U.S. at Android Central between 2012 and 2020.
You don't need these things with galaxy s7 :)

You going to need one if your at a place where you can not charge your phone Posted from my Moto X 2nd gen and my Nexus 9 both on Android Marshmallow

I would get a Powerbank when Im traveling in a plane and waiting for my next flight.

The GS7 gets solid battery, but I still find myself plugging into a power bank when I'm traveling. I still haven't found a phone that can handle that.

S7E on Nougat Beta has simply the most amazing battery life I've ever seen. 30 or 36 hours easy.
Once Nougat hits all the S7 phones, people will stop worrying about battery life forever. At least I have.

My S7 Active battery life is terrible before and after Nougat

My S7 Edge needs it, so I'd bet the S7 would as well.

Surprising. Mine easily gets a full 18+ hour day unless I play a few hours of graphics heavy games (e.g.: 3d). Mine is the Exynos variant though. -- Posted via my Titanium Silver Galaxy S7 edge --

Will any of these TurboCharge a Moto X Style/Pure? SiDi™

The Samsung and Kmashi ones, at least.

I have the Rev Powerbank from Best Buy.

No Anker batteries? In my experience they're good and inexpensive. It's best to assume I'm being sarcastic. if I'm ever serious I'll type "/s" to make it clear.

This feels like yet another AC article where the author has picked several items seemingly at random and is suggesting that they are the "best" for a particular phone. Mike Tanasychuk, of the 5 battery packs you are recommending for use with the S7, how many have you actually TESTED with the S7? How many other battery packs have you tested with the S7 in order to determine that these 5 are the best of the bunch? I HAVE tested a ~20k mAh battery pack on my S7 and I do NOT get 6 full charges from it. More like 4. The extra power is likely lost in the charging circuits. As well, battery packs that don't support Samsung's (or Qualcomm's) "Quick Charge" might NOT be the best for an S7 user... I've seen AC do the same thing with microSD cards: recommending specific ones for use with specific phones without any actual testing for compatibility, performance, etc. Just because the packaging and advertising for a product makes claims, it doesn't mean you'll actually get that performance, number of charges, etc. It's sad that while AC has some very good articles, such as the recent ones talking about Android security, there are too many like this one that appear to be nothing more than paid advertising or some author trying to meet a word-count quota.

Really good point of view Sony Z5

I Do remember when the rugged ones were a rarity! Hahaha… to me the waaay cheaper-and now better- AGM chinese models online are the way to go :) .. but this was a decent device tho its price but ll prefer to get an x1 18k gold edition xP ( i know: demanding xD )

@GaryD9
I actually have to agree with you about the part with them testing the products. It would be infinitely better if they actually personally used them, though I don't mind them getting the names out at the very least.

I would assume they get paid from Amazon Smile for linking to them, or something like that.

I'm beginning to think these are little more than paid advertisements, too. They have no credibility. There's more useful information in the forums than in the blogs.

Did I miss something or they aren't any wireless ones on this list? That's like one of the best features of this phone, fast wireless charging. Posted via Samsung's beast S7

Wireless charging just isn't a huge feature on portable batteries ... Sure you can get them, but they really don't make as much sense as one with a USB port for a cable.

Fair enough. But I still would of like seeing something like this listed. Since it does exist. https://www.amazon.com/dp/B00KOOE5SK/ref=cm_sw_r_other_apa_ZoJmxbJ63NQ92... Posted via Samsung's beast S7

uhhh....yeah, this list appears to contain some poorly rated batteries to begin with. I have learned not to trust Aukey with anything...terrible rebranded things. Why isn't Anker on this list. They make some of the best battery packs that I've seen...for everything. I never leave the house without my Powercore 20100.

I use a RAVPower battery now and it holds up fine. Don't know how many charges for the S7 since we charge multiple devices on this puppy. I bought this one because the KMASHI battery I bought crapped out after 1 month.

"As a portable bank, it's a little on the thick side, at nearly two inches" Typical bloke, Mike; overestimating size. It's less than an inch thick, FYI. Plus it has QuickCharge onboard, which makes it very useful indeed.

I need at least 2 charges on my s7 everyday Posted via the Android Central App

I bought the KMASHI for $19.99 when it was on sale at Amazon. Great battery! Galaxy S6 Edge +

Seems like a paid advertising. I've seen better rated ones. Posted via the Android Central App

Why does the headline specify the Galaxy S7 and S7 edge? What is special about these particular battery packs used with these particular phones? I suspect there's nothing special and the title should have been more generic, but am I missing something here? Wouldn't these work with any non-Galaxy S7 variant phone with micro USB? ...Joe K.

Most popular devices on Android being mentioned + sponsored ad for random power banks= income Posted via the Android Central App

I thought the Samsung battery pack was 10k Posted via the Android Central App

I have the Kmashi 20,000Mah and the original Samsung one. I don't use them often because my phone's battery life is outstanding. But they are great for when me and my family travel. S7 edge/AC app

I prefer the Aukey 15000 mAh Power Bank which has a Quick Charge port as well as a standard 2 amp port. All for $25 on Amazon. Also, thinner than the chunky one chosen here. Posted via the Android Central App

Isn't it 16000? I have one that sounds the same but it's 16000

Seems like AC is putting out articles just because they can. It's pretty apparent when there's no real Android news that the quality of the articles on here turn to click bait ****.

Anker Astro E7 Ultra-High Capacity 26800mAh 3-Port 4A https://www.amazon.com/gp/aw/d/B00M30B4IW/ref=mp_s_a_1_2?qid=1463068455&... Posted via the Android Central App

I've just ordered two of these. They were a steal at only $39.99, and still not a bad deal at the current $49.99.

For travel, iKits QC3 in, QC2 out, power bank and Aukey's QC3 Dual out charger.

No-one has mentioned if their phone shows FAST CHARGING when plugged into one of these power banks. I bought the Ankey because it was supposed to support the fast charge on my S7, but it doesn't. Does anyone have any experience with using one of these power banks and seeing their phone show the FAST CHARGING notification on their phone? Thanks in advance.

I've got a RAVpower 20100mAh QC3 one that fast charges my S7E nicely.

My S7 edge needs all it can get. This stupid phone dies so Damn fast. So annoying. Always find myself in actual ultra power mode just to save energy

Cool story, bro. Tell another. I just sent my S7edge back to Verizon, which I had from day one of release. It went back to them for an early upgrade because it only had 32Gb of internal storage, and was setting on the freaking October 1st security patch, but I do know this, it had great f'en battery life.

But according to Android Authority the S7 edge came last in their battery test.
http://www.androidauthority.com/best-of-android-2016-battery-738229/
Want to know the best Android phone to buy? Especially where battery life is concerned? This installment of Best of Android 2016 will clear things up.

That's funny, they're the ONLY site to come to that conclusion in regards to the S7edge battery life, and in their own full review of the S7edge, they raved about how awesome the battery life was, like ALL other sites, besides the pathetic, malware ridden, and essentially useless iPhonearena. Whatever floats your boat, bud, but I'm calling bullshit, and you will note, I just sent it back early, for other previously listed reasons.

Only saying what I read bud, I didn't write the article.

Lmao, I just went and read all of Android authorities battery life, screen, performance, and audio comparisons in their year end article series, and for the most part, Android authority has developed a terrible crack habit and needs to check into a rehab, ASAP. Their camera comparison in the article series was the biggest joke out of the lot, and that took some serious effort on their part. Have a good one, over there.

Okay; really: they all are great (love ruggeds,man !) and i think ip68 should be standarized soon: but Cant be happy, dude: Sansumg is no longer what it used to be (good value for money) ... it has gone to the dark side. You can buy five good ruggeds from agm with that price : x1 18k gold edition gooo xD !

Pretty much all powerbanks are the same now.
I want one with QC3, passthrough charging, USB 2 and 3, a wireless charging pad and solar pad on the other side! (Actually I can live without the solar charger)

I have the KMASHI. It's been great. I got it on sale for $20.00 a while back.

I recently went to china, found out that it's the sim card draining my battery likely crazy. So I'll need a power bank

I've got the Samsung one, it was free with my Note 5.

After the Nougat Betas, there's no need for an external battery pack. The battery lasts a day and a half.

I bought a case that plugs into my S7 Edge, it has a 3,300 map battery built into it. I also have a couple separate battery packs that I carry.

Of you're going to spew the same story as almost a year ago, at least go through the comments and delete the spam.

I wonder if "Updated in March 2017" means just verifying that the Amazon links still work?

My s7 edge mophie pack is awsome . All day or 6 hrs on game of war lol.

Still loving this one! Sadly is no more convenient anymore Right now there is some cheaper models with similar specs on the market: rigth now i m thinking on the Agm line! (specially the x1 gold edition check it out… still less than 260 euros :O )

Monster one but quick charge standard is more reliable and no wireless option among this selection?

I got a PNY 12800 power bank for 70 bucks best thing ever! Charged me and all 4 of.my friends phones for a huge pokemon go hunting trip. We all used it on and off all day still had 75% of power by the end of the day

The OnePLus power bank is 10,000mah so you should get 3 charges for the S8 and is on sale for $13.99. Great sandstone texture if you get the black version and is very portable. Charges at 2amp so you can get a relative "fast" charge from the bank.

Powerbanks are SO yesterday, it's 2017 and not 1997 anymore , lol Go buy a LG V20 and spare battery.