Decade in review: The Moto X was so good it turned me into an Android nerd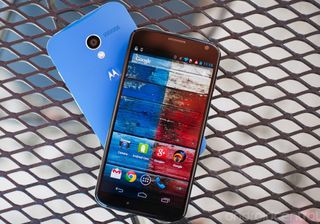 (Image credit: Android Central)
I am a relative newcomer to the Android party compared to most of my coworkers; I didn't get my first Android phone until January 2012 and even then it took me a while to morph from just being a smartphone addict to being a smartphone nerd. That didn't happen until a little Texan-assembled darling arrived late in 2013: the Motorola Moto X. The first and second generations of this phone still have my love and my longing even six years later because we've never had another phone quite as wonderful.
Customizable, inside and out
Why you can trust Android Central Our expert reviewers spend hours testing and comparing products and services so you can choose the best for you. Find out more about how we test.
Before the Moto X, phones came in maybe five colors — and maybe two good ones — and since the Moto X, we've reverted to that same horrible trend. Every color offered is extra money the company has to invest in testing and production, and then that's one more variant you have to try and get retailers to stock and sell.
In short, colors cost money unless those colors aren't generated until you place your order, which is what Motorola did with its customizable Moto X. If you wanted to just walk into a store and buy one — which the rest of my family did during Black Friday 2013 when the Moto X was down to a penny — you could get the boring black or white colors. However, if you went with Motomaker, you could get a phone that was as vibrant and unique as you are.
The Moto X had dozens of backplate colors, and once you factored in the accent colors and black/white front, you had hundreds of possible color combinations, and each one had its own particular flair. They even added multiple wood grains and leather colors for the 2014 version, if you wanted a more premium look.
My own 2013 Moto X was what I called AquaCherry: a turquoise back and white front with shiny red accents. It was based on a painting from Art of the Disney Princess — because yes, I am that much of a freak — and to this day it is the prettiest phone I've ever owned. It was easy to use one-handed, the back was damn near perfectly curved, and it just felt right. In fact, it felt so good in the hand that I straight up didn't want to upgrade when the 2014 model came out.
Of course, the beauty of Motomaker was that it didn't just cover the phone's surface: Motomaker allowed you to add a personal message to the boot screen and pre-load the phone with your Google account. These are minimal things, to be sure, but seeing that line of inspiration every time I rebooted my phone was a tiny bit of magic and I loved it.
Then, of course, was the customization you had once you had the phone on and working. You could tweak Moto/Active Display so that only the apps you wanted would interrupt you, and Moto Assist could automatically switch your phone to silent when you were in meetings or supposed to be sleeping, which is second-nature to us in 2019 but was wonderful in 2013 when the Moto X launched.
Then there was the wonderfully futuristic feature set in its software.
Touchless Control, Trusted Bluetooth, and the future of Android
The Moto X may not have had a 1080p screen or the biggest battery ever, but part of what made it a legend was functionalities that took years to reach the same point on other phones.
Motorola/Google debuted Trusted Bluetooth on the Moto X and the second I heard about it I wanted it in my pocket. As someone who lives with Bluetooth headphones around her neck, Trusted Bluetooth meant I didn't have to swipe in my PIN/pattern 50 times a day — again, something we take for granted these days — and it was drop-dead easy to set up. Trusted Bluetooth eventually came to stock Android and morphed into Smart Lock, but it started with the Moto X.
Another Moto X feature that eventually came to all Android phones — as well as watches, Chromebooks, and smart speakers of every size and shape — was Touchless Control, which was rebranded to Moto Voice with the 2014 model. This model also brought to both the second and first generations of a feature we still haven't gotten back since: the ability to set a custom launch phrase for Google Now/Google Assistant.
Being able to swap the chunky and easy to butcher "OK Google Now" for a phrase of my own choose was ten kinds of magical and I miss it every day, especially since custom launch phrases could help trigger a specific device instead of making six devices fight over who gets to answer it.
Miss you, Moto
It's been a couple of years since a Motorola phone excited me, but that original Moto X — and its follow-up, which had IR sensors I could wave my hand over to wake it up like the goddamn wizard I am — will always make my heart soar just a tiny bit. It wasn't the biggest, boldest, or baddest phone on the market, but it didn't need to be. It was as close to perfect as I've seen a phone come (except for that camera).
The original Moto X was a phone that pushed the envelope without pushing the price tag into the stratosphere, something no groundbreaking phone in the last three years has been able to claim. This was the real OG, and while we may never see anything like it ever again, I'll keep my eyes peeled and my wallet ready.
After all, the world could always use more phones that are beautiful inside and out.
Ara Wagoner was a staff writer at Android Central. She themes phones and pokes YouTube Music with a stick. When she's not writing about cases, Chromebooks, or customization, she's wandering around Walt Disney World. If you see her without headphones, RUN. You can follow her on Twitter at @arawagco.
That Moto was also my intro to Android. Loved it and would never go back to iPhone.

The Moto X was my second favorite android phone behind only the Droid Incredible by HTC. I miss the original Moto X.

The Moto X awakened me to the power of what we call #VoiceFirst today but way back when the phone made it's debut. Talking to my phone while it was locked was strangely liberating then. I miss waking up and saying "OK Moto X, What's up?" That was an awesome built-in routine back in the day. I still power on my OG Moto X a few times a year, update the apps.

When I eventually and reluctantly moved to android from my Lumia 820 with wireless charging, removable battery, AOD, oled screen, expandable storage and funky bright yellow colour(still my favourite smartphone) I got a galaxy s mini and absolutely hated it, so convoluted and overly complicated and I thought I was gonna hate android but I took it back and got an original Moto g and loved it straight away. Couldn't believe such a cheap phone would be so good and it had APPS! Sadly the one thing my Lumia didn't. When I decided to get a new phone I went with the Moto X 2014 and am still using it to this day. I'm not someone who needs all the latest features or best camera but the Moto actions and Moto display just haven't been bettered in my opinion and even the soli chip in the new pixels doesn't seem to be any more use at least at the moment. There's just something about the phone that feels 'right' and that's something no amount of specs can give. Here's to hoping for a new Moto X that is a true update from the originals.

And it is still hard for me to get rid of my Moto X4. After two years I love this phone so much that I don't even want a Pixel. 2 more reasons I still hang on to this phone: expandable memory and headphone jack.

The Moto X definitely sums up perfectly the phrase 'greater than the sum of its parts'

I agree. My very first smartphone was the original Moto G as well..for $99 at the time.
Over the years I've been brand loyal, and the batteries last forever , the volume is terrific and it just.....works!
Not to mention must have a headphone jack (not a Bluetooth fan).

Ok, boomer. Join the 21st century.

Will always be my first love in terms of Android phones. Yeah, it had it its flaws but goddamn I loved the customization, the Moto Display, the software, the updates, and the innovative camera. Best phone of the decade FOR ME.

Gestures in 2015! Awesome phone

Motomaker was soooo cool! I spent so much time mixing and matching color options. I wanted my own custom Moto X, but I had just recently bought a Nexus 4 and didn't have the cash for another phone. Still, I really loved this customization concept. I wish it could've lasted longer.

Hey, hey. Nice to see you here. I was an HTC M7/M8 fan at the time of Moto Maker.

Motorola got so much right with the first gen Moto X, which is why they're do "boring" now. If Motorola stuck with the fast updates (mind you, this launched before monthly security patch levels were a thing) and gained a competant camera along the way (something they didn't gain until the Moto Z4), maybe Motorola would still be the Android bloggers' darling.

If Google had kept Motorola and branded them Moto by Google or something instead of making pixels they could have really took on Apple and Samsung as Motorola was a top brand in smartphones that people recognised and with Google's software and financial backing they could easily be number one now. One of Google's worst decisions to sell Motorola in my opinion.

I agree. I loved my OG Moto X. Sadly, the build quality declined when Lenovo bought Moto from Google.

Yes I agree. It's to bad they didn't stick with Motorola for the hardware / phone. along with Google's software.The reason they did not will probably ever be known to anyone but those with Google.

Still have my unlocked Moto X 2014 model and would still use it if it worked on Verizon. I never wanted to let that phone go but at the time I had to change carriers for coverage and the phone was already too out of date to buy the Verizon version.

Still using Moto X 2014 in UK on marshmallow 6.0 and to me it's working the same as day I got it new. I'm sure if I put it against a newer phone with higher screen refresh and newer chip it may not seem as fast but honestly I don't need a nanosecond quicker response when this phone is plenty fast enough and smooth enough for me. Won't be swapping till either battery dies or it stops working altogether lol!

Loved the Moto X I remembered it got bashed by some when it first came out. But was not that long of a bash.At the time it was the closest almost stock android you could run on vzw. I also had the 2014 Moto X loved it pretty good to . The 2015 Moto X ,, not so much that was when Lenovo was making it present felt since it owned Motorola purchased from Google. From that point own, for my Android phones . I then became an Nexus/Pixel fan

Yes, I had the OG Moto X for my first Android phone as well!! I loved that phone. I got it with a wood grained back and it looked awesome. Plus it was fun to use and met my needs perfectly. Unfortunately it just seemed like subsequent Motos just never had the same verve. I moved on to Shamu and now to OnePlus. Honestly I'll probably stick with OnePlus. I like the sense of discovery with each phone. Now that I think of it maybe there is a comparison with OG Moto X...

Oh yeah. 2nd android phone after a nexus. While the PE edition was a great phone the moto 6 was the best IMO.

The Moto G (2nd Gen)) was my first Android and Moto phone back j.

Loved that phone! So promising! I bought it because it was made in Fort Worth! Great little device. Sold to a chinese company soon after.
Android Central Newsletter
Thank you for signing up to Android Central. You will receive a verification email shortly.
There was a problem. Please refresh the page and try again.