Best speakers for Chromebooks 2022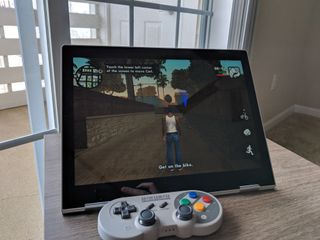 (Image credit: Android Central)
Chromebooks are great for tasks such as working in Google Docs or doing a little web surfing, but with many models having fancy swiveling hinges that stand like an easel, they also make for excellent movie screens. Streaming video is a great way to use your Chromebook, but there's one caution: the sound often sucks. And it's not an entry-level Chromebook pet peeve either, as you'll see the same issue on some of the best Chromebooks as well. Understandably, it's hard to include decent-sounding speakers in a slim and light laptop design. However, the solution (thankfully) is easy: external speakers. Here is a selection of the best Chromebook speakers that not only sound great, but will also work with your machine without any fuss.
If we're making some suggestions ...
None of these speakers are bad choices. Absolutely none. However, based on your needs, you would be tempted to go in a particular direction when picking the "perfect" speaker choice for your Chromebook or Chromebook setup.
If you're looking for portability with quality sound from a tried and true brand, Samsung's Harmon Kardon Onyx Studio 6 should be your go-to. The bass kicks — and I mean kicks. Just one of these speakers has enough sound to fill a medium-sized room, and its carrying handle makes it easy to transport.
If you're looking for the simplest of simple hookups: Cyber Acoustics' CA-2014 multimedia speakers are here for you. They're small, compact, and unassuming. They're the epitome of "keep It simple, stupid," and that's why you'll love these speakers. They're simplicity at its finest.
If you're eyeing to make the Chromebook the centerpiece of your home office, check out Logitech's Z623 2.1 stereo speakers. The Z623 offers THX-certified sound to enhance the audio from whatever you're watching or listening to on your Chromebook, with crisp bass that will certainly shake the room.
Olivia Lipski is a freelance writer for Android Central and loves testing out the latest smart home tech and discovering the best cell phone plans. When she's not busy running around NYC trying to find great food or coffee, she's in her kitchen trying to make it herself.
Android Central Newsletter
Get the best of Android Central in in your inbox, every day!
Thank you for signing up to Android Central. You will receive a verification email shortly.
There was a problem. Please refresh the page and try again.