Best cases for Samsung Galaxy Note 4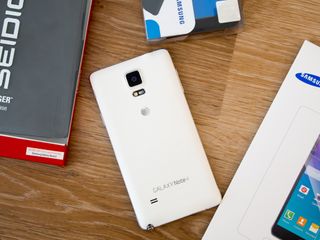 The Samsung Galaxy Note 4 is big, powerful and one of the most flexible smartphones on the market. With support for microSD expansion up to 128GB and replaceable batteries, it no surprise that it's a hit among power users. To keep your Note 4 in pristine condition, we've put together a list of the absolute best cases. Whether you prefer a slim case or rugged heavy duty protection, we've got you covered.
Our selections here are based on personal favorites from the staff here at Android Central, along with the fantastic folks in the Note 4 forums. Dive in past the break for the complete lineup.
Speck CandyShell Grip Case
Why you can trust Android Central Our expert reviewers spend hours testing and comparing products and services so you can choose the best for you. Find out more about how we test.
It's unique in design and does a jam-up job at protecting your Note 4 from impacts — Speck's CandyShell Grip Case fuses together a sleek polycarbonate shell with an easy-grip TPU that wraps around the entire cover. Best of all, it's not overly bulky, and we're big fans of keeping things slim.
There's a simplicity to the CandyShell Grip Case that you have to appreciate, leaving out extra layers, built-in screen covers and kickstands. Its bare-bones construction is what makes it shine — well, that and its symmetrical patterns. Installation and removal is as easy as it gets, and you'll never have to fight to get your Note 4 out of your pocket.
Samsung Ultra Slim Protective Cover
OEM cases are no different from aftermarket cases — meaning their quality and durability against impacts can be hit or miss. Samsung's done something great, however, with their Ultra Slim Protective Cover for the Galaxy Note 4. It manages to rock both TPU and polycarbonate materials in a way that compliments the form of the Note 4. And yeah — it's slim for what it's packing.
The outermost layer is where you'll find the durable, shock-absorbent TPU — exactly where most of your impacts will occur. Not only that, but it provides the extra grip you need for preventing those little accidents from happening. Meeting in the middle is a diamond-patterned plastic that's much more smooth than it looks. This layer makes retrieving your Note 4 from your pocket effortless, despite the TPU edging. Other perks include the raised lip on the front that keeps your display from rubbing on flat surfaces and complete access to your camera, ports and side buttons.
Spigen Slim Armor Case
Don't think for a second we would leave out one of the most sought-after cases for the Galaxy Note 4. Yes, we're talking about the Spigen Slim Armor. You've got everything you need with this hybrid hero, including dual-layers, thin form factor and even a built-in kickstand for watching your favorite movies on the go.
It's no secret that Spigen is a community favorite here at Android Central. Their Slim Armor and Neo Hybrid cases consistently live up to our expectations, time and time again. The innermost layer features Spigen's webbed TPU pattern which helps spread shock throughout the entire case instead of the single point of impact. Complimenting that TPU core is their Air Cushion Technology on all four corners of the case. You can also rest easy knowing both the display and camera are guarded by a raised lip that keeps them off flat surfaces. There are 6 different colors to choose from, too — so you're likely to find the perfect match for your Note 4.
Urban Armor Gear Composite Hybrid Case
Not as bulky as an OtterBox, but just as protective is Urban Armor Gear's Composite Hybrid Case. These dual-layer covers protect the Galaxy Note 4 from more serious impacts and have rugged aesthetics that we absolutely love.
There's a lot to grip with these hybrid cases — between the textured side panels and unique armored shell — dropping your Note 4 becomes a rare occasion. Each corner of the case sports a little extra impact protection, too. By its looks, the case seems rather heavy, but it's surprisingly lightweight and slim for its construction. It even comes with its own screen protector (not built-in). Favorite colors include the ice, for it's transparency, along with rust and white.
Samsung S-View Wireless Charging Cover
Last up is Samsung's S-View Wireless Charging Cover for the Note 4. While flip cases generally aren't the most popular style covers, especially for larger devices, the S-View's clear front window allows you to utilize basic functions like checking notifications, accepting or rejecting calls, taking pictures — all without ever opening the case. And that's pretty cool in our book.
Another great feature of this case is its wireless charging capability. The back cover replaces your stock battery door, enabling you to use most Qi-charging pads on the market. When you flip the cover open, it automatically turns on your display. When closed, the S-View window activates for a short period. The exterior features a polyurethane leather texture that feels amazing and looks even better. There's no storage slots inside for cash, but the S-View is still stands out above the rest.
Verus Thor Slim Case
The motto here is "thin but practical" and that's exactly how we consider this cover. The Verus Thor Slim Case for Galaxy Note 4 utilizes a thin TPU layer to absorb minor impacts while the exterior polycarbonate shell keeps everything together. The entire case sports a curved design that feels natural in the hand, making sure to not go overboard on the bulk. Available colors include silver, pink, blue, black, and gold.
OtterBox Defender Series Case
If you're going for serious protection, the OtterBox Defender Case for Galaxy Note 4 is one worth considering. This rugged cover packs multiple layers that are ideal for handling brutal impacts. There's a built-in screen protector that helps keep unwanted scratches at bay along with a hardcore holster that clips to your belt. Keeping out annoying dirt and debris are silicone port covers, too. Snag one in glacier, black, neon rose, or oasis teal.
Maxboost Vibrance Series Case
Offering an incredibly slim fit with both TPU and polycarbonate materials is the Maxboost Vibrance Series Case for Galaxy Note 4. This cover keeps a simple design that doesn't skimp on protection. The Note 4 is wrapped in a shock absorbing layer inside while the exterior shell enhances grip with a smooth finish. Available colors include black, rose, and turquoise.
Spigen Neo Hybrid Case
This popular Galaxy Note 4 case from Spigen uses a polycarbonate frame around its textured TPU cover to provide a better feel and an enhanced grip. The lip around the front keeps the Note 4's display elevated just enough to keep away scuffs when faced down on flat surfaces. The metal coated plastic buttons compliment to Neo Hybrid's good looks, too. The TPU cover comes in black, but you can purchase the case in a variety of different color bumpers.
Caseology Envoy Leather Bumper Case
Although this Galaxy Note 4 case has leather in the title, don't be misled. The Caseology Envoy cover is actually made of a durable TPU that features a unique leather-like pattern on the back that helps keep your device in your hand and off the ground. Around the edges is a strong plastic bumper that assists in impacts. This case is surprisingly slim and comes in a bunch of different colors, making it an excellent option for protecting your Galaxy Note 4.
Supcase Unicorn Beetle PRO
When it comes to reliable protection against drops, you simply can't go wrong with the Unicorn Beetle Case for Galaxy Note 4. The advanced dual-layer design of this hybrid cover packs everything you need to withstand impacts and obtain a better hold on your Note 4. There's even an integrated screen protector on the top layer that does great in shielding against scratches. Take your pick of black, blue, green, pink, or white.
Caseology Daybreak Slim Case
For simple protection that's easy to install and remove when necessary, Caseology's Daybreak Slim Case for the Galaxy Note 4 is a solid win. This polycarbonate snap-on cover is highly resistant to picking up fingerprints and smudges. The plastic edges of the case actually keep the display from rubbing on flat surfaces when faced down, too. Available colors include black, blue, pink, white, and green.
Sign up for Black Friday email alerts!
Get the hottest deals available in your inbox plus news, reviews, opinion, analysis and more from the Android Central team.