Best cases for the OnePlus One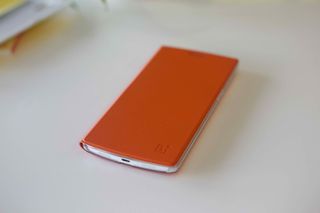 Whether you want to keep your OnePlus One protected, add a thin layer of grip to the phone, or turn it into a wallet, there are cases for all of your needs. Hunting down cases can be a daunting task, but don't worry — Android Central is here for you. Everyone's preferences are different, some are looking to keep their phone the same size while adding a bit of protection, and others want full protection to prevent drops from damaging it.
Let's take a look at some of the different options and see which will work best for you.
OnePlus Flip Cover
Cases do a great job of protecting the back of the phone but not always the front. With OnePlus' Flip Cover, you'll have protection for the front and back, so when you put the phone in your pocket, purse or elsewhere it will be able to prevent scratches on the screen. The flip cover doesn't add much bulk to the phone either, and the case will unlock and lock your phone as you open and close it. Adjusting the volume and accessing the power button is easy thanks to the great fit and cutouts for the ports.
See at Amazon (opens in new tab)
CruzerLite Bugdroid Circuit
CruzerLite has been around for years with its popular Bugdroid Circuit cases that offer a fun look to the back of its thin case. Available in a variety of colors, the case has a Bugdroid at the bottom of it with various lines coming off of it in a fun pattern. The thin profile of the case offers a form fit to the phone with easy access to its ports and buttons. Its TPU material is more cut and tear resistant than rubber, while still being stronger than silicon skins and remaining flexible. You can pick from a variety of colors like black, red, blue, white, and many others.
See at Amazon (opens in new tab)
TUDIA Ultra Slim
Cases aren't for everyone, but the protection they provide sure is nice. TUDIA's Ultra Slim TPU case offers a clear thin layer to the phone so it doesn't add much bulk or detract from the look of the phone itself. The case itself is very durable and has a soft touch feel to make it comfortable to use. It offers a form fit and easy access to all your ports. You can pick one up in clear, black or blue for just around $10 at Amazon.
See at Amazon (opens in new tab)
iThrough Dual Layer
If you are worried about your OnePlus One not being able to hold up to the abuse it sees daily, you'll want to pick up a protective case. iThrough's Dual Layer case offers a TPU layer and a solid plastic layer to ensure that the phone is well protected while in the case. It will bulk the phone up a bit, but for some that will make it easier to hold. The back of the case has a built-in kickstand so you can prop the phone up while you aren't holding it. Keeping your phone protected for just $7 is a no-brainer.
See at Amazon (opens in new tab)
E LV Wallet Flip Case
Cases don't only have to provide protection, sometimes they can also offer some additional functionality. The E LV wallet flip case will provide protection to the front and back of the phone, as well as give it a way to be propped up to watch videos and more. The case also has a number of slots to carry your credit cards, ID and more, as well as a slot for carrying cash. This means you won't have to lug around your phone, wallet and more for a night out, and instead can just carry around the phone with the rest attached to it.
Your favorite?
Do you have a favorite case for the OnePlus One that isn't mentioned here? If so, be sure to let us know in the comments, along with a link to where you can pick it up!
See at Amazon (opens in new tab)
Jared started off writing about mobile phones back when BlackBerry ruled the market, and Windows Mobile was kinda cool. Now, with a family, mortgage and other responsibilities he has no choice but to look for the best deals, and he's here to share them with you.
Lol Posted via the Android Central App

Lovely collection. Hopefully ill get a OnePlus 3 in the near future and then can equip it with one of these :D

These cases are for the one plus one, not 3. Posted via the Android Central App

I never received my invite to purchase! :)

why writing about cases for a 2+year old phone? Posted via the Android Central App

Maybe sales are up for the one right now? I don't even know haha. Posted via the Android Central App

then why not write articles about cases for nexus 4 or galaxy s5? because it's irrelevant. because it uses up bandwidth in people's brains. because people will stop reading if it increasingly becomes flooded with irrelevance. Posted via the Android Central App

Random Saturday post FTW!

Up next: The best case for your Moto G1 Posted via the Android Central App

How about the blackberry curve? Or the Moto RAZR?

Ya know I am pretty sure I have Blackberry curve still sitting around here. Come to think of it I stopped using because I didn't have a nice enough case. I would be interested in a story about cases for it. :-) Posted via the Android Central App

I still have mine too lol I wish i could still use it. It was a nifty little device. Except that it took 10 minutes to boot up haha

Could you guys do this for the oneplus 2? CAse selection for that phone is so poor Posted via the Android Central App

Uhhhhhhhhh.....,there is something weird here..... Ah whatever, I'll play along. I like the cruzerlite case. Posted via the Android Central App

why do they keep posting about the Oneplus 1? Posted via the Android Central App

I bought a new usb cable from that last part thinking it was usb c for the oneplus three. Seriously why are they posting all this about the oneplus one

Can we do V10 cases one last time before it gets replaced withe the V20 next month? Posted via LG V10

I have a Cruzerlite case for my Nexus 4. It's red. Posted via the Android Central App

We need a best case article for the moto V600 now.. Posted via the Android Central App

The classic Cruzerlite bugdroid circuit Posted via the Android Central App

Still a GREAT device! Updated to CyanogenMod 13.0 and the latest 8/16 security patch...great battery life after 2 years and running like a champ....where are you NoNexus? Posted via the Android Central App

My bad..... 13.1.1... Posted via the Android Central App
Android Central Newsletter
Get the best of Android Central in in your inbox, every day!
Thank you for signing up to Android Central. You will receive a verification email shortly.
There was a problem. Please refresh the page and try again.