Best Car Mounts for Galaxy S7 and Galaxy S7 edge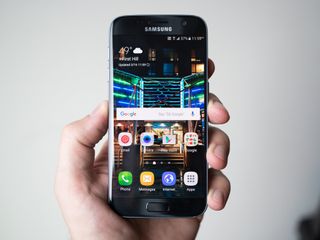 Updated March, 2017: Added the iOttie wireless charging mount.
In many cases, it's illegal for you to hold your cell phone to your ear while you're driving, so a car mount is a great alternative. This way, you can throw up a Google Map before you embark and you'll be able to following your path like you would on any GPS device.
Get yourself a Bluetooth headset (or, better yet, a car with built-in Bluetooth) and you'll be able to answer calls, since pushing a button on your phone will be no different than pushing the buttons on your console.
If you've got the Galaxy S7 or S7 edge, then we've got the car mount roundup you've been looking for.
Spigen Air Vent Magnetic Car Mount
Why you can trust Android Central Our expert reviewers spend hours testing and comparing products and services so you can choose the best for you. Find out more about how we test.
Gone are the days of gooey adhesives that muck up the inside of your pristine automobile. Magnets are where it's at. No, the magnets won't mess up your phone; you'll just have easy on and off mounting, which is what we all want, isn't it?
This Spigen mount has two sizes of slits to fit almost any car air vent and you can pop your S7 or S7 edge on in any orientation. All you do is stick the metal plate to the back of your phone's case and boom, your phone's magnetic and good to go any time. You can even take the mount with you and use it as a kickstand for when you're watching videos on your phone.
Note: you should stick the metal plates to a case and not the back of the phone itself. If you need some help finding cheap cases, we've got another round-up with your name on it.
It should also be noted that having the metal plate on the back of your Galaxy S7 or S7 edge's case will hinder wireless charging, so you'll have to take it out of the case for that.
EnergyPal HC84K Car Mount
This particular mount serves a dual purpose: it holds your phone and doubles as a car charger. The end of the mount plugs into your cigarette lighter and looks like most USB car chargers, but an articulating arm extends upward from the unit into a three-sided phone holder. It softly cradles your phone, leaving the bottom open so you can run your charging cable down to the USB ports.
This unit comes equipped with over-charge protection, so you won't fry your phone if your car decides to short circuit on you. The gooseneck-style end can be rotated to any orientation, so you can view maps in landscape format if you fancy.
The only downside of this particular mount will be where your lighter plug is placed. If it's kind of hard to get to, then this particular mount may not work out for you, since the neck is only about 5 inches long.
Logitech Drive One-Touch mount
If you're into a minimalist mount, then the Logitech Drive will suit your needs nicely. It mounts with just a twist and only takes up about 2 inches of either your dashboard or windshield.
The adhesive metal disc attaches to either your phone or its case (definitely preferable) and it securly mounts to the Drive in any orientation you like.
iOttie Easy One Touch Car Mount
This is one of those mounts with a sticky gel pad that you stick to your dashboard, so if you're worried about damage, you may want to sit this one out. However, the nice part about it being a gel pad is its ability to stick to uneven and textured surfaces, making this mount ideal for even the most oddly designed vehicle interior.
You've got a telescopic arm that extends two inches and bends 180-degrees, to give you versatility in terms of where you stick your mount. It comes with a one-year replacement warranty, so if anything goes wrong, you just contact iOttie and they send you a new one.
If the gel pad on the back gets all dusty and gross and won't stick anymore, you can just rinse it under warm water, let it dry, and it'll be good as new.
Nite Ize Steelie
This mount is just plain cool as hell. You stick the magnet to the back of your phone or case, and it easily mounts to the magnetic ball that mounts to your dash. It takes up next to no space, and you can mount your phone in any orientation you want.
The magnet is strong, so there's no worry of your Galaxy S7 or s7 edge falling off (unless you plan on off-roading), and the adhesive won't leave a grody residue on your phone or dashboard.
Spigen Style Ring
If you want to go as minimal as possible, then the Spigen Style Ring is the only way to go. It's an adhesive piece, no bigger than an inch, that sticks to the back of your phone, with an articulating ring that doubles as a kickstand (bonus!).
Then, there's another piece, about the same size, that adheres to your dashboard or your console and you just hang the ring on it. That's it. It takes up about as much space as the volume knob on your radio. If you're taking some wild turns, it may jostle your phone out of place, but it's otherwise quite secure, despite how it looks.
Make sure you stick it to your dash during warmer months, since the adhesive won't really take in the dead of winter.
ProClip mobile mounting solutions
For a completely customized car mount, direct your attention to ProClip. They offer a two-part car mount solution that you customize for your specific needs. Firstly, you select your iPhone 7 or 7 Plus from the menu, and indicate whether or not you want to factor in the case you use. You'll be given a variety of six to eight images to choose from with specs and details for each phone holder offered.
Once you've decided on your iPhone holder, you move on to the custom mounting base. Select the kind of base you want (dashboard, pedestal, and so on) and select the vehicle you drive. The bases you will be selecting from are designed to snap into the seams of your dashboard or grip the necessary panels, so no sticky pads or bolts are necessary. Eliminate the guessing by customizing every aspect of your car mount and know that it's going to fit just the way you want it to.
RAM mount
The RAM mount is a heavy duty twist-locking suction cup mount that mounts on your dashboard or windshield. Made of marine grade aluminum, the RAM is just about as tough as they come and sturdily holds onto your Galaxy S7 or S7 edge and won't let go.
The rubber-coated tips ensure that your phone doesn't slip, and the holder is spring-loaded, so you don't need to fiddle with the mount with both hands just to get your phone in there.
If you need a mount that holds onto your phone with kung fu grip, check out the RAM.
iOttie HLCRIO132 wireless charging mount
This Qi-enabled mount is perfect for keeping your Galaxy S7 charged up on the go. The two-step locking mechanism is perfect for any type of dashboard, since one step is for smooth surfaces and the second is for textured surfaces.
This mount also features iOttie's great one-touch mounting system that make it easy to mount your phone and remove it quickly. It has a telescopic arm so that you can adjust and orient it in any way you like, and it comes with a Micro-USB cable, as well as a dashboard pad so that you can mount on even the most stubborn surface.
Important to consider
Double-check the ol' law where you are and make sure that it's not illegal to mount anything on your windshield.
You'll also want to consider the absorbency of your dashboard, since some adhesives may leave stains.
What's your favorite?
Which car mount are you presently using for your Galaxy S7 or Galaxy S7 edge? Sound off in the comments below!
Be an expert in 5 minutes
Get the latest news from Android Central, your trusted companion in the world of Android
Mick is a writer and duty editor for Android Central. When he's not on the job, he can usually be found vacuuming up pet hair or trying to convince his wife that he needs more guitars.