Best Car Mounts for Galaxy S7 and Galaxy S7 edge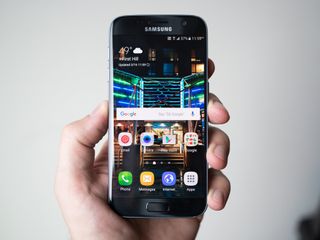 Updated March, 2017: Added the iOttie wireless charging mount.
In many cases, it's illegal for you to hold your cell phone to your ear while you're driving, so a car mount is a great alternative. This way, you can throw up a Google Map before you embark and you'll be able to following your path like you would on any GPS device.
Get yourself a Bluetooth headset (or, better yet, a car with built-in Bluetooth) and you'll be able to answer calls, since pushing a button on your phone will be no different than pushing the buttons on your console.
If you've got the Galaxy S7 or S7 edge (opens in new tab), then we've got the car mount roundup you've been looking for.
Spigen Air Vent Magnetic Car Mount
Gone are the days of gooey adhesives that muck up the inside of your pristine automobile. Magnets are where it's at. No, the magnets won't mess up your phone; you'll just have easy on and off mounting, which is what we all want, isn't it?
This Spigen mount has two sizes of slits to fit almost any car air vent and you can pop your S7 or S7 edge on in any orientation. All you do is stick the metal plate to the back of your phone's case and boom, your phone's magnetic and good to go any time. You can even take the mount with you and use it as a kickstand for when you're watching videos on your phone.
Note: you should stick the metal plates to a case and not the back of the phone itself. If you need some help finding cheap cases, we've got another round-up with your name on it.
It should also be noted that having the metal plate on the back of your Galaxy S7 or S7 edge's case will hinder wireless charging, so you'll have to take it out of the case for that.
See at Amazon (opens in new tab)
EnergyPal HC84K Car Mount
This particular mount serves a dual purpose: it holds your phone and doubles as a car charger. The end of the mount plugs into your cigarette lighter and looks like most USB car chargers, but an articulating arm extends upward from the unit into a three-sided phone holder. It softly cradles your phone, leaving the bottom open so you can run your charging cable down to the USB ports.
This unit comes equipped with over-charge protection, so you won't fry your phone if your car decides to short circuit on you. The gooseneck-style end can be rotated to any orientation, so you can view maps in landscape format if you fancy.
The only downside of this particular mount will be where your lighter plug is placed. If it's kind of hard to get to, then this particular mount may not work out for you, since the neck is only about 5 inches long.
See at Amazon (opens in new tab)
Logitech Drive One-Touch mount
If you're into a minimalist mount, then the Logitech Drive will suit your needs nicely. It mounts with just a twist and only takes up about 2 inches of either your dashboard or windshield.
The adhesive metal disc attaches to either your phone or its case (definitely preferable) and it securly mounts to the Drive in any orientation you like.
See at Amazon (opens in new tab)
iOttie Easy One Touch Car Mount
This is one of those mounts with a sticky gel pad that you stick to your dashboard, so if you're worried about damage, you may want to sit this one out. However, the nice part about it being a gel pad is its ability to stick to uneven and textured surfaces, making this mount ideal for even the most oddly designed vehicle interior.
You've got a telescopic arm that extends two inches and bends 180-degrees, to give you versatility in terms of where you stick your mount. It comes with a one-year replacement warranty, so if anything goes wrong, you just contact iOttie and they send you a new one.
If the gel pad on the back gets all dusty and gross and won't stick anymore, you can just rinse it under warm water, let it dry, and it'll be good as new.
Nite Ize Steelie
This mount is just plain cool as hell. You stick the magnet to the back of your phone or case, and it easily mounts to the magnetic ball that mounts to your dash. It takes up next to no space, and you can mount your phone in any orientation you want.
The magnet is strong, so there's no worry of your Galaxy S7 or s7 edge falling off (unless you plan on off-roading), and the adhesive won't leave a grody residue on your phone or dashboard.
See at Amazon (opens in new tab)
Spigen Style Ring
If you want to go as minimal as possible, then the Spigen Style Ring is the only way to go. It's an adhesive piece, no bigger than an inch, that sticks to the back of your phone, with an articulating ring that doubles as a kickstand (bonus!).
Then, there's another piece, about the same size, that adheres to your dashboard or your console and you just hang the ring on it. That's it. It takes up about as much space as the volume knob on your radio. If you're taking some wild turns, it may jostle your phone out of place, but it's otherwise quite secure, despite how it looks.
Make sure you stick it to your dash during warmer months, since the adhesive won't really take in the dead of winter.
See at Amazon (opens in new tab)
ProClip mobile mounting solutions
For a completely customized car mount, direct your attention to ProClip. They offer a two-part car mount solution that you customize for your specific needs. Firstly, you select your iPhone 7 or 7 Plus from the menu, and indicate whether or not you want to factor in the case you use. You'll be given a variety of six to eight images to choose from with specs and details for each phone holder offered.
Once you've decided on your iPhone holder, you move on to the custom mounting base. Select the kind of base you want (dashboard, pedestal, and so on) and select the vehicle you drive. The bases you will be selecting from are designed to snap into the seams of your dashboard or grip the necessary panels, so no sticky pads or bolts are necessary. Eliminate the guessing by customizing every aspect of your car mount and know that it's going to fit just the way you want it to.
RAM mount
The RAM mount is a heavy duty twist-locking suction cup mount that mounts on your dashboard or windshield. Made of marine grade aluminum, the RAM is just about as tough as they come and sturdily holds onto your Galaxy S7 or S7 edge and won't let go.
The rubber-coated tips ensure that your phone doesn't slip, and the holder is spring-loaded, so you don't need to fiddle with the mount with both hands just to get your phone in there.
If you need a mount that holds onto your phone with kung fu grip, check out the RAM.
See at Amazon (opens in new tab)
iOttie HLCRIO132 wireless charging mount
This Qi-enabled mount is perfect for keeping your Galaxy S7 charged up on the go. The two-step locking mechanism is perfect for any type of dashboard, since one step is for smooth surfaces and the second is for textured surfaces.
This mount also features iOttie's great one-touch mounting system that make it easy to mount your phone and remove it quickly. It has a telescopic arm so that you can adjust and orient it in any way you like, and it comes with a Micro-USB cable, as well as a dashboard pad so that you can mount on even the most stubborn surface.
Important to consider
Double-check the ol' law where you are and make sure that it's not illegal to mount anything on your windshield.
You'll also want to consider the absorbency of your dashboard, since some adhesives may leave stains.
What's your favorite?
Which car mount are you presently using for your Galaxy S7 or Galaxy S7 edge? Sound off in the comments below!
See Galaxy S7 at Amazon (opens in new tab)
Mick is a writer and duty editor for Android Central. When he's not on the job, he can usually be found vacuuming up pet hair or trying to convince his wife that he needs more guitars.
I'm looking for a fast wireless charging one if it exists. I have a Samsung one I got back with my s5 that works fine but it would be nice to just throw the phone in and not have to connect a cable to it

I too am looking for a true wireless fast charger for my 7 Edge. I've got an IOttie mobile wireless charger which does a fairly good job. But if I run the screen at 100 % and run Sygic at the highest level of quality, my battery life slowly bleeds off. This is of course during the middle of the day and the sun is at its brightest on the motorcycle. Posted via the Android Central App

Is that the MirrorLink version of Sygic? Posted via the Android Central App

Looks like the only one that exists isn't fast charging and doesn't work with thick cases... total fail :/ Going to try a cig lighter fast charge adapter with a samsung wireless fast charging stand as thats the only one that goes through my Otterbox as of yet. I'll duct tape it to my damn dash if I have to.

Seems like nobody has heard of XVIDA.COM. It was a kickstarter campaign for the 2nd time. Its a magnetic fast charging solution. The backcover is magnrtic and they have a leather flipcover to hold plastic cards (credit card etc). It keeps your phone showing its beauty instead of covering the looks like most covers. Ive got a desk stand... Wall mounts in my bedroom and a suction cup in my car! Its perfect!!!

I have samsung's wireless car dock. Not fast charging but works perfect for me with the basic Qi charge. luvin my s7 edge

Doesn't charge through Otterbox covers, total fail.

Super. I don't use cases so it's far from a fail for me.

I have been using this from Olixar https://techbuzzireland.com/2016/03/30/review-the-olixar-universal-dock-... pretty cool

I hate Window mounts Galaxy S7 Edge Exynos - Posted via the Android Central App

No wireless fast charging, total fail.

Yup, best mounts I've used.

Air dock is the best hands down.

Spigen Air Vent Magnetic Car Mount Although sticking the mag plate on inside of case may be the better option for removal, there is also the option of black, grey, gold, or silver magnetic plates at https://www.androidcentral.com/e?link=https2F2Flink... Best way to remove mag sticker from phone is hair dryer for heating adhesive and fishing line to get under and saw.

I have the spigen magnet mount...does not interfere with wireless charging one bit Posted via the Android Central App

I have one very similar to the Spigen Air Vent and the magnet sticks straight to the back of my S7 Edge. The phone has magnets in it. Even strong enough to work through a Ringke Slim case.

You guys really picked some awful mount's. Here I bought two of these. One for each car. Love them! Awesome no trouble at all. Great materials and.. Ya..buy this one. http://www.amazon.com/gp/aw/d/B00YZO04CQ/ref=mp_s_a_1_4?qid=1462133014&s... Posted via the Android Central App

How quaint. Someone still has a CD player in his car...

My 2015 has a CD Slot Bluetooth/many ports I use the Ipow CD holder mount its excellent so yes modern cars do have slots

unnecessary comment. I mean, really. Not you Vixen, I'm referring to bbcrts

No Brodit? The only one I use for ages in my car(s) Tailor made for the phone and you car model (2 parts here) Posted via the Android Central App

Proclip + iBolt Posted via the Android Central App

Similar setup here but instead of iBolt i went for the more expensive option of ram mount

This works great. Small and works as a stand when out of the car http://www.amazon.com/gp/aw/d/B00LU5LWQK/ref=mp_s_a_1_1?qid=1462139107&s... My Spectacular Samsung Galaxy S7Edge

Airdock or Tylt for the win. https://www.androidcentral.com/e?link=https2F2...

I use magnetic mounts but I used to love the mounts that went in your cupholder instead of a suction mount. Posted via the Android Central App

I had to fabricate a mount for my primary car, using the base from a Bell mount and the holder from some other brand that came with a goose neck. Now it's a short mount with a ball swivel and the holder, and rotates for landscape mode. I use a Plantronics Voyager Pro HD for talking on the road, and a direct hardwired connection for music with a BT remote control. I actually like taking with the phone hardwired though, with the other person talking through the stereo and me using the mic on the phone. If I'm going to park and take a conference call, this is more relaxing. Posted via the Android Central App

All that and no wireless chargers? One of the many great things about these phones is that Samsung stuck with wireless charging! I have an awesome iOttie mount/charger - the companion to the one in your ratings, actually - that has a Qi pad built in. No fumbling with cords; when I drive cross country with the nav on or even if I'm just listening to music, my phone is charging and when I get to my destination I just push the buttons and go.

bbycrts... I believe I have the same one (HLCRIO132), but find that it is EXTREMELY slow at charging... any secret to make it work better? (I have a thin case on, but it doesn't hinder my Samsung "Fast Charge" wireless charger).

I'm surprised none of the Arkon mounts were mentioned. A lot of pro social media people use them. I have a Toyota Sequoia which has a very deep windshield. I use this telescoping mount: http://www.amazon.com/Arkon-CM117-SBH-Replacement-Windshield-Mounting/dp... With this holder: http://www.amazon.com/Arkon-Universal-Smartphone-Holder-Samsung/dp/B004I...

So, the best car mounts for the S7 are all universal mounts?! Laziest clickbait article ever.......?

I use RAM mounts with one of their large phone adapters, so much stronger than the cheap car mounts you find such as these.

Choetech Qi charging dock (3-coil): http://www.amazon.com/CHOETECH-CHOE-T510-Wireless-Charging-Qi-Enabled/dp...

Whaaaa....??? No love for Kenu Airframe+?? I drive a performance sedan and have a "spirited" driving style and this vent mount is unshakable! I've tried most of the suction cup, cupholder, and cigarette lighter mounts and they either fall off, drop the phone, or are too inconveniently placed to be useful. I've used this one in several cars with both horizontal and vertical vents and it's been solid in all of them. Best $24.99 I've spent. :) Posted via the Android Central App

I have a Lifeproof window mount. Works well and with the tab on the back i can also use the bike mount on my Harley.

If you run caseless you don't need the plate for the phone. It.will stick to the magnet just fine.

Been using the Spigen Air Vent Magnetic Car Mount for a while now. Best mount I've used!

I'm using a cheap $4 magnetic vent mount that I found at Walmart in the automotive department. It has held up better than others I have used in the past.

Oh, yes, sticking an ugly metal plate to the back of my phone (case or otherwise) will be soooo stylish.

I used a wireless charger in my car with my last phone, and it didn't go so well. The heat of the wireless charging, combined with the heat from the sun coming through the windshield, caused my phone to stop charging due to overheating on multiple occasions. Wireless fast charging would probably be even worse. I gave up on wireless charging in the car, and just plug it in when I need to charge while mobile.

None of these have wireless charge, totally useless waste of spaces.

http://www.thingiverse.com/thing:2175332 Check this one out. I designed it for my S7 and the wireless charging works perfectly.

Hi there. I want the following;
* to keep my phone in a protective carry case
* to mount the phone in the car without having to remove it from its carry case
* to use Android Auto in the car (therefore, regardless of wireless charging, I need to connect a USB cable from the car to the smartphone)
There is no solution for all 3 - is there?

Yeah there is. You can use a magnetic mount. I really cant believe there was only one on this list, but, this article was basically a sponsored ad. Magnetic mounts will have you place a magnetic plate either under your phones back (if removable) or in-between the phone and the case. They are very strong and will let you easily mount your phone without having to remove a case or deal with silly snaps and clips. Once you go magnet, youll never go back. As far as android auto, you'll just run the USB cable from your car into the phone. For me, this comes out of my center console and into the phone, but some stereo head units have external usb ports for cleaner (read: shorter) connections.

I much prefer the magnetic phone mounts too. No awkward clamp arms to open or get in the way of the buttons; just stick and go. Quick demonstration: http://felixwong.com/2015/08/best-way-to-attach-smartphone-in-car-magnet...

I've been using a Mountek nGroove universal CD slot mount unit that I bought at Amazon in my work vehicle. All my media is digital so my CD player just sits there idle. It keeps my phone just inches away when hands are in the 10 and 2 position on the wheel - much closer than placement on top of the dash or stuck to a window mount.

The iOttie HLCRIO132 is an great mount, however, it barely works as a wireless charger for the S7. It is not a fast wireless charger, and barely keeps my S7 alive when using GPS navigation apps like Waze or Google Maps.

RAM mounts all the way. Securely holds my note 4, in an Otterbox case, and with the weighted base it sits where I want it, in multiple vehicles. No worries about the no mounts on windshield laws. Best mounts I have ever had.

I am using the mophie wireless car charger together with mophie wireless case charger. That's a good combo.

Not one mention of clamp style mounts? They are by far the best, most accessible, slimmest, widest compatible mount there is. No sticky layers, no added magnetic case, no adjusting flaps.. AND they're like $2 on Aliexpress
I bought something similar at my local Walmart for $10 because screw waiting, but I believe most of these come with a bunch of clip adapters like vent, sticky, glass suction-cup, cupholder adapters etc. aliexpress.com/s/item/2052538024.html

I found this one today: https://www.amazon.ca/Mpow-Universal-Holder-Rotation-S5-Black/dp/B00PC29... That's the one I'm getting!

I find the Kenu Airframe to be a nice, simple vent clip based phone mount that works really well for me. I've had mine since for a few years now I haven't had any issues with it. I like how it doesn't fall off despite being only clipped onto the vent area in the car even during really bumpy car rides and the fact that it doesn't use use any adhesives to stick to the dash, there's no residue left behind.

Designed and 3D printed this fast wireless charging phone holder. Uses an Anker fast wireless charging pad and holds my S7 perfectly. Also made one for my wife's S7 in a thin case. Both work great and screw into a ProClip dash mount. http://www.thingiverse.com/thing:2175332

Not mentioned here but an OEM solution with integrated wireless charging from Samsung has been the best to date. Mine's been working like a champ in my truck using maps and other battery draining operations for over a year. No wear and tear on my USB port. This is a costly phone for USB charging port repairs.

YOU'RE ALL WRONG!
Sorry, typo. I meant to say "Hi, how are you?". The keys are like right next to eachother. Anyway, The Best mount for the S7/S7E is actually a combo of mounts. You'll want the "Montar Air Qi" (http://winnergear.com/product/montar-air-qi-car-mount/) for its FAST wireless charging and secure grip on your phone. The suction cup part is fine for what it is, but for the absolute pinnacle, you'll want a Proclip that fits your car, plus the Proclip 17mm ball that fits the Montar Air Qi. End result: Fast wireless charging with a secure grip on any phone AND it'll be rock solid with zero vibrations: http://imgur.com/a/mwAQf Yes, it takes A WHOLE 5 MINUTES of extra work, but holy heck it's so much better than anything else out there. Plus, you'll get fast wireless charging.

I like this, really grips the phone and no sticky residue. Heininger 1065 CommuteMate DashGrip
Android Central Newsletter
Get the best of Android Central in in your inbox, every day!
Thank you for signing up to Android Central. You will receive a verification email shortly.
There was a problem. Please refresh the page and try again.