Best Buy already offering open-box unlocked Galaxy S8 for $638, GS8+ for $726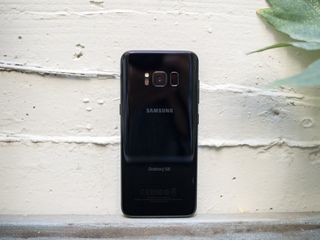 There are legitimate questions surrounding whether or not you should go with a U.S. unlocked Galaxy S8, but for those who are all-in on the unlocked bandwagon this is a great deal. Just a week after the U.S. unlocked Galaxy S8 and S8+ went on sale, Best Buy is already offering "open-box excellent" condition Galaxy S8s for nearly $100 off — setting you back just $637.99. The open-box Galaxy S8+ is $725.99, also nearly $100 off.
See at Best Buy (opens in new tab)
What does "open-box excellent" mean? Well, Best Buy describes it as "Product looks brand new and includes all original parts and accessories." That means we're basically talking about phones that were purchased (perhaps as a gift), and then returned within their return window. Since Best Buy can't technically sell it as "new" anymore, it has to drop the price and sell as an open-box deal — even though the phone shows no signs of use.
There are apparently enough of these open-box models that Best Buy is even selling them online (opens in new tab), so you don't have to go to a local store and hunt down the deal. Rather than the free two-day shipping that Best Buy offers on its new products, these open-box units are free "standard" shipping — but hey, you're also saving a good chunk of change on the phone.
Is anyone tempted by the thought of saving $100 on the U.S. unlocked Galaxy S8 or S8+ just by snagging an open-box unit? Let us know in the comments!
Get the Android Central Newsletter
Instant access to breaking news, the hottest reviews, great deals and helpful tips.
Andrew was an Executive Editor, U.S. at Android Central between 2012 and 2020.
Solid deal. If only they were better with updates for the unlocked models.

Area the bootloaders locked on these?

Yes bootloaders are locked.

Didn't take long for people to realize the phone is garbage and return it.

Not an apple troll, the S8 looks like ass with the soap bar look and idiotic curved glass screen, this coming from a S7 owner, Samsung lost the plot. Now they have plans to bring to market the legendary Note line of devices "the Note 4 was the best phone Samsung ever made" with the ginormous "no one wants a tablet in their pant pocket" Note 8 with that same idiotic design and curved glass.

Note 4, the Note 3 does not compare to the Note 4.

Cool story bro...but again, NO http://www.androidauthority.com/galaxy-s8-plus-daily-driver-770906/

No one cares about a site "manufacturer" sponsored article, you buying the kool-aid like everyone else.

Oh, but they DO care... 😁

Why do you keep saying Samsung devices with curved displays look like bars of soap? They don't. One could say that alot of devices taking on the shape of a rounded rectangle look like a bar of soap. I find that the S8 and S8 plus look great, but it's unfortunate that durability is compromised with curved glass. See...those are two different things. Blame Samsung and Gorilla Glass.

The S8 looks like a cheap Chinese toy, that also has that idiotic FRAGILE curved glass screen and soap bar design look, you think I did not handle the device before making these observations.
I am not the only one who feels this way, Samsung has lost the plot.
I understand there is people like you that are Samsung fanatics just like there is Apple iCrap fanatics, that no matter what they release, be it a ****, they will praise it to high heaven, sorry, but I tell it like I see it. Now if you have girly mittens then that phone is perfect for you.

The ranting of a lunatic. And everyone here knows it. Crawl back under your bridge troll... https://www.androidcentral.com/samsung-galaxy-s8

Sorry I am not a PAID Samsung shill.

Cool, cool, cool... Your shtick is old now. Time for a new one.

What shtick. Sorry I do not follow herds like a sheep.

You say the same things over and over. It's either a shtick, or...nevermind. Moving on...lol

Whatever makes you feel better

Someone will find this story useful and purchase an open box unlocked S8 or S8+. Believe it or not, not everyone that questions your comments is a Samsung fanatic. I really hate going here, because it adds nothing to the conversation. But about your comments: They are juvenile, just like the vocabulary you use. I've never seen someone so concerned with technology and self-proclaiming how "well informed" they are all while using made up names like iCrap and Samlag to convey their thoughts. Everything you disagree with is "idiotic" and if I'm not mistaken, everyone here drinks "Kool-aid" except you. I challenge you to surprise alot of us here, ditch the trolling, and debate like a civil person. I simply asked you why you're so set on comparing Samsung phones to a bar of soap when the design really isn't bad at all.

Sorry but I don't drink the kool-aid like some in here, wink wink.
Your comment in regards to my writing shows that I hurt your feelings, how come.
I never said anything personal against you or anyone else in here.
I have made negative comments about an ELECTRONIC device "a smartphone", but you on the other hand are making it personal, you have issues.

How about we all stop being super toxic for no real reason? You don't like the phone .. Cool! .. But if people comment on a phone YOU like then you get bothered.. So why do it to them? Just makes no sense to be toxic and.. to be frank .. be a dick for no reason. So let's all chill. Be together -- not the same.

Toxic, really, what is it with this snow flake generation nowadays.

Please check your PMs for a more detailed explanation. Thanks.

HEY! YOU STOP BEING A MEAN TO PEOPLE, YOU BIG MEANIE!!! https://www.google.com/imgres?imgurl=http2F2Fentri...

Agreed, excellent post indeed

I agree with you, but unfortunately they keep selling the crap out of them, even at those ridiculous prices. "The S8 looks like a cheap Chinese toy, that also has that idiotic FRAGILE curved glass screen and soap bar design look, you think I did not handle the device before making these observations."

The fact that they have enough returns to sell them this way says something about the device. Clearly many are not happy with them and returning them for something else.

I really don't think you can decipher why people are returning it just by the fact that there are open box deals.

Well, not unless it's the narrative he's going with. How many millions are happy with their phones and keeping them? I guess doesn't matter because it doesn't suit the intended narrative.

No it doesn't. Having worked at best buy, many, many items from different manufacturers are returned and returned for a variety of reasons including impulse buys on credit that the customer could not actually afford. This applies to phones, flat screen tvs, lap tops and so forth. Often it has very little to do with the quality of the product, especially if BB is still able to sell it for 700+. People really need to think...

It really could just be all the "bonus" incentives that Samsung is offering. If you bought the device outside those slim windows you didn't get anything. If you called Samsung Support to complain, they would actually just say to return it and rebuy it.

How is this a good deal? I just bought a new unused Galaxy S6 for $180 shipped on Swappa. S7 Edges new are going for $375. The LG G6 is a little over $400.

I know two people who returned there S8 to bestbuy. Surprising the S8 isn't for everyone .

No phone is... Be together, not the same.

The S8 is a beautiful looking device, but that fingerprint scanner, I just can't get past that terrible terrible location. Last year it was the micro usb cable, and the year before that, the removal of the micro sd card. So far Samsung has lost over $2400 in sales from me.