Best Accessories for Razer Phone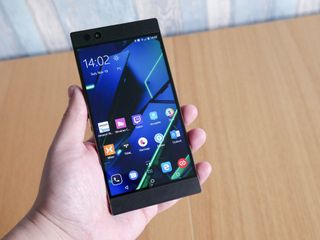 What can turn a good phone experience into a great phone experience is often what else you can add to it. You have to accessorize!
In the case of the Razer Phone, one of our current favorites, there are some great accessories you can pair it with to really help you get the most from the phone.
Here, we've rounded up some of the best ones that are worth your time.
Razer Rugged Case
Why you can trust Android Central Our expert reviewers spend hours testing and comparing products and services so you can choose the best for you. Find out more about how we test.
Don't let the name fool you into thinking this is some gargantuan monstrosity that'll make your already large phone even larger. The Rugged Case by Razer is tough, and it'll take care of the phone, but calling it truly rugged is a stretch.
What it is, is probably the nicest case you'll find for the Razer Phone right now. On the outside, it's a tough polycarbonate, and on the inside a soft (and very green) TPU lining.
It protects the whole top of the phone along with both sides bar cutouts for the power button and the volume keys. The entire bottom is open, which is good because my experience with cases has had mixed results in the USB-C-to-3.5mm adapter fitting properly with cases that just offer a small cutout around the charging port.
It's a little pricey at $40, but it looks great and naturally you'll find Razer's familiar logo on the back.
Anker PowerCore II 10,000mAh battery pack
With a 4,000mAh battery inside the Razer Phone, it's not that likely you'll be going hunting for a charger before the end of the day. But, if you're a mobile gamer that's going to be away from an outlet for some time, you might need a little top up lest your VainGlory grind be interrupted.
The Razer Phone supports QuickCharge 4.0, but there don't seem to be any battery packs out there built for this yet. Instead, you should turn to a respected brand, and Anker's PowerCore batteries are about the best you can buy.
This 10000mAh battery pack is far from the biggest you can get, but it'll charge your Razer Phone twice, has a high power output and most of all, is small enough to fit in a pocket. And with a QuickCharge wall adapter, you can charge the whole thing back up in just 4 hours. And it's only $30.
See at Amazon (opens in new tab)
Razer Hammerhead USB-C headphones
With no 3.5mm jack on the Razer Phone, you'll be living that dongle life if you want to hook up your favorite set of headphones. But however good the THX DAC in the dongle may be, it's still something you can, and probably will, lose pretty easily.
An alternative is to get a set of USB-C powered headphones and Razer makes its own that sound pretty darn good. They're comfortable, with a selection of tips to get a good fit, offer a decent amount of passive sound isolation, an inline remote, tangle-free cable and an included carry case. Oh, and they light up.
They're a fairly hefty investment at $80 but offer a great package and are about 100 times more convenient than carrying a dongle.
More: Razer Hammerhead USB-C review
Samsung 128GB MicroSD
64GB of internal storage is great, and it's probably the minimum you'd expect to find in a high-end phone right now, but when it comes to storage, can you ever really have enough?
The Razer Phone accepts a microSD card and while there are a ton out there and frequent deals, one brand I always come back to is Samsung.
This 128GB microSD card will add twice as much storage again to your Razer Phone for a small outlay of just $40. And with 100MB/s and 90MB/s read and write speeds, it's got the performance to match your superfast phone.
See at Amazon (opens in new tab)
8Bitdo SF30 Pro controller
If you bought a Razer Phone there's a good chance you like to game. There are some tremendous games out there with superb touchscreen controls, but sometimes, you just want a controller.
One of the best options you can get right now to use with a mobile device is the 8Bitdo SF30 Pro. What makes it so good? It's basically a clone of the legendary SNES controller but with a modern day upgrade, so you get triggers and a pair of analog sticks. But it feels mostly like the original, and that's just great.
There's an optional phone clip to mount the phone to the controller, but if you use it with the Razer Phone you may have to put the phone off center so as not to interfere with the volume buttons.
It also comes in two color schemes: Purple to match the NA model SNES and multi-colored to match Japan and Europe. Both are $50 a piece but they can be used with a PC, Mac or iOS device as well as your Razer Phone, so they're really versatile controllers.
See at Amazon (opens in new tab)
Aukey braided USB-C Cable
Yawn, a USB cable? I don't care if it is braided.
If this is your reaction, don't be too hasty. The Razer Phone comes with a USB-C to USB-C cable in the box that's perfectly fine for charging it from the included wall adapter. But what if you want to charge from your PC or laptop, or a portable battery pack?
In most of these cases right now you probably don't have USB-C ports available, and even if you do, having additional cables is always useful. In this case, it comes from a respectable brand, Aukey, only costs $8 and means you can plug your phone into anything with a normal USB-A port.
See at Amazon (opens in new tab)
Android Central Newsletter
Get instant access to breaking news, the hottest reviews, great deals and helpful tips
Would love for the razor to phone to have a Samsung display

Yeah, that's probably the biggest fly in the ointment. Oddly, the Razer phone loads games slower than other phones, but once it's in, you're fine.

Wait, a 4,000 mAh battery and you need a power bank? Just kidding, as I know gaming can hit a battery almost as hard as VR. Not sure about the Aukey USB cables, as the set of Aukey cables I bought all failed early, my Aukey power bank has a wonky power indicator (model PB-T3), and my Aukey charger only slow charges now (model PA-U28). I see a trend...
Android Central Newsletter
Get instant access to breaking news, the hottest reviews, great deals and helpful tips
Thank you for signing up to Android Central. You will receive a verification email shortly.
There was a problem. Please refresh the page and try again.