Best Accessories for the Moto Z2 Force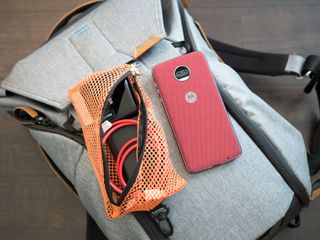 The Moto Z2 Force sure is an interesting 2017 flagship. With a top-end Snapdragon 835 processor, 4GB of RAM and the power of Moto Mods in its back pocket, its a formidable device that's made all the better with accessories.
From battery packs to Bluetooth headphones to the wide range of Moto Mods available, let's dive right into the best accessories for the Moto Z2 Force.
Moto Mods
Why you can trust Android Central Our expert reviewers spend hours testing and comparing products and services so you can choose the best for you. Find out more about how we test.
One of the biggest selling points of the Moto Z lineup is the ability to snap on a growing assortment of Moto Mods. Consider some of the coolest options like the Hasselblad True Zoom Camera Mod and Moto Insta-Share Projector Mod, or the incredibly handy battery packs. There's too many to list here, so you'll want to check out our Ultimate List of Moto Mods below. We've highlighted some of the latest ones below.
Gamepad Moto Mod
The Gamepad MotoMod is the cool new accessory for 2017. Take your mobile gaming to the next level with dual-stick controls and physical buttons.
This is the sort of thing you bought this phone for, right? No other (non-Moto Z) phone can be snapped into the middle of a gaming controller like this for an unparalleled gaming experience. Because it's a Moto Mod you know it's quick and simple to pop in, with a built-in battery so you can game for up to eight hours without needing to recharge the controller.
Motorola Battery Case
One of the glaring issues with the Moto Z2 Force is the battery capacity — coming in under 3,000mAh means a heavy user is not going to make it through the day on a single charge. But that's where the Moto Mods come in, and you're definitely going to want a battery pack for this phone.
Right now, you can pick up Motorola's own 2220mAh Battery Case for $50, which will give you an added boost without sacrificing the Z2 Force's slim design. If you've used a Moto Mod before, you know it's as easy as snapping it on the back of the phone and going, making this a great option to have on your phone at all times, or stashed in your backpack for the times you really need it.
If you can wait, Motorola is about release the TurboPower Pack with an impressive 3490mAh battery. Bigger is almost always better, and this updated battery pack also boasts lightning-fast recharging speed — basically a must-own accessory for Moto Z2 Force owners. You can pre-order it from Verizon for $80.
Incipio DualPro Case
With the Moto Z2 Force and its ShatterShield screen you won't have to worry about catastrophic failure if your phone falls to the floor — but instead you'll be dealing with the scuffs and scratches that Gorilla Glass is designed to withstand.
That's why you're going to want a case for your phone, and the Incipio DualPro Case would make a great choice great choice. It's a dual-layer case that combines a shock-absorbing inner shell of silicone surrounded by a rigid polycarbonate case with a soft touch finish. Available in seven color combinations, it's got a classic design that will keep your phone safe while looking stylish. The front lip around front edges offers the much-needed protection for the scratch-prone screen, and it also provides a bit of a gap between the screen and the tabletop if you use the Flip for Do Not Disturb action.
If you trust Incipio's products, you may also be interested in the OffGrid Power Pack Backup Battery Case Moto Mod which trades off the added protection for up to 20 additional hours of battery life.
See at Incipio
Looking for more recommendations?
Best cases for the Moto Z2 Force
IQ Shield Tempered Glass Screen Protector (3-pack)
Motorola loves to talk up the ShatterShield screens on its phones which will absolutely save your phone's screen from becoming cracked — but to accomplish this the top-most surface is made entirely plastic which means that while a drop won't shatter the screen, it will most likely leave ugly scratches and gouges instead.
The easy solution to prevent that from happening is to invest in a tempered glass screen protector. IQ Shield has a three-pack of tempered glass screen protectors for just $8 on Amazon, which is a heck of a deal. Tempered glass is much more resistant to scratches than the Moto Z2 Force screen, and will take the abrasive damage of any drops while keeping your screen well safe, so slap one of these screen protectors on and worry even less about dropping your phone.
Anker PowerCore 2 Slim 10000
If you're concerned about battery life consistency, you're going to want an external battery pack for those times when you need a quick charge but you're away from an outlet.
The Anker PowerCore 2 Slim 10000 is a great, slim option that packs in a 10,000mAh battery into a fairly compact package. Anker is a consistent leader in mobile charging solutions, so you can buy this charging pack knowing that you're getting the best value at only $35, with a battery pack that will be able to fully recharge your Moto Z2 Force at least three times from a full charge.
Jaybird X3 Sports Bluetooth Earbuds
The Moto Z2 Force does way with the headphone jack, so if you want to keep the music going you'll need a good pair of Bluetooth headphones.
If you're the active type, the Jaybird X3 Sports Bluetooth Earbuds are a great option. They're designed to be as small and compact as possible without sacrificing sound quality. The silicone ear fins help keep the headphones securely in your ears even during a vigorous workout, and they're sweat-proof as well and they come with a bunch of different in-ear tips so you can find the most comfortable fit.
Modern Dad loved them in his video review in case you need more convincing. Currently available on Amazon for just $95, it's as good a time as ever to buy some quality Bluetooth earbuds.
Motorola TurboPower 30 Wall Charger
It's always handy to have another wall charger around, and Motorola makes a really solid USB-C charger specifically for the Moto Z family of phones. The TurboPower 30 is a one-piece charging cable that comes with most Moto Z phones, and it's always better to stick with the cables and chargers designed specifically for the phones you're using.
You can get a second Motorola TurboPower 30 Wall Charger for only $20 on Amazon. Perfect for leaving a charger at work so you don't need to keep touting your charger around with you. In fact, it's double the power of the one that comes in the Moto Z2 Force box, so you can charge your phone even faster.
What accessories are you rocking?
This is what we'd recommend, but we want to know what you're using?
Sign up for Black Friday email alerts!
Get the hottest deals available in your inbox plus news, reviews, opinion, analysis and more from the Android Central team.
Marc Lagace was an Apps and Games Editor at Android Central between 2016 and 2020. You can reach out to him on Twitter [@spacelagace.