Audiobooks.com launches new subscription plans starting at $14.95 a month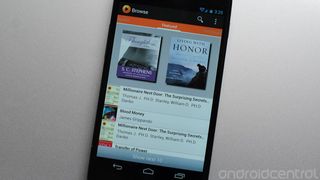 Audiobooks.com is today launching two new, affordable subscription plans for their customers to stream and download audiobooks from the service. The cheapest option starts at $14.95 a month, and for that you get to choose one of over 25,000 titles to listen to on your Android device as well as your computer. For $22.95 a month that gets upped to two audiobooks every month to listen to. Audiobooks says that their customers listen to one or two books per month on average, and so these new subscription plans offer them the most value for money. Both are less than the $25 a month plan previously offered for all-you-can-eat audiobooks, but do offer a little more flexibility.
Before committing any of your money though, Audiobooks.com offers a free 7-day trial of the service, giving potential new customers the chance to test drive the service before signing up. Grab a copy of the Android app from the Play Store link above, and you can catch the full press release after the break.
Audiobooks.com Launches Two Affordable Audiobook Subscription Plans
Tailor-made Plans Deliver Great Listens Instantly, Anywhere, Starting at Just $14.95 a Month
January 14, 2013 – Audiobooks.com, a service that allows you to instantly stream and download audiobooks, announced today that the company is rolling out two audiobook subscription plans designed to provide audiobook fans with an affordable way to access great listens instantly, anywhere. For just $14.95 a month, members can choose a best-seller or classic favorite from more than 25,000 titles and listen to it on their smartphone, tablet or computer. For a monthly charge of only $22.95, Audiobooks.com members can listen to up to two audiobooks per month. These affordable subscription plans open up the world of audiobooks to new fans and veteran audiobook enthusiasts alike.
"Our research shows that most audiobook fans listen to one or two audiobooks a month," said Ian Small, General Manager of Audiobooks.com. "Our new plans are tailored to give these audiobook listeners the best value for their dollar. We encourage potential customers to check out competitor prices – they'll quickly find that we're offering the best value with the most convenience, delivering great listens instantly, anywhere, including on Apple and Android smartphones and tablets with free apps."
Audiobooks are a great way for people with busy schedules to make time for new books and classic literature. Busy moms, commuters and others can listen to classics like The Hobbit and Les Misérables as well as contemporary best-sellers like Tina Fey's Bossypants, the Divergent trilogy and thousands of other books, all compellingly narrated to put listeners in the middle of the story.
Audiobooks.com delivers an affordable service that allows listeners to instantly stream and download audiobooks on virtually any web-enabled smartphone, tablet or PC. The company's revolutionary cloudmark sync technology allows listeners to pick up where they left off in an audiobook across all devices without having to use a special browser plug-in or dedicated application, meaning they can listen at home on their PC and pick up the story at the gym on their smartphone without losing a second trying to find their place.
To introduce new customers to the wonderful world of audiobooks, Audiobooks.com is offering a free seven-day trial. Starting January 9, 2013, new customers can visit Audiobooks.com and sign up for the no-obligation test drive, which allows them to instantly stream or download any audiobook from the company's vast library of titles, absolutely free. Audiobooks.com is confident that customers will love the convenience, fun and excitement of audiobooks and come back for more by choosing the right plan to fit their listening pace.
The launch of the affordable new subscription plans coincides with the company's one-year anniversary, underscoring Audiobooks.com's commitment to continuous innovation to meet audiobook listeners' needs. Learn more – or sign up for a free trial – at www.audiobooks.com.
Android Central Newsletter
Get instant access to breaking news, the hottest reviews, great deals and helpful tips
New plan prices are the same as Audible.com, but with a smaller selection. The only appeal of audiobooks.com was the "all-you-can-eat" plan for $25, for which Audible had no equivalent. Given that Audible's selection is 4x the size of AudioBooks.com, there's no good reason to subscribe to AudioBooks.com anymore.

Great info, thanks. This analysis should have been in the article instead of just providing a synopsis of the press release.

Well, as busy as these guys are, they didn't want to turn a simple article into a research paper lol. But, I do agree it would certainly be helpful to have that info in there.

Yes. I'm a Gold member over at Audible.com, and when I saw the headline of this article my first thought was that's the same price per month for 1 credit over at Audible. "Nothing to see here; move along."

Meh. I'll stick with Audible. I pay 14.95$ a month and get a credit every month towards any new novel. And for a while after reading or not reading the book you can just return the book and refund your credit. I have like 4 credits sitting there.

Really u can a audio book after lisening to it?

I've been an Audible patron for over a decade and I looked at Audiobooks and wasn't impressed with the selection. I also don't know if I would be able to burn to cd's if needed like I can with audible. Will stick with what I have.

I uses Audible and have a Audible Lite subscription.
You can only get it by trying the free trial and then going through the cancel process and say that it is just too expensive.
The Lite program is only $10 a YEAR and you do not get tokens (Free books) but get all deal, which can be very good (like $3-$7)
I highly recommend it, it is great for commutes and the App works well.

$10 a year? Am I reading that correctly? That's an insanely good deal.

That only gets you "member" status for the sale prices. As a full member (monthly $ plans) you get X number of "credits" to apply toward book purchases (usually equates to one or two books a month depending on the plan) and then discounted regular item prices and special sale prices when they have sales. Non-members pay full price for everything each time. The "lite" membership ($10/year) is the in-between. No monthly fee but no credits. You just get access to the discounted prices on sale items.

Where does one buy the time it takes to listen to Audio books? Long commutes?

personally speaking, I drive for my job, and audio books are great to pass the time on long routes. the wife listens to them on the treadmill. I burn though more books :)

Long commute and when I'm out running.

I like true crime books, biographies, and auto-biographies. Listening to them while out running is great. It's like watching a movie in your head, and for me, I can almost get so lost in the story, as it's narrated, that I forget I'm running.
Android Central Newsletter
Get instant access to breaking news, the hottest reviews, great deals and helpful tips
Thank you for signing up to Android Central. You will receive a verification email shortly.
There was a problem. Please refresh the page and try again.