AT&T Samsung Galaxy S II Skyrocket Android 4.0.4 update now appearing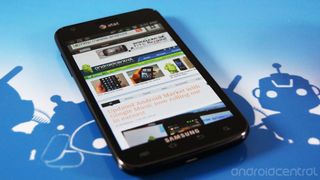 With Samsung pushing out Android 4.0.4 to various other versions of the Samsung Galaxy S II, it looks like they snuck in the Android 4.0.4 update for the AT&T Samsung Galaxy S II Skyrocket as well. You'll need to fire up Kies (there is also an update available for it) in order to take the update down and of course, backing up your device is first is certainly suggested but that's a minor hassle in order to get Ice Cream Sandwich on your device. No telling right now if it's a slow roll out or a free for all but it shows up as build IMM76D.UCLF6. If you manage to find it there waiting for you, go ahead and get it loaded up then drop by the Android Central forums and let us know how things are running for ya!
Source: Android Central Forums, XDA
Great now the only galaxy s 2 device that is left is my epic 4g touch come on Sprint and/or Samsung get off your but and release ics.

Seriously! One of the first SGS2 devices to come out in the US and the LAST to receive the ICS update...
Wondering if we'll even get the update and have to resort to custom roms...

Exactly what is the difference between 4.0.3 & 4.0.4?

FINALLY!!!! THANK YOU LORD!!

Not true the Captivate Glide is the last supposedly the Note is getting it but the last on AT&T. The Glide is an SII Despite being named for the Captivate, a member of the original Galaxy S line, the Glide is part of the Galaxy S II series of phones

not gonna lie, im pretty sure i need a change of pants...i may have just experienced a joy so intense that i peed a little...

And just as expected, the Captivate Glide is the last AT&T-bound Samsung phone to get its ICS update... unless it comes up sometime between now and the Galaxy Note update tomorrow.

Does this earse everything on the phone?? Apps n data??

Updated earlier and no you keep all your apps. You can run a backup through Kies before you update.

Finally! Though with all the Jelly Bean talk, maybe they should've just skipped ICS straight to 4.1. :D

Its good that it's finally here for the users who want to stay stock...but I have been running ICS from the rogers galaxy skyrocket for quite some time not that impressive either cm9 though is amazing fast battery is great and the only downside is not having the samsung camera app which is killer but im happy some people can now safely switch to ics they have no idea how much better it is than GB.
Sprint version might not get updated any time soon trust me i work for them

I don't mean to offend but how can we believe you work for Sprint just because you say so is not enough proof for me.

I just updated my AT&T Skyrocket and it went great, happy to have some Ice Cream finally!!

How do you update it through kies? Every time I plug my phone in it says the same message that I need to put my phone into kies mode but idk how to do that. Can anyone help, i just want ics on my skrocket.

I was able to get this done, but it wasn't a smooth process at all. I did the update via Kies and while everything appeared to go smoothly the device got to the point where it said it was, "Starting Applications..." and just sat there. I left it for hours and it never got past that point. I also noted that the device would vibrate ever so often. I then powered it down and back up, but it would just sit at the AT&T "Rethink possible" logo screen--still vibrating ever so often. Fast forward after a bunch of different troubleshooting techniques, I did a factory reset on the device, removed the SD card, and cleared all user data. After all of that the device started up running ICS. Now the time for exploring begins...

did the update yesterday afternoon, but haven't had a chance to put my thoughts down till now... overall, i'm not a fan of Kies, but it gets the job done, though i had to let my phone charge to +50% before the firmware update would go through (even though it's being powered via the usb port it's plugged into to receive the update). i backed up with Kies just in case, but the update took less than 10 minutes (good luck getting that with IOS) and completed without error. ICS is beautiful, and apps (especially games) that tended to take a 'bit' to load on gingerbread now open with a quickness. i'm still wandering my way through it, finding new features, but overall, i'm very satisfied with the update. NOTE: i'm not sure if anyone else has had this issue, but i thought i'd mention it. i found the ICE feature in the lock screen to be quite nifty, however, within that feature is what looks like a default address/number entry that says "Unknown name". doing anything to this entry, i.e. select or delete, causes ICS to freeze up for 5-10 seconds and then the Contacts app crashes freeing up the phone. once it's crashed, everything works as normal again. wish i could tell you i know how to fix the issue, but unfortunately, i havent found such a resolution yet, tho if i do, i'll of course share.

Umm, my last several iOS updates took less than 10 minutes--and they were all done completely over the air. Just sayin'

Is there any way to update the phone without using Kies? I just get a blank screen that locks up (on my computer) when I try to use Kies. Haven't found a way to fix it.

Would love it if my OG SGSII would get the 4.04 update. Is there a big difference between 4.03 and 4.04?

Updated my skyrockey with no problem, best solution to all, make sure kies is updated first and the check is on for backing up your device. Kies update will automatically put your phone in the right mode.
Android Central Newsletter
Get the best of Android Central in in your inbox, every day!
Thank you for signing up to Android Central. You will receive a verification email shortly.
There was a problem. Please refresh the page and try again.