AT&T Motorola 'Dinara' revealed - upcoming buttonless phone with 13MP camera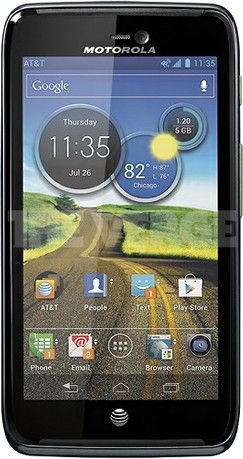 With Android flagships from HTC and Samsung already on store shelves around the world, there's been a lot of interest in what Motorola's up to. Today we have some early hints of what may be next from the new Google-owned manufacturer.
The Verge​ has obtained images of what seems to be an AT&T-branded version of the Motorola XT928 "Dinara," a phone which launched in China in late 2011. As you might've guessed from the on-screen buttons, this is an Android 4.0 Ice Cream Sandwich device. Other reported specs include LTE connectivity, a 1.2GHz dual-core processor, 1GB of RAM, a 4.5-inch 720p display, 13MP camera with 1080p video recording, and a 1.3MP front-facer. No word on final branding, but "Atrix 3" is certainly a leading contender.
There's also no information on any possible launch date, but the source speculates that the July 26 date on-screen may be a possibility.
Source: The Verge
Android Central Newsletter
Get instant access to breaking news, the hottest reviews, great deals and helpful tips
Alex was with Android Central for over a decade, producing written and video content for the site, and served as global Executive Editor from 2016 to 2022.
i like that clock/weather widget

The clock widget is called "One More Clock". I just installed it a week ago. Has some really nice widgets and different from most clock widgets out there....

I was just going to ask that. Thanks!

https://www.androidcentral.com/e?link=https2F2F... is exactly the same , there is a paid version too!

It doesn't look like a 4.5" & that AT&T Logo is ugly I hope AT&T doesn't screw this up though like the OG

The logo looks like a home button or something.

You can find it in the app store er play store excuse me.
Phone looks nice, i loved my atrix i may have to consider that phone

Too bad it's a Motorola...never again.

I wouldn't say *never* again. Who knows, Google might shake things up in the next year and make them a real contender.

Motorola now finally has a 4.5" phone for summer 2011. But everyone else moved on to 2012. Samsung keeps coming out with bigger and better phones and is raking in the profits. Motorola is bleeding out because they keep fighting last year's war.

Not everyone wants or needs a ~5" screen buddy. Likewise most of us realize that packing more inches onto a screen doesn't make the tech behind it newer...

Motorola is the king of Bezel. -Suntan

Or the Queens of Chamfers. -First rule of Art, it must be pleasing to the eyes. The Moto Industrial Design Team should start over... quick.

I see AT&T logo I stop reading.

Didn't prevent you from commenting. Did it make you feel like a big man?

Looks like, similiar to the GNex, on-screen buttons do not reduce bezel size. The AT&T Logo could have easily been replaced by capacitive keys. That would have been my preference. Maximize screen space.

Can't use buttonless phones unless they're about as large as an iPhone. The Android UI is simply not one-hand-use-friendly with the way it's laid out. You have the soft buttons at the bottom but if you go into an app like GMail the Menu drop down is all the way at the top right. There's absolutely no way I can reach that far - even people with large hands would have trouble with that given the size of these phones. If you use your phone one handed with your left hand, and it has a 4.5" screen (or even 4.3" TBQH) you can see where the issue comes up. Personally they should have just taken the WP7 route and integrated the menu button into the soft button bar that way it would be easier to get to. This is why Samsung still has a capacitive menu button in the GS3. Really, you can't expect there to be broad consensus on those soft buttons when you ignored pretty obvious usability concerns in the process - which should have been fairly obvious considering the screen size on the Galaxy Nexus.

I can't wait for the Moto & HTC version of a 5.3 to 6 inch device!

@ scoinva: Did you just say 6in?
Are you going to EXCLUSIVELY use Bluetooth?
I just can't imagine holding even a 5.3in "Phablet" up to my face for a 40+minute ph conversation!!!

So....Motorola launches their only 720p phone in China?!???
Late last year...so this is effectively a 6 month old phone when it launches in the US?
What marketing genius decided to do that?
And they wonder why their Droid/Atrix have lost market share in the US :-P

Wonderful. Share a website with you , ( http://www.chic-goods.us/ )

Did any on else think "Dinara" looks alot like "Diarrhea"?!?
Android Central Newsletter
Get instant access to breaking news, the hottest reviews, great deals and helpful tips
Thank you for signing up to Android Central. You will receive a verification email shortly.
There was a problem. Please refresh the page and try again.