AT&T HTC One X now available for pre-order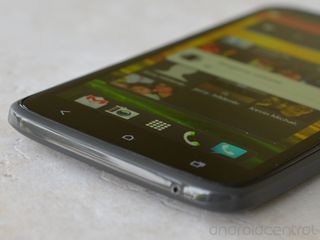 Right on time, AT&T is now offering its version of the HTC One X for pre-order, with the first shipments expected to reach customers on May 6. If you're in the mood for an upgrade, the device will set you back $199.99 on a two-year service plan.
In addition to LTE connectivity, the AT&T version of the phone rocks a Qualcomm Snapdragon S4 chip in place of the NVIDIA Tegra 3 in the international HSPA model. We're still expecting the AT&T One X to be blisteringly fast, though, despite "only" featuring a dual-core CPU. In addition to a gorgeous 720p SuperLCD 2 screen and 8MP ImageSense camera, the One X delivers the latest version of Android, Ice Cream Sandwich, along with HTC Sense 4. For more info on the phone, be sure to check out our full review.
And if you're interested in picking one up, hit the source link to order in white or grey.
Source: AT&T (opens in new tab)
Android Central Newsletter
Get the best of Android Central in in your inbox, every day!
Alex was with Android Central for over a decade, producing written and video content for the site, and served as global Executive Editor from 2016 to 2022.
I can't seem to pre-order correctly online. It keeps asking me to add a data line when I already have one (upgrading a line)... Boo! Whatever, I might as well wait for the S3.

I had done a pre-order of one at best buy, only to learn that ATT had gimped the storage at 16gb, down from the 32gb on the international version :(. Canceled and guess I'll have to settle for a samsung that will at least give me the option of a microSD or at least 32gb onboard *sigh*

Or get the international version. Unless you live under an AT&T LTE tower you'l have fast HSPA connections while you wait for LTE to arrive.

Pre order in person at a target mobile or radio shack and save $50 plus possibly get activation waived.

I am happy to see HTC give us one super phone per year Most of my friends who are not tech geeks did hear about the htc one x but none of them including me still remember the garbage phones htc released in 2011

Anyone else think that gray just doesn't look right on this phone? This might be the first time I choose white for my phone.

Agreed , The grey looks ... weird

Eh idc about the color its gonna be in an otter box I have a sinking almost heart attack feeling thinking of all the times I dropped my inspire thank you otter box :)

I can't see many people pre-ordering this through AT&T when Radio Shack offers the same device for $50 less. I know I'll be saving that fifty bucks.

I myself signed up at beginning of the year for best buys $50 credit if I upgraded my next phone through them sometime this year.

Doesn't Best Buy Mobile also have some sort if warranty protection you can buy?

I just bought a gnexus i love it.

I'd drop Sprint for this if they gave us a choice of 32GB. Oh well, next year, I guess.

Amazon Wireless has the same offer up now. All upgrades are priced at $149 except adding a line to a family account, which costs $229. Update: I poked around with pre-ordering one from Amazon, but it gave me a delivery date estimate of May 6. Needless to say I canceled the order.

Pre-ordered mine at the store, they had it shipped to my house and said it should be there on the 4th.

i really thought about getting this phone i think this phone is a beast from the colors to the camera to it having ics out of the box to having sense 4 but i still can't pull the trigger on a phone that gives us 16gb which only 10gb is usable and only 2gb is for games and apps i really feel htc dropped the ball on this one and I'm sorry but i may have to consider the evo 4g lte because at least that phone has support for a sd card and to me not having that on this phone is a deal breaker as far as I'm concerned.

I'll never understand it. 16GB is rough as it is, but 10 is just a nightmare. People are really going to run into problems with this, and 2GB of data caps isn't going to let the cloud save them. HTC needs to understand the market and realize that people need and buy phones with larger capacities and have since 2008.
Android Central Newsletter
Thank you for signing up to Android Central. You will receive a verification email shortly.
There was a problem. Please refresh the page and try again.