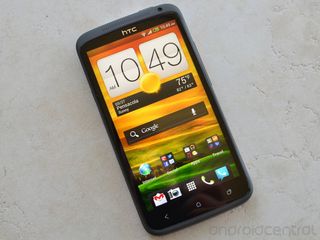 Don't call it a comeback. HTC certainly was in the running for King of Mobile World Congress 2012 (an award that would be way cooler if it existed) with the new HTC One line, and the HTC One X specifically. When you stop and think about it, however, it's also a logical progression.
HTC started 2011 with the eventually disappointing Verizon ThunderBolt, which was thick, heavy and a battery hog — due in no small part to its LTE radio. The prevailing winds started to shift later in the year, however, with the likes of the Sensation and Amaze 4G, and you started to get a sense (pardon the pun) that the Taiwanese manufacturer was starting to regain its footing. (That shift was further indicated by the likes of the Windows Phone HTC Titan line.)
And that brings us to 2012 and the HTC One X, the pinnacle of the trio of Android smartphones that make up the HTC One line. (The others are the HTC One S and HTC One V.) There actually are two versions of the One X — the GSM version with a quad-core Tegra 3 processor, and another with a dual-core Qualcomm Krait processor and an LTE radio for 4G data.
The HTC One X review that follows is of the international quad-core version. We'll follow up with AT&T dual-core, LTE version of the One X when it becomes available.
Pros
A great camera, equally great display, and all the power of NVIDIA Tegra 3 that we've come to expect. Sense 4 meshes nicely with Android 4.0 Ice Cream Sandwich. Free 25GB of online storage thrown in via Dropbox. Impressive design and build quality. Battery life is pretty good.
Cons
That said, the non-removable battery and lack of microSD card may be a sticking point for some. The 4.7-inch phone may be too large for small hands. The protruding camera lens can be easily scratched and isn't easily replaceable.
The Bottom Line
The leader of the next-generation HTC One series of smartphones has been a breeze to use. Android 4.0 has been improved upon with HTC Sense 4 while still retaining the overall look, feel and function of Ice Cream Sandwich, which in and of itself has an excellent user experience. The camera is a high point, Beats Audio makes music sound better, and you get a bunch of online storage thrown in for free. HTC easily has a winner in the One X.
Swipe to scroll horizontally
HTC One X Video walkthrough
More: The HTC One X versus the Samsung Galaxy Nexus
The HTC One X hardware
The X is the big brother of the HTC One family. As in, it's the svelte older brother who drives a Bitchin' Camaro. No, really. The X looks great, runs great, and, like Lane Meyer, is a much-needed big bowl of win served up after too many bad runs. It's also the start of a new era of design for HTC.
The 3.7-inch Nexus One, 4.7-inch HTC One X, and the 5.3-inch Samsung Galaxy Note.
The One X has a 4.7-inch display, putting it into the class of "Seriously? That's pretty darn big." Not as big as one of those newfangled tablet hybrid things (That's the Galaxy Note you see above, with the original Nexus One on the other side), but it's the same size as the first phone in this new generation of Android, the Samsung Galaxy Nexus. The display might also be the most impressive part of the One X. In fact, we're just going to come out and say it:
The HTC One X has the best display we've ever seen in an Android smartphone, and it's quite possibly the best display we've seen in any phone. It's that good.
That's a big claim, we know. And resolution fanatics will cry out that its pixel density still doesn't match the 326 pixels per inch of the iPhone 4S. Know what? It doesn't. But 317 pixels per inch on a 4.7-inch display is plenty impressive. (The One X has a 720x1280 resolution.) It also bypasses the AMOLED argument, using a Super LCD 2 display. There's virtually no space between the glass and the display, so the colors and icons seem to nearly be floating on top, also giving it some excellent viewing angles. You know those dummy phones you'll see in some stores, with the fake displays that are really stickers stuck to a shell and that look a little too good to be true? It's almost like that, but in a real, working phone.
Still usable in direct sunlight. Not something you see every day.
And we're not done singing the display's praises. The ambient light sensor keeps things surprisingly bright. It's been a long time since we've had a phone we can actually use outside, let alone in direct sunlight. So long as the big bright ball in the sky isn't reflecting directly back into your retinas, you'll be able to use the One X outdoors.
And then there's the body of the phone. Much hay has been made over HTC using a special polycarbonate for the One X shell. At the end of the day for the end user, it's going to still feel like plastic. It's got a matte finish to it, and while we still miss the soft-touch paint of days gone by, the One X feels just fine to the touch. We've yet to experience any scratches on it in a week's worth of pocket life, but there's no substitute for the test of time. (Same goes for the durability of the display, too.) It is, however, subject to smudges.
Note the tiny red LED light in the speaker grille. It turns green when fully charged and blinks green for notifications.
Above the display you'll find the HTC logo, the 1.3-megapixel front-facing camera, and 52 little pinholes for the earpiece speaker grille. (A great design touch, even if not all 52 serve as the speaker.) Neatly hidden one of the pinholes (sixth from the right on the bottom row) is a tiny LED used for notifications and charging indication. It's very subtle.
Below the display is where you come to the first controversial bit. Being a phone of the Ice Cream Sandwich generation, the One X has shifted to a three-button scheme. But unlike the Samsung Galaxy Nexus, its buttons are capacitive and not a part of the display itself, on screen when needed and hidden from sight in apps that want to use the full screen. That leads to a couple concerns. One is that HTC is deviating from the spirit of Ice Cream Sandwich, and that sticking with off-screen buttons will lead to confusion when it comes to actually using the phone. We've had no problems whatsoever. Sure, you lose the little animation effects that linger on the Galaxy Nexus as your thumb lifts away from the screen, but we wouldn't say we miss them.
HTC's solution to the legacy menu is three dots that take up a small portion of the screen.
The other issue is a matter of software and user interface in Ice Cream Sandwich, because there's no longer a dedicated menu button on the phone. We go into it in more detail here, but the short version is HTC has had to come up with an interim solution. Developers should be reworking their applications to better include menu options without the need for a superfluous button. But change has been slow to come, and HTC's addressed this by making the on-screen menu button take up a small portion of the display. That upsets some, because it means less real estate for the rest of the app. Hey, it's a 4.7-inch display. There's lots of room to go around, but point taken, and developers need to update their apps to Android's new standard.
The two sides of the One X are fairly benign. On one is the volume rocker. On the other is the microUSB port.
Up top you'll find the 3.5mm headphone jack, power button and a pinhole for a secondary noise-canceling microphone. The main microphone is on the bottom of the phone, exactly where you'd expect it to be.
Moving to the rear of the One X, this is where you find the other major design feature. (Or flaw, depending on who you ask.) There is no battery cover. Well, at least not one that can be removed. The One X has a single-piece polycarbonate shell. That gives it some extra strength, and it looks damn nice. But that also means you can't swap out the battery for a fresh one. And there's no microSD card, either, so you're left with whatever internal storage the phone comes with. (Ours has 32 gigabytes of storage, but remember that AT&T's version is only going to have 16GB.) The storage situation is mitigated by the fact that so much is shifting to the "cloud" these days — and HTC has teamed up with Dropbox to give you 25GB of free cloud storage for two years. The battery situation is what it is. The One X has an 1800 mAh battery, and that's it. When it's dead, it's time to charge.
The rear-facing camera is an 8MP shooter with LED flash, a 28mm lens and an f/2.0 aperture. HTC's pretty proud of it, and it should be. We're a little worried about how much it protrudes from the phone, though. We can't help but think about how horribly scratched our HTC EVO 4G lens cover became, and quickly, too. We've already managed a few scratches on our lens cover. Be careful is all we're saying, because this thing's attached to the phone itself, and you won't be replacing it.
Near the camera lens you'll find the SIM card tray. It's got a little pinhole that you stick HTC's SIM card tray unlocking mechanism tool thingy, or cousin to the battery cover unlocking mechanism tool thingy we saw on the Motorola Droid 4. In essence, it's a well-designed paper clip used to eject the tray. It's easy enough to use, just remember to insert your micro-SIM card face down. You'll either need to cut down or replace your mini- or full-size SIM card. (Check out our micro-SIM tutorial.)
The final features on the rear of the One X are five gold contacts used for dock integration — you'll recall that the One X has a killer car dock and app — and there are 44 pinholes that serve as the rear speaker. Again, great design there. Just above the speaker grille is the Beats Audio logo, and FCC information is printed beneath it.
The HTC One X is not a small phone. But neither is it setting any records for size. It's roughly the same size as the Samsung Galaxy Nexus. In fact, because of design differences, the One X actually is just a tad thinner than the GNex over much of the body (though they both match up on paper at 8.9mm), and it's a hair more narrow. The One X may be big, but it's no fatty.
What's under the hood - HTC One specs
Momma always said it's what's inside that counts, and to that end, this version of the HTC One X is running an NVIDIA Tegra 3 processor and GPU. It's got a 1.5 GHz clockspeed, and, as you should by now know, Tegra 3 means it's got not just a quad-core processor, but a fifth companion core that handles low-power work. NVIDIA's calling the whole thing 4-PLUS-ONE.
We said "this version of the HTC One X" because as we mentioned at the outset, there actually is another. Much of the world will get the same one we have here, but AT&T's going with an LTE model, and LTE currently doesn't play nice with Tegra 3. (Though as we showed you at Mobile World Congress, there are prototype LTE-Tegra 3 phones in the works.) So, the AT&T version (known elsewhere as the HTC One XL) will have a dual-core Qualcomm MSM8960 running at 1.5GHz, more often than not referred to by its code name, Krait.
Which one's "better?" It's too early to call, but for now you can compare early AT&T One X benchmarks with our Tegra 3 One X benchmarks.
In addition to the GSM radios on this version of the One X, HTC's left intact the NFC radio, as well as WiDi capability, which we believe will become increasingly important in the coming months.
Both versions, however, are rocking 1GB of DDR2 RAM. As for storage, our One X has 32GB total, though you'll only really have access to about 27GB. (The system takes up a LOT of space.) A reminder for those of you reading this review as a preview for the AT&T version of the HTC One X: The U.S. carrier has opted for a 16GB version instead of a full 32. Also, there is no microSD card on the One X, so you're stuck with what you've got (plus cloud storage).
Data speeds are going to vary depending on how good the network is on your end. But we've had nary an issue rocking it on AT&T. The 802.11 a/b/g/n has held up like a champ as well.
As for the aforementioned 1800 mAh battery, your mileage will vary depending on how hard you're running the phone. Sitting all day at a desk, on Wifi, you shouldn't see any issues. Out and about, you'll burn through more. And once we see the LTE version, we expect to burn even more battery. HTC squashed a pretty big battery drain bug in the course of our testing, and since then, we've seen pretty normal, if not fairly impressive, battery life.
None of that, however, changes the fact that the One X has a non-removable battery. If charging is convenient — say, at a desk or in a car — we've got no problems recommending the One X. If you're constantly on the run with no opportunity to charge, you might need to think twice. On the other hand, we're seeing more Android smartphones shift to non-removable batteries, and iPhone folks have made do for years. It's just something to keep in mind.
The HTC One X software
The HTC One X (as well as the other phones in the HTC One line) has the latest version of the Android operating system, also known as Ice Cream Sandwich. Specifically, our One X review unit is running Android 4.0.3.
Read our complete walkthrough of HTC Sense 4
The One X also has a brand-new version of the Sense user interface — HTC's custom design of Android. Just as we saw at its unveiling in February at Mobile World Congress, Sense 4 perhaps is the best iteration yet. Sense 4 more gracefully lends itself to Ice Cream Sandwich, which in and of itself has an excellent, if not a little robotic, user interface. Instead of replace large portions of the UI (trading the customizable dock for the old-school Sense dock, for example), Sense 4 leaves intact the vast majority of what's been done in Ice Cream Sandwich, improving on it in bits and pieces. A few examples:
For our part, Sense 4 is pretty darn good. It's toned things back (in particular with the launcher and app drawer) while still putting its own stamp on Ice Cream Sandwich. Not too little, not too much, with improvements in just the right places. If you've been using stock Ice Cream Sandwich, you'll be right at home in Sense 4.
The question we've kept asking ourselves while exploring Sense 4 is "What are the haters going to hate?" When someone says they don't like Sense, what, exactly, are they talking about? Is it the large, colorful (and often useful) widgets? Swap 'em out. Is it the dock and app drawer? Install a third-party launcher. Is it the color menus? Well, you're kind of stuck with them, but Sense 4 has some useful themes to you can use to change that.
But that's just the user interface stuff. Where things really start to get sexy is with the camera, and with music.
HTC in the latter fall of 2011 made a significant deal with Beats Audio that brings some fairly major audio enhancements. News in Sense 4, HTC's made Beats available to any application that outputs music. There aren't any settings for Beats. There's no customizable EQ. You've got the option to turn it off, if you so desire, but you're not going to want to.
The Beats enhancements are like smartly applying a sharpening filter in Photoshop. Sure, the picture might have been pretty good before. But now it's sharper and clearer. And Beats makes everything just a tad louder, too.
By the way, you might have noticed that we didn't mention the earbuds that came with our One X review unit. That's because they're pretty basic earbuds, aren't Beats branded and really aren't anything to write home about. If you're OK with cheap earbuds, you'll be OK with these, we suppose. But let's hope we see some nicer ones in regional releases.
And all that leads us to that other major piece of software ...
The HTC One X camera(s)
For all the hardware awesomeness, for all the improvements in Sense 4, the cameras might really be what make or break HTC phones this year, and the One X in particular. For far too long cameras have been an afterthought. No longer, HTC CEO Peter Chou told us at Mobile World Congress.
We've got no real complaints about the new Sense camera app UI. It's plenty easy to use, though we do keep wanting to use the filter button as the shutter button, but we'll break ourselves of that habit quickly enough.
And speaking of snapping the pic, the shutter speed is now nearly instantaneous, same as in the Galaxy Nexus. (Precisely, it snaps in seven-tenths of a second.) In addition, you can take a still image while recording video, which is handy.
When you think about the new cameras on the HTC One X, three things come into play. One is the quality of the optics themselves. A crappy lens begets a crappy picture. For the rear-facing 8MP camera, HTC's gone with a 28mm lens and an f/2.0 aperture. It's capable of shooting video in full 1080p resolution. The sensor has backside illumination, to help in low light.
The second factor is that HTC has introduced a dedicated image processor chip, which it calls ImageSense (or occasionally ImageChip). It handles all the on-board processing of pictures, taking the load off the CPU or GPU. And with that, you get a couple new features in the One X camera application.
Check out our full post on Sense 4 camera effects
Finally, there is the addition of a bunch of filter effects. Know all those cool old-school things your friends do on Instagram? OK, maybe the effects aren't that cool, but you can now do them on your HTC One X, and preview the effect before snapping the pic. HTC has included the following filters: Distortion, Vignette, Depth of Field, Dots, Mono, Country, Vintage, Vintage Warm, Vintage Cold, Grayscale, Sepia, Negative, Solarize, Posterize and Aqua.
But onto what you really want to see — Some example pics. Warning: all pics open in full resolution in a new window.
The rear-facing camera
These sample pictures were all taken with the stock settings. Just point and shoot, which is how most pictures will be taken.
The front-facing camera
Slow-motion video recording
For all the still camera effects on the HTC One X, the only real video effect is slow-motion. It was a bit jerky, and you lose audio recording.
Is the camera perfect? No. So much depends on lighting, and we saw more overexposures than we expected. But remember, our examples above are with all stock, auto settings. You can adjust things. You can set white balance. (And you should.) And, as always, your skill as a photographer matters, though the camera app does a lot to make up for that.
The camera highlights for us are that you get an above-average (if not excellent) out-of-the-box smartphone camera, with loads of shooting options that aren't buried too far into the menus. The effects are fun and certainly are a feature folks are demanding these days. The shutter speed is excellent, and the camera app's controls are big and intuitive.
Other HTC One X odds and ends
Some other musings from the HTC One X:
HTC's stock keyboard is still pretty good, but it might not make you want to ditch an excellent third-party keyboard.
Screen shots work just fine by pressing volume-down and the power button at the same time. But unlike on the Galaxy Nexus, there's no mechanism for immediately sharing them. You have to manually attach them to e-mails, or to a post.
Hey, this thing's still a phone. And we've had nary an issue with call quality on AT&T here in the states.
The speakerphone is crisp and clear and is fairly loud. (Note that Beats Audio does not enhance audio coming from the speaker — you must be using headphones or a speaker actually plugged into the phone.
The One X can get pretty warm when it's chewing on a lot of things. You'll notice it especially when you're syncing your accounts after setting up. The heat will be at the top of the phone, around the camera lens.
Haptics (where the phone vibrates when you touch the screen) are pretty subtle and can be turned off in the settings.
Put on some Pink Floyd, slip on some polarized sunglasses and look at the One X display at a low angle. Groovy, man. Shapes and colors.
The wrap up
If you hadn't figured it out by now, we're pretty enamored with the HTC One X. That's not to say we don't have a couple of concerns — specifically we're scared to death about scratching up the camera lens and rendering one of the major features of the phone useless. And while we certainly have to mention that the One X doesn't have a removable battery or microSD card storage, it's not like it's the first phone to go that route. It's a point worth making, but not necessarily harping on. Otherwise, it's got powerful hardware, a great design, and it's running the most recent version of Android. The new HTC Sense 4 adds to Ice Cream Sandwich without making you wonder where it went.
On a more macro scale, the HTC One X is the standard-bearer for the new HTC One line, and rightfully so. For as great its middle brother, the HTC One S, is with its slim, sleek and (no kidding) space-age design is, the HTC One X trumps it with its beautiful display and higher resolution.
Indeed, the HTC One X has set the bar high for this new generation of Android phones. That bar's always going to inch higher as the year goes on. But for now, HTC's back in the saddle and is riding high.
Android Central Newsletter
Get instant access to breaking news, the hottest reviews, great deals and helpful tips
Hang on a minute, the spec sheet says WVGA????

If this was on VZW, i'd seriously consider getting rid of the iPhone4s.

Why not get a Nexus? It's far superior to the iPhone.

Yea, especially the camera....

How about a set of stills taken indoors, low-light, and with flash? That's the real measure of a mobile phone camera. They all work decently outdoors in abundant sunshine...

Indeed. This is where everyone harped about the Galaxy Nexus not having such a great camera. So lets compare apples to apples. Because my outdoor potos taken with my GN are just as good as these if not better.
Not trolling, I just hate when one product is downed because it lacks in a certain department and then others dont even get the same test

Yeah, low-light performance can be tough. It does have a quick sensor at f/2.0, so that probably helps.

this is a htc paid review....dude u say this is the best display on an android phone without even comparing it with the sony xperia s gorgeous screen which cannot be beaten....its a completely biased review and its disappointing...the phone is nothing great design wise its same like htc sensation xe...get a life!!!!

Seeing how Phil has used an Xperia S, I'm going to have to call foul on your eloquent assessment.

Don't bother feeding the trolls Jerry, they just keep coming back for more.

Heh...isn't it great how everyone's phone is the best phone ever?

WAIT!!! I know for a FACT that my HTC Hero has the best display in the world! It's far superior than my SGS2T! :-)

EVERYONES review says its the best screen on a phone. :)

The screen on the ONE X is a 720p IPS display and it's much better than the plain LCD on the Xperia S! Take a look at every review on the net! Xperia S has LAST YEAR'S hardware and it's not even comparable with the GS2! Get over it!

Sony employees shouldn't troll..

Great review Phil, I'm hoping for a bigger battery and a micro SD slot on the Sprint version. Looks like a real winner although the three button design has me scratching my head a bit, but no biggie. Sense 4.0 looks amazing as well.

Sprints version is rumored to have a 2850 mAh battery and a micro sd slot and no added bulk, THANK YOU SPRINT! ooh yea and it's going to be black and red lol

If this is true, then I'll be passing on the Galaxy Nexus on Sprint. I've been very close to just switching to Verizon and getting the Maxx as I'm tired of the constant need for a charger on my Epic 4G. My hesitation is the data plans, but damn Verizon's LTE in my area is awesome. This phone sounds and looks pretty good minus the camera sticking out on the back, hopefully it's a gorilla glass lens or something.

I've loved the look of this phone ever since it was announced, and I'm thrilled to see it's living up to expectations so far. The _only_ thing that concerns me is the non-removable battery. Just last week I was on a flight with my Sensation, playing games, watching video, and had to swap my battery out a couple of hours before landing ... very, very handy to be able to do that!

You can buy and use an external battery. It is about the same size and weight of an internal battery so you can carry it just the same. Many have the same capacity as an internal battery, and sometimes they even cost less. The only real downside is that you have to plug it in with a cable and have two devices "in use" at the same time... but it will supply operational power AND charge at the same time.

Great review Phil. My next phone would have to be along the lines of the Droid Razr Maxx with that great battery life. And a great cam. The One X's looks nice, but like another reader said above -- I'd like to.see some indoor pics. Using the Verizon Gnex and I'm quite happy overall with it at the moment. Just would like me some 4.0.4 loving!

The phone makes me salivate despite the lack of removable battery and SD slot that I hate. HTC HK has been giving out these beasts, too bad I failed to win any one of them. I used to be really annoyed at these new trends - Android phones are losing their initial edge over the fruit phone. But that's where it's supposed to go, I think. We could make do with that. That said, I still don't see any point in the non-removable battery.

Brilliant review. Just waiting to see good samples from the camera. Everyone said the Galaxy Nexus camera was terrible, but I have found it more than above average! I'm assuming that the new HTC phones will have amazing camera now, what with the new software and dedicated image chip, right?

Excellent review, and awesom phone. Can't wait till mine arrives. Give us a feel for battery life Phill... Do you suppose those guys that always pop up with those "Same old boring HTC design" posts will show up any second now?

Where did you buy your one x and how much??

This might be the phone to replace my Desire HD but not decided yet :) Thanks for the review Phil.

Great phone, one to truly consider. There's just two things that would make this a 'no' for me: The battery: If you travel, it's a necessity to have a spare. Yes, more and more airports have increased the amount of charging stations but they're always packed. The camera: My DInc was such a great phone and a solid build by HTC, but the protruding camera was a strike against it. It's the only reason I bought an Otterbox case for it and the cases now for these phones with larger screens are just ugly. HTC can be the best manufacturer out there and I know they're starting to listen and make changes. Can't wait to see what else they come out with this year.

I just dont get the half assed review of battery life on all of the Android Central reviews. Cant you come up with a metric to put all phones in context? I read the entire review and have no idea about how this phone actually performs on the battery front. How many hours did you get out of it on an average day? Is that too much to ask? With that said, you werent blown away by it so I guess I have to assume that it will be a problem. In 2011, HTC said that they would be making a huge effort on battery life. An 1800 MAH non removable battery sounded like an issue from the announcement of the phone. It would seem that will be true.

Can you compare the battery life to the sensation or a previous htc smartphone???

Great piece! Love it! Still love my Rezound! I'm definitely hoping Verizon puts a bigger battery in their version. LTE's a murderer in the first!

I have no problem with the lack of SD card, I have a GNexus now and storage has never been an issue. I do have a problem with the non removable battery of this size. If manufacturers want to go this route then stop trying to make the phone so thin and include a 3000mah battery.

First, let me say this was a very good review. The major cause for concern is the camera protruding out, just like on my beloved EVO. I seriously thought HTC learned from the EVO and would not do this again. This is a huge concern...everyday, I worry about cracking my camera lens cover and having to replace it. We can easily do it on an EVO, but doesn't look to be the case on this device. This puts me on the fence. Another thing is the battery size...1800 mAh and it being non-removable. Since I am currently on Sprint's network, I hope the early leak holds true for Sprint's version. I don't need a pencil thin device...I want a device that I can use without looking for an outlet every few hours. And someone correct me if I'm wrong, but a CDMA LTE needs a larger mAh battery, correct? I have read somewhere that GSM LTE devices can hold a longer charge using its radio. Last is removable storage, in some ways I really want a micro SD to dump my stuff on...but in some cases I could live with the cloud. This will be a game time decision. In the end, I'm still on the fence with what carrier I plan to switch to...or stay with and what will replace my EVO. Again, thanks for the review and providing valuable information.

>"I seriously thought HTC learned from the EVO and would not do this again." Where have YOU been? They did it again on the Evo 3D. I agree with you, though, I don't understand why they insist on a protruding lens. Ya just gotta be careful, I suppose.

I've been around the wonderful world of my beloved HTC EVO 4G, lol :-)

My EVO 3D has been naked for the past 5-6 months and the camera is scratch free. I also was very concerned about scratching the camera for the first 4-5 months, buying cases etc...all for no reason. The camera and lens and surrounding bezel are all very durable and resilient against scratches...at least that's my experience.

Phil,
Would you be willing to share how the world of phone reviews works these days? I always enjoy your reviews, but it is obvious that the equipment supplier must give you a date for posting your review since there are others posting theirs this morning, as usual with major devices. Or Sense 4.0, too, for example. Do they say "not until date xx?" I assume they don't get a preview of reviews before posting, but that's not out of the realm of possibility since they provide the devices. Or is it carrier controlled? Not trying to offend, but just curious how it works. And I can't wait to see the next EVO this week. Thanks.

Does this thing get full HSPA+ download speeds on AT&T (i.e., does it have 850/1900 3G bands), or is it limited to EDGE here in the US?

Wait a minute where did you get Swiftkey 3 Beta from phil? There hasn't been a beta test email sent out for that yet.

No removable battery? No SD? No thanks. Too bad, too, because this sounds like a SWEET phone otherwise. Cloud storage is great... until you run through all of your data accessing it. Then it's worthless/expensive. Nice ploy for AT&T to make more money though. I'm on Sprint, and if they had this with removable battery, SD Card, & Tegra 3 I'd call it the perfect phone of the year. But there's always a trade off with these guys... Le SIGH....

If you are on Sprint, like you say, then don't worry about it (because it will be the Evo One). It is supposed to get a much larger battery AND an SD card slot.... maybe even a kickstand. If the reviews are right, you won't want the Tegra 3, you will want the Krait, which is supposedly what is what will also be in the Evo One.

The side-by-side image with the One X and Galaxy Nexus...yeah, you sold me HTC. Do you take checks? Such a better use of overall front real estate on the HTC design.

No replaceable battery + No Card Slot = No sale No matter how great it might be in other respects, they've spoilt it with a sealed battery and making it "cloud" reliant for storage.

Oh please let the Tegra 3 version come to T-Mobile in the U.S.

I'm sure it will be seeing as T-Mobiles LTE network won't be launching at all till 2013. It should be the only carrier with the Tegra 3 version. I think I might be more interested in the One S though. I believe the rom community will adopt it better because of the one standard processor instead of two choices which splinters the community.

It looks like Phil is exhibiting the clubbed fingers seen in some heart conditions. (That or his hands are just fat.)

While the non-removable battery worries me, I think that most of the time's that I've had to carry a spare battery, carrying an external battery would have worked as well. An external 1500mah battery takes up about the same amount of extra space as an internal one, and wouldn't really be in the way if I'm sitting on an airplane or in a conference.

Anybody know if a version of the HTC One X is coming to Verizon?

To each their own, but for me it's too big and not enough battery.

Thanks for the review. Looks great and sounds like it'll be a fantastic device. I'm looking forward to hearing what they're going to bring to Sprint. Nice choice of music. The track by Muse is one of my all-time favorites.

I will echo the sentiments of many here and say the 1800 non removable battery is a disappointment. Enough of this unnecessary race to the thinnest phone and give us devices we can use for a day. It's sad and I kinda saw it coming when HTC did not mention battery life in their entire presentation. What good is a phone if it is dead by 3pm??? Either give me a 2200-2500 battery or make it removable. Hopefully the US versions will fix these or I will stick with Samsung. They have at least mentioned this year that their goal is a phone that goes all day on a single charge

No SD *and* no removable battery? Ick. All of a sudden I appreciate my Rezound a lot more.

If I can easily go through the steps to get stock ICS on this phone, it will definitely be my next phone. This thing is frickin gorgeous!

For those of you concern about the battery. Lest not forget that sprint version will come with 2600mah.

Nice, the cons aren't even cons to me. The beats branding is a con to me though. I wish I could get one without it. I am glad it has cap buttons. They are always where they should be and there is no chance of image retention/screen burn like on the galaxy nexus. I really hope the Sprint rumors are true and they get this phone in some form. It will be my next.

Nice review, and a lustful phone. Unfortunately, a non-removable battery is an absolute non-negotiable show-stopper for me. What moron at HTC would consider that a selling point?

Pretty sure it was all about form factor - mainstream buyers seem to want thin vs replaceable batteries.

Yep. There's a subset of road warriors who want removable batteries, but it's a pretty small one. Assuming this thing sells as well as it should, there will be no lack of aftermarket cases that include an external battery for people who don't mind the extra thickness.

Wow, really? People are more interested in arguable minimally better "looks" than unarguably much better utility? Thanks, iPhone. And if the statement below is accurate about only 2GB of storage available for apps? Why is everything two steps forward/one back?

Great review Phil. I'm really excited for this phone, can you clarify what HSPA+ speeds we should expect using the international One X on T-Mobile? Will it be the same as my GSM Galaxy Nexus? I take it from your review that the notification light only has two colors, red and green, correct? I think that's the only thing I will miss if I switch from the Galaxy Nexus, I love using Light Flow with it's LED, I have over 10 different colors indicating what's going on with my phone. Still, I'm willing to trade that for the camera. I went from the Amaze to the Galaxy Nexus and it's a tribute to how good everything else is on the GN that I didn't go back to the Amaze for the camera. A year ago this phone wouldn't have even made my short list due to the non-removable battery, but battery life seems to be improving across the board. I've always carried a spare battery with me for my HTC phones, and often needed it! I've had an extra battery on order from importer Expansys for my GSM Galaxy Nexus and its STILL on backorder, but honestly in the three months I've been using the Nexus I would have only used it once, the battery life is that good on this phone. So I think I'll be OK with the X's non-replaceable battery. The lack of a micro-SD card hasn't been an issue for me with the Galaxy Nexus either (another surprise). Turns out I never really swap them out. 32 GB would be better than the Nexus' 16 though. Now for me its just a matter of waiting for the import price to come down just like the GSM GN did.

Crap, I just read that the GSM One X doesn't support T-Mobile bands for 3G/HSPA+. So much for that :(

Always appreciate your reviews Phil, but here and in the comparison to the Galaxy Nexus article, you never touched on how this phone has ONLY 2GB of app storage! It may sound crazy to you... but having the ENTIRE internal storage on the Gnex available for apps is HUGE. I know you and many of the editors only use a handful of apps- but for many of us that use games or large sized apps- 2gb is not future proof at all. I was really looking forward to this phone- especially after seeing what you said about the screen quality- but no SD, no removable battery AND most of all only 2GB of app storage? No sale no way. It's the #1 reason I stayed away from the GS2 and the Galaxy Note as well. 4GB minimum. I hoped all phones shipping with ICS would have the entire partition available...guess not.

funny how the more stuff moves to the cloud, the more we have to pay to access it. Why is it ok for carriers to take away our unlimited data and then phone manufacturers take away most of our local storage solutions? 25GB free for 2 years, it would take someone on a standard 2GB plan a year to use that. Yeah sure they could use wifi but if that's the case they are most likely at home and wouldn't use those services anyway. At least I don't. I use Google Music on my computer with loud speakers, vs a little phone.

Dear Otterbox, Please have a Commuter case ready to protect this camera lens by the time this comes to AT&T (which better not take too long). Dear AT&T, Please don't let us down for once.

"Dear AT&T, Please don't let us down for once." Bwahahahahahahaha. That's a good one.

Other reviewers (The Verge, in particular) claim that the design of the camera prevents it from getting scratched when sitting on a surface. Can you comment on this?

Of course, as always EXCELLENT review Phil The new cap. Buttons design is sexy & very original ... different from the boring traditional buttons
honestly, I don't like software buttons (aka buttonless), I didn't like em on MeeGO (the Nokia N9) & I didn't like em on Honeycomb The sense 4 looks good, even though I like the old dock more, this one looks very ... generic The Specs are good (dah) , but im not sold on a No SD-Card Regarding the new design, not sure I like it but its a step in the right direction I'll take your word on the camera since im not a photographer Since we got that outta the way, now to the important thing : Regarding the number of the Pinholes , how did you count em?
im thinking one of those three things : A - you were really really really bored ? B - you were high? (Just kidding... lol) C - the HTC guys told you about it?

Looking at those benchmarks vs. the AT&T version benchmarks, it's clear the Tegra 3 really does make a difference. I've got a feeling being able to selectively turn off cores is a big deal in terms of battery life, but I guess we'll have to see that in person to be sure. The dealbreaker? 16 GB, non-expandable, on the AT&T version. Oh hells no. Combine that with AT&T data caps, and one might think they're picking specs just to make customers pay them more every month. Not that AT&T would do such a thing. In any case, the international version looks like a keeper. It's a shame AT&T is going to hoodwink so many people into buying an inferior phone, and HTC will let AT&T hurt the HTC brand that way. I'll take international 3G+ bands, Tegra 3, and 32 GB over LTE, a slower chip, and 16 GB any day.

NOFX reference = great review. Well done Phil.

As great as this phone sounds, I don't think I could go with a phone that doesn't have a removal battery. I got through 3 batteries for my HTC Sensation.

Can`t decide between this or the G-Note..... I think because I`m an artist and I WILL be using the S-pen a lot might be the deciding factor... what you guys think I should get????

Maybe HTC will release a maxx version ala Motorola with a larger battery. The Razrmaxx is still pretty thin to me with the larger battery.It will be annoying if they do it, although it would've just made more sense to just release it with larger capacity battery. But I know they wanted to be able to brag about its thiness, for the minute it lasted! At least on this site the polls show users would sacrifice thinness for a larger capacity battery that enables one to use the device for longer than most current android's stock battery.

i've had about every flagship phone that htc has put out from the htc g1 to the thunderbolt and this looks like just more of the same. great display? cool. but i cant get over that htc sense will be battery draining bloatware. and their rear facing camera design leaves alot to be desired. and my phone will be dead before 3pm. and the slow updates. it was embarrassing having the thunderbolt and everyone was running newer os than me including bottom of the line crap. make this phone android stock os, give it a bigger battery (~2500mah) and clean up the general design (i.e. rear camera) and i might consider even looking at htc again and i used to be a huge htc fan. i would give htc about as much consideration as i would a windows 7 phone. next to zero. come on guys, step it up. i want to like your phones again. good luck.

Phil, are you gonna let @michaeldegusta troll you like that? Come on, hit him with an "oh there is Instagram, right next to my Siri icon" or something like that...

Very well written review, Phil. The most useful one for this device I've read yet.

> The 3.7-inch Nexus One, 4.7-inch HTC One X, and
> the 5.3-inch Samsung Galaxy Note. Why not instead show comparisons of common 4.3", 4.5", 4.6", 4.7" phones? I bet the HTC is about the same as the others. Why compare DRASTICALLY different sizes... and then say "see how big this device is"?

No storage expansion? Cloud computing sucks lemons. I need all the storage I can get. I love this phone but that's a deal breaker for me. Can't wait to get rid of this Iphone.

I've been using the phone for 2 days and it is a great phone. Sleek and thin, very lightweight and even though is 4.7" it is easy to handle even with my little hand. The sound on it is also great, the screen is the best I've seen and pictures look awesome! And ICS tops it!

I've had the international HTC One X for about a month now and I still can not find one single thing to complain about. I have nothing but good things to say about this phone. It's extremely fast, has a screen that is light years beyond the competition, has an awesome camera, has very exceptional battery life, and is a gaming beast. Not to mention that the overall design is a piece of art. The non-removable battery is a non-issue, the battery lasts a very long time and charges pretty fast. The lack of an sd card slot, I thought, would've been an issue, but with google play music and drop box it also becomes a non-issue also. I have over 20 HD and tegra games, more than a hdful of apps, and several full music albums on it, and I still have over half of my storage left. HTC sense is also a very neat and refined UI, coming from Samsung devices it feels a lot more polished and professional than touchwiz. This is an amazing phone and I would recommend that anyone interested in it should go out and buy it today.

hey guys excellent review i really like your blog i read your every view but these guys also write great review here take a look http://www.reviewsaleem.com/2013/01/htc-one-x-review-latest-2013-smartph...
Android Central Newsletter
Get instant access to breaking news, the hottest reviews, great deals and helpful tips
Thank you for signing up to Android Central. You will receive a verification email shortly.
There was a problem. Please refresh the page and try again.