The AT&T Galaxy S7 is getting its long-awaited Nougat update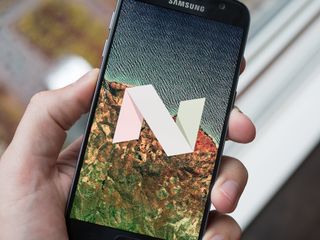 After T-Mobile, it is now AT&T's turn to roll out Android 7.0 Nougat to the Galaxy S7 and S7 edge. Last year's most popular flagship is also one of the last to get updated to the not-exactly-the-latest-but-better-than-nothing version of Android, after a lengthy beta period that began in late 2016.
Along with Nougat's requisite improvements, including a native multi-window mode and upgrades to notifications, Samsung has also toned down some of its more garish colors, opting for simple whites and blues, and the phone now defaults to 1080p to save some much-needed battery.
The update is rolling out to AT&T customers now, and with T-Mobile already on its way, we just have Verizon and Sprint (and a few of the smaller carriers) to go before the rollout is complete.
Android Central Newsletter
Get instant access to breaking news, the hottest reviews, great deals and helpful tips
Daniel Bader was a former Android Central Editor-in-Chief and Executive Editor for iMore and Windows Central.
No Daniel, it won't be complete until the US unlocked version gets it. Should have happened before now.

Hahaha, meanwhile, my unlocked HTC 10 and M9 have had this update since November...
#TeamHTC

Too bad both of those phones suck. I'll take MM on my S7 before N on an HTC

I take it you've never used them... Because they don't, but that's subjective anyways. I own all of these phones(m9-retired entertainment device, 10-personal, S7 edge-work) and I think the S7 edge sucks compared to the 10. Touch responsiveness, fingerprint scanner responsiveness, low light and night/astrophotography, build quality and battery life are superior on the 10. That's just in my "real world use" comparison while I've owned these phones since they came out last year. I know, I know, "spec sheets" are all that matter /s...
The 10 is superior in just about every way. The AMOLED is all its got going for it...

I've had a 10 and traded it for an S7. So, yes I know what they're like. The S7 is much better IMO.

Nice try to cover up trolling though.

All my statements were facts based off my experience. How is that trolling?

I have an s7 edge and yes i agree it sucks.

Actually, all of your "evidence" is subjective. Almost all evidence agrees that the S7 is a superior device over the HTC 10.

Many of the reasons why you'd pick either of the 2 are subjective, because at their core hardware level, they're almost identical (Snapdragon 820, 4GB of RAM, 1440p displays, etc.), though that's mainly if we compare it to the regular S7, not the S7 edge.

I couldn't have said it any better!!

Cool story bro. Hmm first of all that's not even a popular phone. AT&T probably regrets even selling it. Number two I assume it takes a lot longer for Samsung to work on their updates since they have to make a lot of changes on it. It's packed with a lot more features and new things. So I really don't see your point.

The haha comment in a story about the S7 and S7E. Again, nice try.

I miss my HTC. I had to swap it out,, while still under warranty, but was given the S7 instead. Loved the HTCs that I had.

No one cares about your HTC 10, this article is about the Galaxy S7.

Agreed. Super frustrating that carrier versions are actually being updated before the US unlocked version.

AMEN, we SM-G930U owners got shafted by Samsung..Never again....nor will I Recommend this phone....
Thanks, Dave

My SM-G930F unlocked still hasn't got the update either.

It's shameful that even the tech reporters continue to ignore the US unlocked versions and talk only about crappy carrier versions. I get the majority are phones from carriers but c'mon when writing articles know all the versions that are sold in the particular market.

Agreed. No one is writing about unlocked versions not getting the update. I can't see how they are totally unaware when they are so quick to point out who's got it and who doesn't. I'm no stranger to waiting for updates, that's not my issue. We are fed this crap about updates being held up by carrier approval. Well I bought this to eliminate that excuse. This phone is not waiting for carrier approval, it's waiting for Samsung to get off their butt and push it through. The tech articles should be calling Samsung out on this fact. Waiting for carrier approval? Hey Samsung, buying your next flagship is pending my approval.

Agreed. I put my TMO sim in my U version and reset it so it would force an update .. no love. I put the work AT&T sim in and reset again .. no love. That was yesterday morning. I bought the U version because Samsung said it would be updated without carrier interference and that's crap. They lied and I'm 80% sure this will be the last Samsung phone I buy.

Putting different carrier SIM on the U version doesn't force anything. That update comes from Samsung so what sim you put in their has no effect. The updates are based on the firmware (unlocked or the particular carrier version) not on sim.

Oh thank you for mansplaining that to me. Maybe read what I wrote again and then read it again and if you still don't get that TMO is pushing it and resetting to factory can actually trigger the update. My post meant that I tried running the update on both networks with no luck. Nowhere did I say that the update is based on the simcard. So again .... read the post again where it says I tried on 2 networks .. nothing more .. nothing less. Also, it's the unlocked version. It was suppose to get the update when it was finished. Not when T-Mobile or any other carrier was finished doing whatever. Much like Google pushing to the Pixel or Apple to the iPhone or OnePlus pushing to their handsets. It's not carrier bound .. that's what unlocked means. And Samsung has failed to live up to this.

Not sure why the hostile tone was needed for someone that was trying to help you out. Seems to me like you missed the point though. "if you still don't get that TMO is pushing it and resetting to factory can actually trigger the update" As far as I know the only update Tmo is pushing is the 930t nougat update. I haven't heard a word of the 930u nougat build being released at this time, which is a bloody shame considering that was suppose to be the quick update version. Anyway, doesn't matter how many times you reset your phone, it wont go from a 930u to a 930t. You can always odin over to the 930t (being that the phones are the exact same hardware), and then get the update from Tmo, but until the 930u nougat build is released Tmo will not being pushing it.

They didn't lie, really. Lots of unlocked international devices didn't get the update yet. If anything, I'd say some US carriers got a head start this time around.

What about the active series? Hopefully the S6 Active will see this update.

Was just thinking the same thing. Pretty much same phone.

What about million other phone models and versions Samsung releases every week. You get the idea.

I know what you are getting at, but the Active series is essentially the same hardware as the S line other than battery size and always seems to be left behind.

Ohh snap, mine is downloading right now. 1.5gigs

Darn just wiped my phone 2 days ago to manually install the update. Figured it was going to be a few more months before ATT pushed this update.

How long does it usually take Metro Pcs to push out updates? Tried asking customer service but they were no help

Check right now. Metro PCS is under TMobile. TMobile already rolled out Nougat.

I have checked a few times today. Nothing

Same here I haven't gotten it niether

Still haven't received it

Just finish the download. Everything running fine so far. I like the new settings screen and everything is so clean.

ummm you have it already the Metropcs is T-mobile

I have been checking daily and I haven't received it yet. And I asked t-mobile and was told metro pcs releases updates to their phones. Not t-mobile

Just got my T-Mobile update for newgot got Today

Never thought that carrier variants would get updates sooner than unlocked snapdragon variant..how bow dah..

They set that trend long time back with security updates on the U model. They were always behind compared to carrier variants. Go figure.

Before unlocked Exynos too. Most countries still haven't got the update.

Have to wait till I get home but at least it's here

I have it on cricket so hopefully we get it soon.

Got mine this morning! Excited to see how it performs.

Still waiting on Sprint to rollout nougat to my galaxy s7.

Great for you guys. Just waiting on the Canadian carriers to do the same. It's odd as we generally get ours updated first, lol.

Yeah, I'm in the same boat as you, waiting on the Canadian rollout of Nougat for the S7 on Freedom Mobile, in my case. Hopefully we won't have to wait too much longer for the Canadian carriers to rollout the Nougat update.

Same here. On Rogers with an unlocked S7 Edge and no update 👎

Oh boy, my parents love their Samsung phones for the most part but they hate getting big updates.

My parents to. The phone calls will begin soon, haha. I enjoy it tho, it gives us stuff to talk about for hours.

Just got Nougat installed on my AT&T Galaxy S7. Interface looks a bit different (especially the settings screens) from Marshmallow. Will be checking to see if battery life suffers or is better with N.

I believe I've read on this website or Android Authority that battery life went down 10%. I hope this was a premature test, and that they didn't give the phone enough time to settle back in. I guess will see.

The battery life on my Nexus 5X seems to have improved under nougat.

My nexus 5X got better as well.

Should I be worried if I still haven't got the update on my Samsung Galaxy S7 edge from At&t

Extremely slow downloading. Anyone having this issue?

It'll take awhile but now I finally have my note 7 features back love it . Nice update . My other phone is a t-mobile s7 and it to got the update and it was faster ,could me that because my att s7 edge has the edge screen and that takes longer

I take it you didn't own the note 7 are youd know what I'm talking about

I've have it installed and everything seems to be working well. The GUI seems more on the native Nougat side rather than TouchWiz.

Should I be worred if my Samsung Galaxy S7 edge from at&t still hasn't got the update.

You'll get it everyone I know has gotten already

Nah don't feel bad. My g5 still doesn't have it even though the other US carriers were pushing it out in November 2016

How do I set the keyboard. I switched from gboard to Samsung's to see if anything changed, now I want to go back but can't figure it out.

When the keyboard is on the screen swipe down to reveal notification shade and you'll see a permanent notification there regarding keyboard. Tap on it to select which keyboard you want to use. It'll remember your choice next time you use your keyboard too.

Nice to have interactive notifications on the AOD again.

How come it isn't getting updated striaght to 7.1.1 like the international version?

This is why I don't buy Samsung... The hardware is really good, but they are terrible with software updates. If you buy Samsung, just be ready to wait a long time for updates or pick another brand... I don't see another way around this.

This was true in the past.

I'm liking the changes thus far. Prompt updates aren't as important to me as they once were. The changes from update to update are fewer and less important. Having a quality device that does all I need it to like the Edge, makes it worth the wait. That said, I am interested in seeing what LG Google and Samsung come up with next.

Got the s7 edge, and its the same here in sweden. We are stuck here with version 6.0. Last time i will buy a Samsung phone! Went from Nokia to a galaxy and i am so disappointed

The Android Central Authors NEED to create a new article on Why buy a Samsung Unlocked Phone..specifically the SM-G930U..when Upgrades are not as expected...then forward all coments to Samsung Corporate! Maybe then something will get done....Us users can't get thru there "Firewall"
Thanks Dave..on my Forgotten 930U S7.

Nougat on the S7 Edge is amazing once you get past the initial deployment and configure the new settings. It's stupid fast, asthetically pleasing and works better than marshmallow for sure. Totally love it.

Exactly! I can't get over how amazing this looks. Such a breath of fresh air. This is a far cry from the Touchwiz of old

Cricket says the update is coming within the next week or two, if not before!

So if you got a S7 Edge from AT&T around September - October, am I safe to presume that it might be a while before I get the update?

No.. I got mine after the note 7 fiasco..so I haven't had my s7 edge that long and I received the update yesterday.. I updated with no issues.

Thanks. I checked my system update this morning and it said that it was up to date.

I got my AT&T Samsung Galaxy Edge 7 update to Android 7.0 today. 02/26/2017
I don't think WHEN u bought ur phone matters. All that matters is what phone u have, and what phone company u have, as well as what region u live in. So it's safe to say, since we know ALL SAMSUNG S7's thru AT&T r currently getting the OTA updates right now, that u will also be getting the update very soon. Now it just depends what region u live in, they don't roll out the whole US at once, they roll it out in sections based on parts of the country. I live in SC but I have a WI phone number so I got my update when they rolled out the update to the Midwest. If u don't want to wait, usually u can either go to the Samsung website & download the update urself, or if it is not yet available, often times u can call & tell them u still have not got the update & they will usually push it out to u right then while ur on the phone - just don't call from the phone getting the update.

Meanwhile, in Spain, unlocked S7's are still waiting for the update. Very frustrating Samsung!!!

This totally took me by surprise. Thank you AT&T

Cool! Just read this, pulled my S7 Edge out of my drawer, put my SIM in it and it is updating. Thanks for the heads up AC!

I have the AT&T S7 Edge, I had updated to Nougat the night the OTA was sent out. I now have an issue when plugging in my charger while the fast charging setting is enabled. It freaks out, says it's charging, stops charging, goes back to charging. The issue occurred after I updated my phone, I had no issues before. Is anyone else experiencing this issue? I'm using the original charger, I've tried other chargers and outlets. I did a factory reset and cleared cache partition. I'm not what else to do.

Do a factory data reset and you'll be good, it happens when updating a completely new operating system like this

I have already factory reset and it continues :( extremely frustrating when I've been waiting for this update.

Did you try turning fast charging off for a while and then back on?

Thanks for the heads up; just updated my S7 edge.

I'm really happy with the update so far (AT&T S7 Edge), got it yesterday. Battery life seems better.

I see that Verizon is asleep at the switch again.

Unlocked Exynos version, still waiting for it. Way to go, Samsung. I would go Pixel and stock Android if I could, but Google doesnt sell them here (or outside 5 or 6 countries). The only major thing I miss about having an iPhone.

Anyone got the update on an AT&T S7 that has been SIM-unlocked by AT&T? I'm still waiting...

US unlocked 930u / 935u always last to the party... never again will I buy SAMSUNG they clearly don't understand that unlocked users are power users and techies that their friends always ask about technology advice... never will I buy and/or recommend to friends.

yep, nothing for my unlocked s7 edge as yet. I no longer buy carrier phones so I'll just have to accept waiting as part of my "punishment".

Does anyone know when would metro pcs roll it out I called them when will we get the nougat update they don't know what I'm talking about

I had the same question and nobody has a real anwser

I know there is no information on the web nothing at all.

Which model is your phone ?

Mine is a sm-g930T1. I can't find any info online either and metro pcs is no help at all.

My phone is the same model

Check right there is an update I'm downloading it hopefully it is the nougat update

Check right there is an update I'm downloading it hopefully it is the nougat update

So my Verizon S7 Edge should be getting this in a year or two? Sound about right?

The whining and complaining is ridiculous. Staggered updates are the norm. It doesn't matter when you bought the phone, you'll get it once the update is pushed to your device.

I still have not got the update. Att s7 edge. Anyone have input?

I still don't either - AT&T S7 (non-edge). /sadface
Android Central Newsletter
Get instant access to breaking news, the hottest reviews, great deals and helpful tips
Thank you for signing up to Android Central. You will receive a verification email shortly.
There was a problem. Please refresh the page and try again.