Are you still using the stock launcher on your Galaxy S9?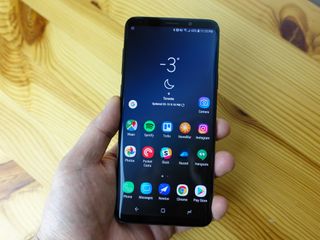 While most everyone can agree that Samsung makes some of the best smartphone hardware around, the same isn't true when talking about the software experience found on these devices. Some people love the Samsung Experience / TouchWiz interface, but on the other hand, there are folks that can't stand it.
Now that the Galaxy S9's been out for a hot minute, we decided to check in with our forum users to see if they're still rocking the phone's default launcher or if they've moved to something like Nova or Action Launcher.
Here's what they had to say.
Now, we want to hear from you – Are you still rocking the Galaxy S9's default launcher?
Android Central Newsletter
Get instant access to breaking news, the hottest reviews, great deals and helpful tips
Joe Maring was a Senior Editor for Android Central between 2017 and 2021. You can reach him on Twitter at @JoeMaring1.
I have the Galaxy S9+
I'm using the stock launcher.
Swipe up for apps, swipe down for notifications... And I'm good!

Stock launcher is good for me. Hate having to download all these extra stuff just bloating the phone. Swipe and down, simple and easy to use

I gave it a try.. But I had to go back to Nova Prime. Yes, TouchWiz is smoother and less of a memory hog compared to Nova.. But I love my one page setup on nova, and that includes no app dock, and folder gestures.. I couldn't find a way to get rid of the dock in the bottom and that did it for me! I just love my quick and simple everything right handed accesible set up.

Haha me too. Android isn't Android without Nova in my book.

I pretty much always have to install Nova because most of the manufacturers confusingly omit tap-to-sleep from their launchers, including Google on the Pixel. That's my ONE requirement.

They omit it because the majority of people don't care about it.

I've been using stock launcher since the S8. The icons themselves are sleek and the interface is smooth and easy to use. I don't miss Nova Launcher at all, and it's less to download and configure.

Yes but I did change my theme to the pixelizeD version. I really like it with the stock launcher, everything runs smooth as butter.....

Thanks djdonnyk for the rec, I just put on the pixelizeD theme and it looks great! Running alongside stock launcher is a great experience and good for battery life.

Maybe it was me, but using the pixelizeD theme made my phone a little less smooth. Anyone else?

Yep, I think Samsung's version of android is fine

I just purchased the S9+ after nearly two years with the G5 on and off. It's such a refreshing experience. The software so far is unobtrusive and cohesive.

Yeah Been using it since the S8. They done a really good job with it.

Yep, Samsung experience 9.0 running smooth, no need for Nova this time around. Threw in a nice theme on it and a few tweaks. Crossing my fingers it won't laggy after time.

Crossed fingers won't work.

I still prefer Nova. Icon spacing, Google now integration and overall look and feel are still better to me.

Still Loving the "Samsung Experience/TouchWiz" ! I honestly don't miss Nova on the Galaxy S9. I am a happy camper! I really dig the way the folders look and their customization options with color etc. And this parallax wallpaper is fun too!

I tried Touchwiz for a few days, it wastes too much screen real estate. I'm a big user of widgets so I installed Total launcher, which allows separate layouts for portrait and landscape orientation. So I can have my widgets stacked in portrait and side-by-side in landscape.

When you have kids that love to use your phone, being able to lock the launcher elements in place from movement or deletion is key for me and hence, Nova wins and stays.

I don't have a s9
but the stock launcher is getting very good
Nova prime has been my go to for years but recently it is becoming a memory hog and actually slower than samsung experience. There is a new launcher in town
Lean Launcher
The best now.

Yep using the stock launcher.

Nova Only...
I need the extra customization.
Widgets, spacing, gestures, custom icons/ folders/app drawers/docks are the only way to make my S9+ feel unique.

I tried the Microsoft launcher, and went back to Samsung immediately. Samsung's is much smoother....

I bought the S9 on Friday and so far, I see no reason to install Nova. I had an S7 the past 2 years and used nothing but Nova until I read an article here on AC about the Microsoft launcher & decided to give it a try because Nova was getting very laggy. Microsoft's launcher actually faired pretty well on my S7, so if I decide to install a 3rd party launcher on my S9, I may start with the Microsoft's.

Samsung stock launcher is the best!!

I tried stock launcher for a week and had to go back to Action launcher. Love the shutters and covers for folders.

Launchers was so 2006 on an HTC touch Pro II. It was fun but we have come along way. Touch Wiz!

using Nova currently but I've been thinking of going back to the Samsung launcher to give it a chance. I may actually like it. Like a couple others have said, I like Nova for the spacing/padding of icons and widgets.

Read ao many comments about nova under this article, that i gave it a try. Love it! Thank you guys!

The backup and restore from Nova is so useful since I change phones 1 to 2x a year. Stock launchers don't seem to have that.

Why waste time and money on a 3rd party launcher , when samsung provides one? In the past, the lag could have been a factor.......but now this stock launcher rocks.

Samsung experience is great. I've tried others and always go back to SE.
note 8. love SE

On my S7 it was Nova. Used Microsoft for a while and enjoyed it too. On my S9 I configured everything under the stock launcher and feel no need to change. It's actually very good. Phone and device have been exceptional.

Always used stock on my Samsung phones.
Just figured it didn't need another duplicated app.

I have used Nova for years. I'm now legitimately giving the stock launcher a chance and it's not disappointing me. The only gesture I use is swipe down to open notifications and am glad Samsung has that gesture available.

I used the Nova Launcher on my S& the entire time and loved it. I felt the stock launcher was too boring and I wanted to be able to customize it better to my liking. But with the improvements in the stock launcher on the S9+, I don't think I'll need Nova anymore! I love the convenience of swiping up for apps and swiping down for notifications. I'll admit it's a bit to get used to still but I am in love with this new phone! :) the ONLY thing I hate about the stock launcher though is that it doesn't offer infinite scrolling. I tend to use a lot of widgets but I had to dim it down because I didn't want to go back and forth through so many pages to get to what I want. So now I'm down to three. Otherwise, I am a happy camper!

Only thing missing on the stock launcher is the Carousel. I hate that you have to swipe back and forth, as opposed to the screens going like a revolving door.
If Samsung would fix that one issue, I would be sold on the stock launcher.
I have used the paid version of nova on other phones.
Android Central Newsletter
Get instant access to breaking news, the hottest reviews, great deals and helpful tips
Thank you for signing up to Android Central. You will receive a verification email shortly.
There was a problem. Please refresh the page and try again.