Are you going to use a screen protector on your Galaxy S20?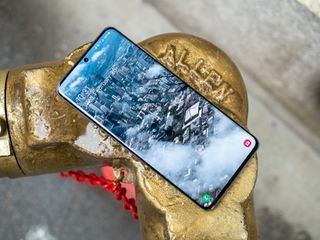 (Image credit: Andrew Martonik / Android Central)
No matter which version of the Galaxy S20 you decide to pick up, one of the biggest draws to all three phones is their 120Hz AMOLED displays. This is the first time Samsung's gone beyond the traditional 60Hz refresh rate, and the end result is nothing short of amazing.
However, whether you get the S20, S20+, or S20 Ultra, you'll want to make sure you pick up a screen protector for your phone. Just one drop/fall could instantly ruin that gorgeous display, so protecting it at all costs is essential.
Taking a look through the AC forums, some of our members have already started talking about which screen protector they're going to get.
What about you? Are you going to use a screen protector on your Galaxy S20?
Joe Maring was a Senior Editor for Android Central between 2017 and 2021. You can reach him on Twitter at @JoeMaring1.
No, I've been using wallet cases for the last 5yrs. I never use a screen protector. Ample protection for the phone and display. Especially in case of a drop? No marks on the phone or screen. I usually use SHIELDON wallet cases and their 29.00 bucks on Amazon. They are very good and reasonably priced for max protection!

No! I hate screen protectors. I have a very thin clear case waiting to slap on it when it arrives this Thursday and that's it.

These come with pre-intalled protectors on them. I've yet to have a problem with them on my Note 9 and S10+. After a year of use its held up perfectly fine except for a few minor scratches on them. I should add I also haven't dropped a phone in years.

I used to be adamant that I must use a screen protector. Then, due to shipping issues, I was without one for a month and I never went back. You actually have to work to scratch the screen. Of course putting it in a pocket with keys is taboo.

There may have been a time where I have been over served and my keys and phone ended in the same pocket. It may have even happened more than once.

I haven't used a screen protector since the HTC M7. That was 7 years ago

Yes, the Dome screens are the only way to go. They offer a lifetime warranty and work flawlessly with the onscreen fingerprint scanner. I have sitting on my desk waiting for tomorrows arrival (•‿•)
Android Central Newsletter
Get the best of Android Central in in your inbox, every day!
Thank you for signing up to Android Central. You will receive a verification email shortly.
There was a problem. Please refresh the page and try again.