Are you going to use a case with the Galaxy Note 10?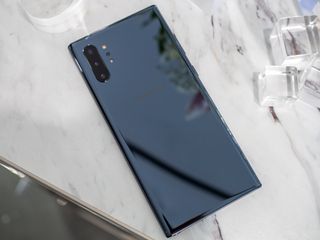 With Galaxy Note 10 pre-orders now live, early adopters will soon have their hands on Samsung's latest and greatest before they know it.
The Note 10 is an incredible-looking handset, but as much as we appreciate its design, we'd also advise getting a case to go along with it. Already, we've seen some great Galaxy Note 10 cases and Note 10+ cases.
Taking a look at the AC forums, it would appear that most of our members will be choosing to rock a case when their Note 10 is delivered.
What about you? Are you going to use a case with the Galaxy Note 10?
Join the conversation in the forums!
Take Note
Samsung Galaxy Note 10
Bleeding-edge tech with a gorgeous design.
The Galaxy Note 10 is a phone that does it all. It has an AMOLED display with virtually no bezels, one of the fastest processors on the market with an insane amount of RAM, an incredible design, and all of the perks that come with the iconic S Pen.
Joe Maring was a Senior Editor for Android Central between 2017 and 2021. You can reach him on Twitter at @JoeMaring1.
I've pre-ordered the regular Note 10 after a careful consideration (my needs, size etc.) and cannot wait to try it as my daily driver.
I have chosen ESR tempered glass back clear case so that I can show off that beautiful Aura Glow and at the same time protect the fragile glass back of the Note.

I hate cases, and never heard of that brand until now. THANKS! My S10+ back glass looks crazy with cracks.

I'd rather not, but Murphy's Law being what it is, I have a Spigen Hybrid coming.

In the case of a case, I find that it's diligent to case what type of case best fits your needs, just in case. Lest you be a victim of the "case of the broken screen"!

Spigen Slim Armor. Should be here today. I also get a Spigen CS Armor for when I go to Disney or Busch Gardens/WCUSA and don't want to carry my whole wallet with me.

As I've said in the related forum.. I want protection, but I also want to show off the device's color seems how they've released a unique Aura Glow option. I always go with total protection (Otterbox) Stepping out of my comfort zone this year and getting the Spigen Ultra Hybrid with the see through back panel!

I usually go with my default case (Speck candy shell/presidio grip) but with my Note 10+ Aura glow on the way, I think I will go with a Rhino bumper shield instead.

Yep. Since the N5 I've been using a clear case; usually Ringke Fusion.

That's the one I go for, too.

Clear kickstand case yes. Screen protector absolutely not.

I absolutely will be using a case it's $1099 phone made with glass and aluminum (not the stainless steel). I'll be getting one with a clear back to show off the color and a kickstand.

The Note 10+ is huge. That glass is going to break if you drop it. Every single phone I have owned gets a mil-spec case and tempered glass screen protector. I have never had a scratch or cracked screen. I drop my phone as much as anyone. Not using a case is very foolish imo even with insurance.

Thin case for some protection. No screen protector. Phone insurance.

I ordered the 10+ in Aura Glow. I always put cases on my phones to protect the phone and the finish. I ordered the clear Spigen case for the 10+ because I don't want a case that will cover it up.

The best case is no case, lol

I ordered the Otterbox Defender. I used it on my Note8, but it interfered with the Bluetooth connection to my Bose Soundsport Free headphones. Of course, not long after I removed the case, I drop it on the driveway and destroy the screen and frame. Hopefully the connection is better between the Note10 and the wireless Buds.

The Ringkey case is actually pretty good. It's rugged yet thin. I usually go with Spigen but so far I'm happy with the Ringkey. Thank you Android Central for the recommendation. I was looking for a clear case but I wanted something extra. I'm pretty causious with my phone so I did t want the added bulk. This is a good case for a happy-medium.
Android Central Newsletter
Get the best of Android Central in in your inbox, every day!
Thank you for signing up to Android Central. You will receive a verification email shortly.
There was a problem. Please refresh the page and try again.