Another day, and another leak of the Sony LT30p Xperia T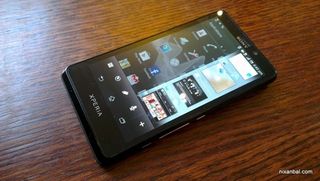 The forthcoming Sony LT30p continues to pose for the camera ahead of its expected launch at IFA 2012, in Berlin, later this month. This time around, the folks at Nixanbal have got their hands on one and proceeded to take some pretty good looking shots of the device. By now we're starting to get a pretty good picture of at least what the final units will look like.
Just in case you've missed any of the leaked info thus far, the LT30p 'Mint' is expected to be known as the Xperia T come launch. Leaked specs include a 720p display, Snapdragon S4 CPU, 13MP rear camera and Android 4.0 Ice Cream Sandwich with on screen buttons. It bears a passing resemblance to 2011's Xperia Arc with its curved rear panel too.
We know Sony will be showing off their new wares in Berlin, starting with their press conference on Aug 29. Android Central will be on the ground in Germany right through, so keep it locked to the site for all the best from Berlin.
Source: Nixanbal via Xperiablog
Android Central Newsletter
Get instant access to breaking news, the hottest reviews, great deals and helpful tips
Sony needs to stop releasing so many devices and go back to the drawing board to figure out why their stuff isn't clicking with the mainstream. As far as I'm concerned they keep playing catch up with everyone else, so they aren't even a real contender in the high end space.

This looks like a really nice phone, one I would consider if the next Nexus phone isn't released to my upgrade timeline. However knowing the terrible marketing department of Sony Mobile atm it won't be released till Q1or2 next year for us UK users or US users, making it already a bit of a loss, even though it looks like a great bit of hardware.

Sony should just make a Playstation Phone.

That looks so damn ugly, i have no words. Also, it seems from the two bars on the left and bottom of the screen, that sony is making a voice search assistant.
Y U STUPID OEMS NO GIVE ME GOOGLE NOW, HUH!
No, seriously, AC you should write a post on what might be the fate of Google Now with Samsung's S-Voice and LG's Quickvoice.

Google Now is far more than a voice search assistant for one. Secondly, neither LG nor Samsung have yet provided a Jelly Bean update or a new device on 4.1, so they can't have provided Google Now. It's nothing to do with the OEM's apart from the fact they aren't updating to Jelly Bean yet

This phone has nearly the exact same spec as the Xperia GX.... I think the only difference is that Xperia T has DLNA Certified....

This phone look sooooooooooo UGLY!!!!
Android Central Newsletter
Get instant access to breaking news, the hottest reviews, great deals and helpful tips
Thank you for signing up to Android Central. You will receive a verification email shortly.
There was a problem. Please refresh the page and try again.