Announcing the 2014 Android Central Best of IFA Awards!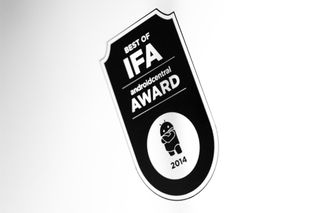 Presenting the best of the best from Berlin's annual show!
Ladies and gentlemen, boys and girls, gather 'round, for it's time to announce the inaugural Android Central Best of IFA Awards! We've been bringing you the best fare from Berlin's annual trade show all week, and now it's time to honor the best of the best. These are the companies and products that really stood out to us, and so they should stand out to you, too.
Enough fanfare. These are our 2014 Android Central Best of IFA Awards winners!
Asus ZenWatch
The Asus ZenWatch caught our eye with an exceptionally classy design. Leather straps and a simple, curved display with deep blacks come together for one striking smartwatch. It's not slump when it comes to functionality, either. A heart rate monitor is built right in, plus Asus has their own take on secure Bluetooth implemented, not to mention all of the functions Android Wear has to offer.
The Asus ZenWatch comes to Europe in October for €199, though there's no word on American availability just yet. For more impressions, read up on our hands-on time with the Asus ZenWatch.
HTC Desire 820
The HTC Desire 820 follows closely in the footsteps of its mid-range predecessor, the Desire 816. The 820 marks the first use of Qualcomm's 64-bit octa-core processor, the Snapdragon 615. A smattering of design changes make the Desire 820 easier to use one-handed than the previous generation. Though the specs are middle-of-the-road, we found the HTC Desire 820 performed well in our brief time with it, and comes very close to the experience you'd expect in higher-end devices.
For more info, read our hands-on impressions of the HTC Desire 820 here.
Huawei Ascend Mate 7
The Huawei Ascend Mate 7 earned high marks from us by nearly eliminating the bezels along the sides of the 6-inch 1080p display. The body is big and solid, but also slim. The Ascend Mate 7 has more than good looks on its side, though. The rear-mounted fingerprint scanner has performed admirably so far, and there's a lot of potential for the camera.
Be sure to take a gander at our thoughts of the Huawei Ascend Mate 7 here, and stick around for our review coming soon.
LG G Watch R
LG really impressed us with how they stepped up their hardware design with the G Watch R. The stainless steel body boasts bold lines and a variety of strap options, and an equally generous variety of digital watchfaces.
Expect the LG G Watch R to ship sometime in Q4. There's more on the LG G Watch R from our hands-on time here.
Samsung Galaxy Note 4
Samsung's latest iteration in its venerable phablet series continues to refine a winning formula with the Galaxy Note 4. The upgrade to a quad-HD display is palpable, and the heart rate monitor from the Samsung Galaxy S5 has found its way over to the Note 4. A new quick-charging mechanism can fill the removable battery half-way after a mere 30 minutes. In terms of aesthetics, Samsung has wisely ditched the faux leather stitching on the rear, though you'll still get a bit of leatherette styling back there. The body construction is now metal, which is a much-needed upgrade for Samsung's top-of-the-line devices.
The Samsung Galaxy Note 4 will be available in the U.S. in a variety of colors starting in October. Read more on the Samsung Galaxy Note 4 from our hands-on time at IFA.
Samsung Gear VR
Samsung partnered up with Oculus to make their own virtual reality headset powered by the Samsung Galaxy Note 4. With the Samsung Gear VR, You're basically strapping a phone to your face to view customized software through a few adjustable lenses, but the end result was quite immersive. A touchpad on the side of the Samsung Gear VR lets you get through various interface elements, while audio is piped through either stereo Bluetooth or the Note 4's integrated speaker. The headset sold through retailers and carriers will come with an SD card chock-full of dedicated video and interactive content. The burgeoning market for VR-friendly content is promising, and Samsung's early landgrab there is a smart move.
Release date and pricing information is sparse, but we're excited to see more of the Samsung Gear VR. We've got plenty more thoughts on the Samsung Gear VR from our IFA experience here.
Sony Xperia Z3 Compact
Sony shrunk down their recently-announced flagship Xperia Z3 for IFA, and we were amply impressed with the results. With the Sony Xperia Z3 Compact, a few compromises were made bringing the down the Z3's 5.2-inch 1080p display to 4.6 inches and 720p, but all of the core functionality and performance was held intact in the transition. You'll still find an outstanding 20.7 megapixel camera on there, 2.5 GHz Qualcomm Snapdragon 801 processor, overall hardware design, and software loaded on the Sony Xperia Z3 Compact.
There's more to say about the Sony Xperia Z3 Compact over here.
Sony Xperia Z3 Tablet Compact
Sony also offered a more portable 8-inch slate dubbed the Xperia Z3 Tablet Compact at IFA. It's packing the same horsepower as the Z3 with a 2.5 GHz Snapdragon 801 CPU and 3 GB of RAM, only it puts a larger 1920 x 1080 display on the front. Between the small bezels, slim profile, and extremely lightweight build, we're pretty excited to give the Sony Xperia Z3 Tablet Compact a spin
Read up more on our hands-on time with the Sony Xperia Z3 Tablet Compact here.
Congrats to the winners! We've got some shiny new hardware headed your way. Readers, what were your favorite devices coming out of IFA?
Get the Android Central Newsletter
Instant access to breaking news, the hottest reviews, great deals and helpful tips.
Simon has been covering mobile since before the first iPhone came out. After producing news articles, podcasts, review videos, and everything in between, he's now helping industry partners get the word about their latest products. Get in touch with him at simon@futurenet.com.
What about the note edge? Posted via the Android Central App

Falls under the four I would hope Posted via Android Central App

Sorry pal.
You got your YOUMie
SPLAT

Lol, dumb comment as usual Posted via Android Central App

Which category? "Product most likely to cause a giraffe" (Ask Alex or Richard. They may even agree) . Awesome AC.

Or "eefer", if Alex is saying it.

Idea for these comments: stay classy kids! Who am I kidding. ....haters in 3.....2..... Surprised that no moto products were selected.

To my knowledge, Motorola didn't display at IFA. Hence why they are missing from this list. Posted via the Android Central App

I don't know that it deserves to be on the list anyway Posted via Android Central App

Unfortunately agree.... :(

Yeah ya know it was weird. HTC stuck with a stinker in ultrapixel the was a fail, but the X8 was a winner and they ditched it. Kinda dumb Posted via Android Central App

I like that HTC also has a windows software phone and android. I don't prefer windows at all after using my brothers windows phone, but it's nice to have options

As per usual, I assumed being that everything else was there this week.....especially with the time of the event. Thanks for the update!

Shsh Jack, I have been able to be on for two days. Posted via Android Central App

Lol...you have been on fire, no doubt!

1) Gear VR -- This first-gen mobile VR headset will be remembered fondly.
2) Note 4 -- Least-changed of all the Notes, but still a beast. Keeping my Note3 (until Nexus Shamu or LG G4)
3) Ascent Mate 7 -- Still can't believe they were able to fit a 4000mah battery AND a SD slot in a metal frame; too bad about the non-US LTE compatibility though.
4) Sony compact -- Now that Moto X (2014) is "too big" for many, including my wife, the "mini" and "compact" lines are getting more attractive.
5) All the watch crap *shrug*

Note 4 is the least changed? First, that is absurd. Second, the Z2a would like a word (Z3) Posted via Android Central App

When you compare the spec and design changes between the Note 1, 2, 3, 4, the Note 4 is objectively the least changed from its predecessor. Same RAM (3GB); Same size (5.7"); Same battery (3200mah); Same basic shape (with home button); The only notable difference is a slightly faster CPU, and having OIS for the camera. (QHD isn't a noticeable feature; It just eats the battery faster)

A processor that is 2 generations ahead a higher closck speed is not slight. The GPU is much different and one of, if not the, fastest out there now, OIS is HUGE and will make this phone, once again, top 2. How about quick charge? WHo else has that? How about the S-Pen enhancements? Not only is the battery a tad bigger, the new chipset and other enhancements will have it lasting longer. The build quality goes up, but we don't talk about that, QHD should not eat the battery faster if it is done right and we already talked about that.... Your wrong

Way to back up that statement with facts, you got me there big guy.

You already ignored the facts, small fry.

I did not ignore them, I answer your so called facts with the reality of the situation, you came back with the INCREDIBLY intelligent response.

The facts AND a poll of our android peers would agree that the overall delta between the Note 4 and Note 3, is LESS than the delta between the Note 3 & 2, and the Note2 & 1. You'd be an outlier, but an adamant one. The End. (or isssssszzzz it?)

First, [citation needed]
Second you know what, we are going on pure numbers and conjecture, how about you wait to be wrong after it actually gets into peoples hands?

The Note is the Note. There is no other phone that competes with what this phone does. Not saying it's the best phone (I think it is right now, but that depends on what the user wants it to do). But with all the hardware and software upgrades, it will do what it does even better. And if the Note Edge is as innovative as it looks, it may be the beginning of a paradigm shift. And how do we know the QHD display is not a noticeable feature? Sounds pretty nice to me, but I haven't seen one yet. Posted via Android Central App

Have to agree with NoNexus here. Substantial and substantive software improvements and additions, major improvement in build quality, Qualcomm 805 is a huge step up. And on the screen this big, QuadHD begins to make some sense. The screen on the Tab S has been universally praised (except by the iPhone fangirls) as the best in the business, and the Note 4 uses the same tech. I think the real issue here is that Jason hates the home button, and can't see past that to see the improvements throughout. I don't see any other phones released this week that offer bigger upgrades. Certainly not the Sony. Not the Moto X, which is still a step behind. The reality is that everyone is just making incremental progress now, but the Note 4 makes more than most.

The Ascend Mate 7 looks to be something to build upon. Posted via the Android Central App with my OnePlus One.

Personally really liking the Huawei ascend mate 7, sony xperia z3 compact and Sony xperia z3 tablet compact! And I haven't been too into the last few Sony devices!

- The LG G Watch R looks promising. Great looking hardware design. I am still not completely sold on the need for one of these watches but with the design improvements shown I am slowly trying to justify a purchase.
- The Huawei Ascend Mate 7 is one big beast of a phone, too big for me but plenty potential.
- I was hoping for more from Samsung with the Note 4, but with the improvements they did make, it should definitely satisfy all the phablet fans out there. Probably more so anyone who hasn't upgraded in a while. I am really looking forward to reading the upcoming reviews.

Sony Xperia Z3 Compact gets best of show in my eyes. I also liked the Samsung Galaxy Note Edge and Galaxy Alpha.

Now if we could only have a side-by-side comparison of the LG R and the Moto360, that'd be awesome :) I need to know who's getting my money this time around hehe

Sadly one's in America and one's in Germany :-( Posted via Android Central App

But you guys are in the know hehe. And have awesome Android magic going on. I'm sure you could figure it out, or do a Hangout with one of you reviewing the Moto and another one doing the same for the LG one.

I wanted to see the real power of Android L... the previously Android versions aren't that great :(

Well considering it isn't done you can still hope Posted via Android Central App

The benchmarks are saying that Google Play editions which runs pure Android skins are indeed more versatile, which means Android L should limit those customizations, but OEMs won´t tolerate this I guess but whatever they will have no choice :) Google has the monopole

But it is not done yet so we do not know the final product. In addition, Android is open source, the OEM can do whatever they want to it. Hell I could do whatever I want to it. GPe doesn't have anything to do with L or OEMs really. I am not sure, and I mean this sincerely, if English is your first language or what but your point is not coming across at all.

Let me be succinct. Yes, English is not my first language. And, yes, Android is open source, thank you for remembering me ! OK, my point is: you won´t see Android L on too many midrange devices because Android is messed up, you will see.

Nope not on a lot but Android has made big strides there recently.Low end is the ones that will suffer the most. In addition, that is not messed up, that is the way the world works. You get what you pay for (unless you had an HTC One X, then you just got screwed)

Android L i designed to be lighter, and run better on lower spec devices. And Android as implemented on today's phone isn't really open source any more. AOSP (the open source version) lacks so many pieces that modern phone rely on that if a manufacturer really wants to build an Android phone they have to license all of Google's proprietary pieces.

I love the Samsung Galaxy Note 4....willing to pay full retail for that one. Posted via the Android Central App

You forgot the Sony Z3. Posted via the Android Central App

Didn't forget, just feel that the Z3 Compact is all around more worthy. Posted via Android Central App

The Z3 is a [very] lightly upgraded Z2. It barely qualifies as a "new" phone. The Z3 compact at least has the benefit of being the only compact phone with mostly top-tier specs. If only it didn't have that 3 year old 720P screen technology. Even with the smaller screen, the difference between 720 and 1080 is pretty obvious.