Anker announces Alexa speaker with one neat trick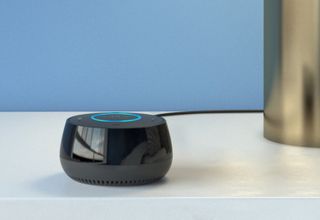 Anker is well known for providing quality accessories at a fair price, primarily through its Amazon storefront. That relationship with Amazon grows deeper today with Anker's announcement of the Eufy Genie smart speaker. The Eufy Genie functions similarly to Amazon's Echo Dot, but is $15 cheaper. The Eufy Genie includes the ability to listen for Alexa commands, play back audio through its own speakers, and output audio to larger speakers. Anker says it plans to release an upgraded version of the Eufy Geenie that can connect to Bluetooth speakers — it'll cost $40.
Like all good genies, the Eufy has a bit more magic to hide. Anker says the speaker will be able to communicate with other devices in their Eufy line. This currently includes (opens in new tab) lights, vacuums, and health equipment and Anker says they will expand this to other categories coming up. Anker says the basic Eufy Genie will be released on August 16, while the upgraded version to come later.
The $10 to $15 saved may not seem like a lot up front, but those savings will quickly add up for those that want to outfit their entire house with an array of smart speakers. I'd like to see Anker make a version with Google Assistant, but Alexa is no slouch when it comes to the smart speaker game.
Thinking of picking up an Anker Eufy Genie? Let us know in the comments!
Android Central Newsletter
Get instant access to breaking news, the hottest reviews, great deals and helpful tips
Interesting...but too late for me, as i already bought a Dot or Dash for every room in my place. good to see, though, that the line of Alexa products is still expanding, beyond just buying an Echo from Amazon! having more choices is always a good thing for consumers! vis a vis the diversity of new Android devices available, versus a lowley 1 new iPhone (in small or large) in the Apple world.

also: i have to say i didn't even know that Anker had their own smart product line. anyone else suprised to hear this?

Will likely buy one or two to go with my Echo Dot, but I too would love to see a Google Home version. I love Alexa and hte Echo series, but for solid information tasks, you can't beat Google. The problem is, I feel like the Google home version of the Genie would have to be the same price as this otherwise why would you buy it

I hope something this cheap comes to Google Assistant. Wife got me a Dot, but I'm feeling that Google Assistant will work much better for my needs.

A version of this with Google Assistant would be great. At the very least, it'll end my wait for the NVIDIA Spot.

Heard about this and was thinking about picking it up as I have the Eufy RoboVac 11 and its great!

Not sure what's special. Echo has Eufy skills already, so this thing will do what Echo already does. I couldn't imagine Amazon would let them integrate Echo and have proprietary skills anyway. Right now Echo only does lights and vac, but I'm not sure what the health equipment interface will entail. You step on the scale and Eufy Genie announces your weight to the house?

Alexa needs to be integrated into cars already.

I find your rise of Click Bait disturbing. You should all be ashamed. This is not how you recover from people using adblock.
Android Central Newsletter
Get instant access to breaking news, the hottest reviews, great deals and helpful tips
Thank you for signing up to Android Central. You will receive a verification email shortly.
There was a problem. Please refresh the page and try again.