Android P Beta 3 (Dev Preview 4) released for Pixels with subtle design changes, stability fixes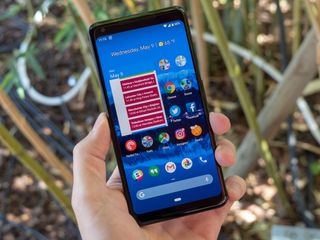 Plenty of us have gotten in on the Android P Beta fun already, but Google has released yet another update to improve stability and fix bugs in the yet-to-be-named new Android release. Android P Beta 3 is now available for Google's own Pixel devices through the Android Beta Program, which will push out over-the-air updates to anyone who has enrolled or enrolls now. If you have one of the many phones from other manufacturers — like Vivo, Essential, OnePlus and Xiaomi — you'll have to wait for a little bit to get your update; Google says they'll be pushing out the latest version "in the coming weeks."
So what's in this update? Well as you can imagine at this point, things haven't changed dramatically from Beta 2. Installing the new software you'll see very subtle iconography changes throughout the system including the status bar, notification shade and setting screen. The back button is also now a thinner little arrow (but functions the exact same), and the scrub bar area when using the gesture navigation button is nearly the full width of the screen.
Google has already finalized all of the APIs in Android P, which is important for developers who are making their apps compatible with the latest version. (For the developers out there, Beta 3 is analogous to Developer Preview 4.) Google says Beta 3 is focused on "stability and polish," as well as getting the latest July security patch out to phones running on the Beta software. Google says that the system is "near-final" and is labeling it as a "release candidate build" — so what we see here shouldn't be far off from what's finally unveiled as the official version.
If you're clamoring to get Android P on your own phone, there are several ways to do it — the easiest is to simply wait a few hours and receive an OTA update. But you can also download and install the software manually if you wish — we have full instructions on how to do so.
Andrew was an Executive Editor, U.S. at Android Central between 2012 and 2020.
I really enjoyed the P Beta. Had to roll back to Oreo because the Go Pro app did not want to connect to the camera.

Shouldn't this be Beta 4?

It's developer beta 4, public beta 3

Thanks for clearing that up for me.

I wish they would name it Android π

That's actually perfect. :)

I'm seriously tempted to install Android P on my Pixel 2 XL, I enrolled in the Android P beta program but I changed my mind because it says I won't get security updates while on the beta program.

Consider this, even without the security updates over the summer, you will be more secure than 99% of Android phones.

You would have the most current security patch, it has never been one month behind during this beta program

It has the July update and most likely we will get the final version at the end of the month so you have nothing to lose

Dark theme is finally here!

Does dark theme work for you? Does nothing on my Pixel XL.

It's definitely working in places on my Pixel, folders for instance are black.

Not a whole lot. I expected more from the dark theme. Just folder, app drawer, and quick settings pull down menu seem to be dark

So my security patch still says it's on the June patch, is it supposed to say July or is it updated and just doesn't reflect it in the name?

That means you don't have the latest beta. You should get it soon since lots of people including me got it as OTA today morning. Do a check for update to force it.

I'm still not seeing it on OG Pixel, even after manually checking for updates.

It arrived at some point since my last comment...

The latest OTA Beta has a security patch date of July 05, 2018. Got the security patch for my Essential also and it has the same date.

I keep checking for the update.....no luck so far.

Brightness level on Pixel 2XL is seriously worse on DP4. Am at 80% brightness while I kept it at 50% on Oreo.

This is due to the way the percentages are divided up. I believe previously, the first 50% was actually more like putting the brightness to 80%. It wasn't a linear curve whereas now it is. Or something along those lines

Ok, so I installed this on the 2016 Pixel and everything is awesome. However, I only have the Oreo navigation bar and I don't know if the gestures are working because I don't know how to use them. Everywhere else I see evidence that I have it properly installed. Thoughts?

You have to enable gestures in settings>system>gestures and turn on "swipe up on home button"

The only issue I seem to be having with it is that I can't make or receive phone calls on Android Auto. It sounds like an out of range AM radio station. It's the first time I've had this issue in multiple years of beta.

I just roll backed from Android Phone Beta 3 (Dev Preview4) on my Nokia 7 plus. I am brought back on April Security update .
How do I get the July Update? The app would randomly crash and the Google search bar wouldn't move down after multiple taps
Android Central Newsletter
Thank you for signing up to Android Central. You will receive a verification email shortly.
There was a problem. Please refresh the page and try again.