Android Central reader meet-up: June 2 in New York City!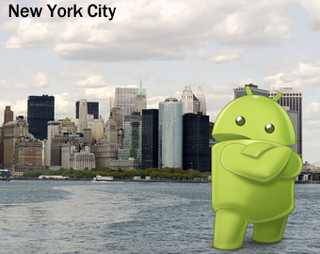 Update: And all 450 tickets have been claimed! Stay tuned for more info, folks!
When you're looking to get the best Android bloggers together with the best Android fans, there's only one place to do it. Mark your calendars, folks — we're coming to New York City on June 2, 2011, and we're bringing some of the summer's hottest tech with us. And you're invited.
The deets:
Doors open at 7 p.m. June 2. Just where those doors will be is yet to be determined. But there will be doors, and they will open. For free.
There will be punch and pie.
Our own Phil Nickinson and Dieter Bohn will be there, along with their pals from Phandroid, PhoneDog, MobileBurn, Mobiputing and Netshelter.
The event is an all-ages affair.
We mentioned tech. You'll get a look at the upcoming Samsung Galaxy Tab 10.1 before it's released to the public.
And you'll have a chance to win one of five Galaxy Tabs or one of five other Samsung smartphones.
So what are you waiting for? Tickets are going to go fast. So register for the event now. And tell 'em Lloyd sent ya. (And, yes, he's walking on water. Deal with it.)
Can't make it sorry that's the night before the EVO 3D release!!! But thanks anyway.....

whoa I didn't know there was an official release date!

You guys need to come to Chicago next time.

Lloyd looks like he is about to go rampage in New York City.... Godzilla style! RAWR!

Love it ... Lloydzilla ;)

If i bring my iPad 2, will i get stoned to death??

Probably, unless you bring it to have it shamed by the Galaxy Tab 10.1! LOL On another note, I was able to register and I'm looking forward to this!

Yes Mr. Arin is a very smart man. It is the night before the Htc Evo 3d launch but I wouldn't miss this opportunity either. I will attend without question. I didn't think anyone knew about June 3rd but come Friday May 20th the whole world know. What a grand day in android land June 2nd and June 3rd will be....

Nice! No Jerry=FOF though.

OH man! I wanna go! But, can't make it... me sad.

Crap! Going to Florida that week.

What did they call the last one? A sausage-fest? LOL

Got my ticket, see you there! Hoping for carrier announcements at this event. I just wanna buy mine! haha

Got my ticket, see you there! Hoping for carrier announcements at this event. I just wanna buy mine! haha

Signed up. I live downtown and work in midtown. Looking forward to meeting you and other Android geeks like myself. And by geek, I mean, super awesome people :)

this is great, i just moved to NY so this is a perfect example of things i wouldn't get to see before.

You really should do one in Houston. East coast is a little far to travel.

took them long enough. Because I could not side load when I got my phone (and they still have not pushed the update out for the Atrix) I was rooted with in 3 days to allow it. This followed by putting on ability to turn my phone into a hot spot. If they had let me side load on day one chances are I still would not be rooted.

Woah, Lloyd is walking on water. This should have been in Alabama. Anywho, hope everybody that got a ticket has a good time.

oh yea just got the last two tickets =D...me and me wife are going.

I got the wife a ticket too. Trying to convince her to nerd out with me.

ahahaha, that is exactly what i just did a few minutes ago, 90% chance of success.

I'll be there, rockin my old D1! Any chance this is a replacement event for the May 24th cancelled event???? C'mon Galaxy S II release!

you can go to tmobile they have that sweet deal, where you are going to get some money back for your old cell

Um, yea, no. I'm happy with Verizon and the entire family is on Big Red. It's sucks though cause T-Mo's been great for Android in the past.

tmobile was the 1st to start the revolution...props to them. =D they had the balls to take a chance.

perfect! ill go to court for pissing in public then go here

perfect! ill go to court for pissing in public then go here

Would love to go but it is a bit of a trek from Blighty ;)

Oh man! That's wack. I was planning on being in NYC week of June 12. Oh well. Maybe you guys will be heading to the Bay area soon or something. Have fun!

I think with the popularity of AndroidCentral you guys could afford to do a 50 state tour! I am in Indianapolis, IN and know for a fact that you guys would love it here! Think about it!

That's freaking sad man. Downtown Manhattan without the twin towers... please use a different picture. Throw a midtown pic up of the Empire state building and crysler. No pics of dt until new towers are up.

ARG!!! I wish I could go! Why did this have to be the same day and time of my high school prom. Next time I guess! To those who can go, good luck!

There should be events like this in other cities too. If you guys come to Boston, I am definitely driving down from NH.

Manchester is 5 hours from NYC. Take a small roadtrip and spend some time in a real city.

Anyone in Virginia going? I intend to take a train or drive up just for this event.

See everyone there tonight!

I wont be able to attend and i have 4 tix. Email me if u want them.
Android Central Newsletter
Get the best of Android Central in in your inbox, every day!
Thank you for signing up to Android Central. You will receive a verification email shortly.
There was a problem. Please refresh the page and try again.