Android Auto saved my 1,200-mile solo driving trip — and my sanity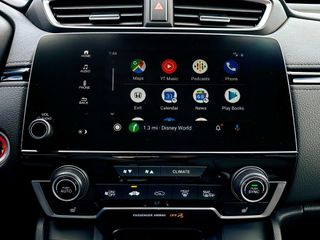 (Image credit: Ara Wagoner / Android Central)
2020 has been a ridiculous year in so many ways, but if there's a silver lining to be had, it's that I've finally managed to convince my family that driving home was a better idea than flying. Being in a pressurized can with 100-200 people that have been god-knows-where for three hours — and being in an airport with thousands more for hours before that — just doesn't sound like a wise decision at the moment.
When I first moved to Florida, I drove my CR-V while my parents drove the U-Haul, but at least then we were a convoy and there was someone not driving to find gas, restaurants, and rest stops to stop at every couple of hours. This time, I was going to be on my own for the most part; family still called and checked in every few hours, but for most of my drive, my only companions were my downloaded library of YouTube Music and the faithful interface of Android Auto on my stereo and steering wheel controls.
And with how Android Auto has improved over the last four years, I was in good hands.
Android Auto has always been helpful, even back when I was using it on my phone with my old Odyssey — I miss you, boo! — but with the new interface unveiled last summer, it's easier to swap between music and maps, and the new font makes it easier to glance over for a quick peek at how much longer till your exit. The glanceability is especially important when I was driving in heavy rain at less-than-proper speeds.
((Speaking of speeds, thank goodness the speed trap warnings are working again in Google Maps on Android Auto. You da real MVP!))
Being able to use the call and voice commands buttons on my steering wheel with Android Auto is incredibly useful, too. I could tap the Call button and then pick from last-dialed or contacts, which came in handy even if most of the time I simply used "OK Google, call mom" most of the time. I still wish there was a pause button on my steering wheel — I have to lean over and click off the radio if I want to pause the music without having to try hitting the pause button on the touchscreen — but the volume and track controls on the steering wheel are wonderful. So much so that they would make 18-year-old me cry tears of joy after the sticky one-button controls I had back in my iPod days.
Of course, Google Assistant is what would really make teenage Ara weep with joy. Hell, 26-year-old Ara nearly cried the first time "OK Google, rewind 90 seconds" worked in the car. I still feel a small wellspring of joy in my music-loving heart when I can rewind to hear the best part again — or fast forward through the first five minutes of Funeral for a Friend to get to those sweet guitar riffs before Love Lies Bleeding. After all, when you're driving 18 hours, somber, slow music is dangerous.
There's also plenty of Google Assistant commands and queries to help when planning where to stop and when to duck off the highway for some gas:
Google Assistant gets smarter all the time, and while not all improvements are necessarily helpful while driving, Assistant's improvements have improved the experience while driving significantly. From improved voice recognition when speaking over road noise — or over torrential downpours — to wider smart device support, every bit adds up to a better experience while you're driving, whether it's short distances or long distances.
Android Auto is useful, but using it for a two-day drive certainly gives you time to notice where there's still room for improvement, too. First and foremost, while wireless Android Auto has technically been available for three years, there are still barely any third-party head units that support it (and even fewer first-party stereos that do). While I'd probably still plug in my phone for longer drives, I'd prefer to leave the phone out of sight, out of mind when it dings with a notification that Android Auto doesn't deem important enough to pass along.
On that note, I do wish there was a way to manually set what notifications Android Auto will or won't pass through to you while driving. Slack might not seem like an important app for those that use it for personal group chats, but when those messages are from work, I'd very much like to hear what they say so I can know if I need to pull over and reply to them. Android Auto wants to keep you focused on the road, not your phone, but it needs to be able to pass on all of our important notifications, not just the notifications that it deems important.
And while Google Maps will easily toggle between light/dark based on your car's headlights/light sensors, the rest of the Android Auto system should swap along with it. You know me, I'm all about my dark mode, but in the afternoon glare, most music apps tend to get washed out, not to mention that if the bottom nav bar swapped between light and dark with the main map, there'd be less concern of it burning in. A dark mode toggle is now pretty much standardized with Android 10, and Android Auto should use it, too.
My final gripe is more with location sharing. Not only is location sharing significantly harder on Android Auto than it is on the phone, but it's far more limited. You can only share your location while on your way somewhere, and once you arrive or turn off the car, the sharing stops. There needs to be a better system in place for sharing location for a prolonged period of time beyond having to pull over and dig into the dedicated location sharing menu on the mobile app, which requires you to completely unplug from Android Auto since Maps can't run on your phone while Android Auto is running.
Even with these small complaints, Android Auto still made my drive home safer, simpler, and saner. Switching up the music or calling for an update on the weather was easier than ever before, and apart from taking a photo of my mileage when I started and ended my journey, I felt zero desire to touch my phone for any reason while I made my way home. If you're planning a similar pilgrimage this summer to see family or friends, Android Auto will be a definite help on your drive.
Sign up for Black Friday email alerts!
Get the hottest deals available in your inbox plus news, reviews, opinion, analysis and more from the Android Central team.
Ara Wagoner was a staff writer at Android Central. She themes phones and pokes YouTube Music with a stick. When she's not writing about cases, Chromebooks, or customization, she's wandering around Walt Disney World. If you see her without headphones, RUN. You can follow her on Twitter at @arawagco.