Android 7.1.1 was the end of the line for Nexus 6 and Nexus 9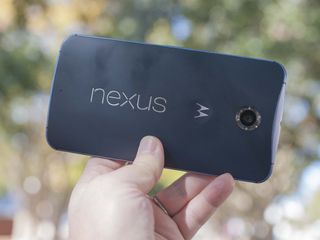 Update: Google has since confirmed to Android Central that neither device will receive Android 7.1.2, but security updates will indeed continue to arrive.
With the release of a small maintenance release, Android 7.1.2, in beta yesterday, speculation kicked up around the Nexus 6 and Nexus 9 missing from the list after being included on previous beta releases. At the same time, the Nexus 6P was missing but explicitly mentioned as having an update coming soon. With no mention of either the Nexus 6 or 9, it seems as though these phones have received their final platform update — and it shouldn't be surprising.
The Nexus 6 and Nexus 9 launched together in October 2014, meaning we're comfortably beyond two years of software support for the phone and tablet. With the launch of the new Pixel and Pixel XL, the Nexus 6 and Nexus 9 were the next two to drop off of the update pile, and we're simply getting a bit of an earlier glimpse now that the Android Beta Program exists.
Though the major platform updates have stopped for the phone and tablet, Google's official commitment to Nexus devices includes a total of three years of security patches, meaning we should see monthly security updates arrive for the Nexus 6 and Nexus 9 until at least October 2017. That gives owners a bit of extra time knowing their devices are secure while they consider their options for a new phone or tablet.
The massive Nexus 6 was hardly the mainstream device that Google had hoped it would be launching in 2014, and the Nexus 9 had its own slate of problems that meant it never really took off. Still, they were both solid devices for their time and the Nexus 6 in particular aged quite well through the transition into Android 7.0 Nougat. There will no doubt still be a good number of people using both throughout 2017, even as Google moves on.
Android Central Newsletter
Get instant access to breaking news, the hottest reviews, great deals and helpful tips
Andrew was an Executive Editor, U.S. at Android Central between 2012 and 2020.
And here mine is still on Marshmallow.

Are you going to update it or just like MM more?

I'm in the same boat because I didn't receive an OTA. I plan on sideloading this weekend.

Obviously I could be wrong, but I think you're going to enjoy it a lot.

I'd love to update it, just haven't gotten an OTA update yet. Completely stock, no beta program stuff or anything like that. I don't have enough of an urgency to make me side load it, but it's still pretty annoying since it's a Nexus and everything.

Just received my OTA 7.0 update yesterday. There's still hope.

I'm wondering where this unicorn is? I have a T-Mobile and a Project Fi Nexus 6. And neither has received 7.0 nor 7.1. The only OTA updates I've gotten on either phone have been monthly security patches...

Yep. The real story here isn't about 7.1.2 and any N6 owner's abandonment issues. (Least I know I don't give a crap.) It's about the fact that 7.0 seems to have made a shambles of both the Android beta program and the Nexus update schedule.

I have a Google Play N6 on Verizon, and I have received updates anywhere from 3 days on up to 6 weeks OTA.

Though I enjoy my Nexus 6P, I go back to the 6 from time to time because it physically feels like a more solid phone. That it still got updates to early 2017 was certainly misses than I could expected of of it. Time to put some ROM goodness from here on out. :-) Isn't it and the Nexus 9 still getting security updates for a bit longer?

A lot of phones are physically more solid than the 6P. Ask jerryrigeverything

Yet mine is in perfect shape. I don't use it as a lever or wedge though so it goes without saying.

After over a year, my 6P is in pristine condition. It's been protected with a slim case and tempered glass screen protector. The 6 has some nicks on the corners, but beyond that it is held up very well and acts as my backup/rugged phone.

N6 is stil in use here also, my wife is using the phone. jsarino, I had the same feeling when switching from N6 to N6p. condition of the N6 phone is still OK. anyway in family here we use 2 x N9's (WiFi), 1 N6, 2 x N6p, and the pixel C, all are running 7.1.1. version. yes I had the whole bunch of nexus's, now this becomes like collector items. One N9 did crash once but was easy the fix with the downloaded volantis firm on ADB. My old Nexus S is running cyangenmod and is used for connections with camera and drones.
Shame updates are being stopped that fast after 3 years, but its understandable that an old device cant keep running on newer versions like here with android.

Perhaps, but I don't go out and purposely try to damage the phone. :-) Out of all the phones I've ever owned, the only one that got damaged pretty good was my Nexus 5 (I shattered the display). I did some DIY work and replaced the display.

I used it for a year with no case or screen protector. It was in perfect condition when I gave it to my brother.

I wish they would consider offering complete platform software updates for longer than two years- at least for the Pixels. I'm sure they've got their reasons though.

It's the chips. Look into it. You won't go beyond 2 years for major platform updates unless/until Google outs their own custom chips.

Yeah, hardware suppliers won't guarantee support past a certain date so phone suppliers are limited in what they can guarantee support for.

3 years is a stupid short life for a device, particularly on that costs this much. This forced obsolescence is a good reason to go elsewhere.

I don't think "forced obsolescence" is the word you're looking for. Devices on 7.x (or even 6.x) won't be obsolete for years. The batteries in these devices will likely fail long before the software becomes actually obsolete.

When there are no security updates, forced obsolescence is exactly the right term to use,

3 years is a stupid short life for a device, particularly one that costs this much. This forced obsolescence is a good reason to go elsewhere.

Is 3 years really that short in modern mobile devices? I think it's about right. You have to remember that this isn't forced obsolescence, either ... your Nexus 6 will still work just fine in November 2017 so long as you're happy with its performance. Google isn't bricking your device or disabling software features.

If you're referring to the Nexus 6 it was released in 11/14, so I'm assuming you're talking about the security updates when you're taking about 3 year support.

Yes. Spending $600-plus every two years is absurd. That's $17 per month for a phone, not counting service, forever. My desktop and laptop computers cost a fraction of that price.

It's why I won't pay mega bucks for a phone, even one I plan to keep for 2 to 3 years. My first was a Moto G LTE 1st gen. I had that for 2 years and a few months. I paid $220 at the time. It served me well, but apps got bloated (looking at you, Facebook!) and 1GB of RAM was just not enough any more. In December, I got an Axon 7 mini for $199. It's a great little phone for the prices. Not perfect, mind you, but overall I'm happy. It does what I need it to do. I'm not a power user but I wanted something that could multitask well (stream over bluetooth in the car while Waze is running without stuttering)

I'm not even sure I want 7.1.1. Holding on to my nexus 6..💕

I am running 7.1.1 on my Google Nexus 6 and it rocks, much better battery life, the new doze feature is fantastic, everything runs much smoother.

Better battery life would be great.

And what's so special about 7.1.2 that these devices can't run and download the operating system for? If Nougat is the last major software update for them, then they should've gone all the way and fully update them on whatever the final iteration of Nougat is. Yay for the security updates for another year, but still disappointed in Google. They need to make their own SOC soon to go the Apple route, and support their devices a bit longer. There's a reason why you still still iPhone 5s's out there.

It's NOT that they can not run 7.1.2. It's just not worth Google's time and money anymore to spend hundreds of thousands of dollars in development to put a software on 2 year old devices that most people don't even own anymore. Especially the Nexus 6. Most people have bought a 5X or 6P or Pixel since the 6 came out. Although they should let the Nexus 9 get at least 1 more last update to 7.1.2 since people change tablets less often than phones and a lot of people still have that tablet. Where as not many people have the Nexus 6 anymore.

Not many people have the Nexus 6 anymore? Are you suggesting that most people threw them in the trash or recycled them? Each one left is owned by *someone*.

Also if it's that important to you I'm sure there will be a ROM based off 7.1.2 for those devices not long after Google releases that version.

It's not necessarily that 7.1.2 in particular has issues on the Nexus 6 or Nexus 9, but instead that you have to cut support at some point and this seemed like a good time to do it.

Why is this a good time? I'm sure it's not much different from 7.1.1

Reading from the comments in this post, 7.1.1 is a solid and stable update on the Nexus 6 so they don't wanna mess with it.

Honestly not bad. They had a really long run. Especially the Nexus 6. Over 2 years compared to the 18 month promise. Google def over delivered. I'd be happy if I had a 6. Hopefully they keep updates running on 6P for at least 2 years also.

Based on this, our 6P will be done for this year. Still can't believe that its going to be two years since I've had this device.

I would disagree, partially, nexus 6 great for how well it is doing...nexus 9 was never a great device...have had problems with it form the beginning and aged supppperr quick.... number one reason why I did not jump on the pixel(s)

Soooooooooooo you pay $700 for device that will only get a couple years worth of updates. Gotcha......

Well, 3 major Android releases delivered in those 2 years ('14 Lolly, '15 Marshmallow, '16 Nougat), and one remaining year of security updates. Still a huge improvement over pretty much any other device manufacturer. I bought my Nexus 6 as soon as it came out and I'm still using it. Definitely doesn't owe me anything. It's clear that Google can't even produce mostly-bug-free builds for the relatively small number of Nexus and Pixel models it officially supports so making the list longer by extending the life of these old phones only makes the general health of the "Google-direct" ecosystem worse for everyone.

2 years (well, slightly more) of platform updates and 3 years of security patches is far better than you get anywhere else in the Android world.

If they stop at 7.1.1 on the Nexus 6, it would be fine with me, it's smooth as butter, and I love the front firing speakers, and big screen, and for a phone it's size it's still easy to handle.

Yeah 7.1.1 was the perfect place to call it. My phone runs better than ever and battery isn't GREAT but it's better than lollipop or marshmallow. So I say why even risk it all with another update. These speakers are the bomb though haha,even after all this time there's still something special everytime I play music on them.

Any other Nexus 9 owners feeling like things have gotten worse lately? I swear that EVERY app winds up hanging long enough to throw up the "close this app" window, which of course comes up after the app's started responding again. This feels like a "in the last few months" thing, and I was honestly hoping that a new update was going to clear it up.

Yes, mine is horrible now. All I use it for is the Kindle app. And to launch YouTube streams to my Chromecast, but that's pretty iffy some days; it just hangs or runs so slowly it's not worth the time and frustration.

I got a Nexus 9 on sale, was happy for about 6-7 months. It ended up not being able to handle multitasking well, apps were slow, and I could hardly even browse on the damn thing eventually (even after wiping it clean). I ended up trading it in to Amazon and got an iPad Air 2, no regrets whatsoever. I've still got my Nexus 6p and will probably follow the pixel line, but s far as quality control goes, I thing apple had a "win" in the tablet department.

I pre-ordered the 9 and just unloaded it on Gazelle a few days before this news about 7.1.1 being its last. I have other Nexus devices too and gave it its best shot. It was never satisfactory, always had janky performance problems. Too frequently frustratingly slow to rely on. I'd haul it out and update it with each Android release and hope for the best, but it always disappointed and got returned to the shelf after a few days of trying. I wouldn't even use it as a hand-me-down to my kids the experience was so poor. Interestingly, Gazelle's offer price is the same even after this announcement that there's now no hope for it.

I love my Moto Nexus 6. Nougat 7.0 with Nov 5th security patch was the last update I've received. I firmly think Google should support devices for a full 3 years. Unless one is hard on a device, there's really no reason to upgrade more than that. That being said, I just picked up a used 32GB Nexus 5X. It's setup and just waiting for the day my Nexus 6 dies. Just not interested in paying $650+ on a Pixel. Looking forward to the rumored Android One. As long as it's Project Fi ready, that'll probably be my next phone post Nexus 5X. Also wish Google Play Editions would return, with Project Fi readiness.

Agreed. 3 years is sufficient.

I'd love to see the return of GPE's as well, but I think that ship has sailed.

My wife got a 7.0 January security patch this week.

Google broke my Nexus 7 and now has left me with a broken speakerphone on my Nexus 6 7.1.1. Thinking on switching to an iPhone.

Lol a billion different Android phones but that's how you're gonna stick it to the man. I feel you though,when the pixel came out I actually went out and bought an iPhone I was so disappointed in it haha. It was a nice change of pace but 4 months later I couldn't handle missing so many features anymore. Amoled screens being among the most important to me lol.

I don't have 7.1.1 on my Nexus 6. 7.0 was good, but my phone has started to slow down recently. I do have 7.1.1 on my Nexus 9 but to be honest I can hardly tell the difference from before. I'll be upgrading to the Pixel XL very soon.

Googles no different than any other OEM, only interested in selling you something new you don't need rather than support something you've already purchased and is still as functional and useful as anything new you can buy. Scam artists, people should contact them and demand better regardless of their disclaimer to only support for X amount of months.

Turned off encryption on my N6, running 7.1.1. That thing is fast. Just wish the battery had aged a little better.

I'm cool with it to be honest. 7.1.1 fixed about everything I could ask for including batter life for my Nexus 6. Another update might would just change all that and once again ruin the phone. Besides though 7.1.2 doesn't sound in the least bit exciting. I'll be sad if I'm still using this when 8.0 comes around but that's highly unlikely.

Why would it be sad, as long as the tool still does the job, that's all that matters.

True,I'll never get rid of the phone but I will get bored lol. Or more bored I should say. I definitely need a change of UI every once in awhile. I'm thinking I just might give LG another try this year.

It could be that 7.1.2 is just for fixes of the relatively new devices

I just got the OTA January 5, 2017 security patch for my Nexus 6. Still on 7.0 Build number NBD91X. Why haven't I got 7.1.1 yet on my Nexus 6? My Nexus 9 is on 7.1.1 and has the January 1, 2017 security patch.

Same here. Was on Nougat 7.0 with an older security patch and got the OTA. Was hoping to see 7.1.1, but no dice. Still works great though!

I'm more than happy with my N6 on 7.0.. still running very smoothly and has done from day 1.
Maybe I'll upgrade next year.. but current Pixels are a bit (apart from the camera) underwhelming and there's not much like for like choice, stock android, 6" amoled, stereo speakers...

It's got wireless charging! Every phone without wireless charging is a downgrade.

Agreed!! That is how I always charge my Nexus 6. And I have a Nexus 7 with a bad USB port that I HAVE to charge wireless.

My wife has a Nexus 6. She still hasn't gotten 7.1.1. It took almost 2 months after the release of 7.0 by Google before she got that. I wish someone could explain why it takes so long before some people get updates. I mean, these are unlocked Nexus phones, right? Do the carriers play some part in the rollout? I would expect that unlocked phones would just go directly to their manufacturers (in this case, Google) web sites for updates, bypassing the carrier. (I mean, how hard is it to ftp an update image?). What am I missing about the process?

Yes, and it took months for Google/Motorola to send the original OTA Marshmellow update to the Nexus 6. And I don't have 7.1.1 yet. I have had many Nexus devices and thought they were top notch with the bonus of quick updates. But the Nexus 6 updates lagged terribly. I have no interest in a Pixel phone or tablet. Over-priced and abandoned too quickly.
Android Central Newsletter
Get instant access to breaking news, the hottest reviews, great deals and helpful tips
Thank you for signing up to Android Central. You will receive a verification email shortly.
There was a problem. Please refresh the page and try again.