Android 5.0.1 factory images for Nexus 6 and Nexus 4 released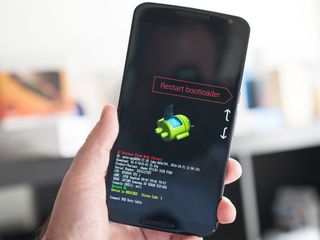 Google released Android 5.0.1 factory images for the Nexus 9, Nexus 7 and Nexus 10 last week, and now images for the updated OS are available for two more devices, the Nexus 6 and the Nexus 4.
The release of these images usually means that Google is close to offering OTA updates for the Nexus 4 and 6 as well. Check out the direct links below:
Nexus 6 Android 5.0.1 factory image link
Nexus 4 Android 5.0.1 factory image link
If you own one or both of these smartphones, make sure you check out our guide on how to manually update your Nexus device before downloading these factory images.
Hmm, something still seems to be missing...

The 7 (2012)? Wubba lubba dub dub!

I know! Like Where's the galaxy nexus support?? Posted via Android Central App

Lololol Posted via the Android Central App

Galaxy nexus support? Check 2013, I think it might be in there lol. It didn't even get kitkat Posted via...The One

http://i.imgur.com/fB19z.gif Sent from my Nexus 5, behind six proxies

I was totally joking. Lol Posted via Android Central App

Really? It's the 5 that's missing? Google, you so strange! Wubba lubba dub dub!

My guess it's still in testing or they are fixing an additional issue for the N5. Many people were complaining of significant battery life decrease with 5.0 on the N5, that could be it.

I pray to God they fix that Posted via the Android Central App

Where's Nexus 5? Posted via the Android Central App

Woo! Hopefully this will fix at least a couple of the nagging issues, and probably add a few new ones. I still won't like lollipop though :p Wubba lubba dub dub!

Ok Telus, Now you can release the damned phone.

Any change logs found anywhere? Posted via the Android Central App

Today i did hard reset on my nexus 4. I found a one very big problem on lollipop. I forgot my sweep password, and i FAIL over 135 times to appears the google ask quest my password to unlock sweep and nothing happens. Then my only choice was do hard reset. Original OTA Update. Not Rooted. TENSE.

If one hasn't installed Lollipop yet, can you go straight from KitKat to 5.0.1 via regular OTA's?

I think the 5.0.1 is a new image with hot fix, Then i think is it possible.

Yes, it will be the one that appears when the OTA shows up on your device.

No love for the Nexus 5 not much consistency with the updates Google lol they just seem to be throwing them out randomly. Posted via the Android Central App

More likely they're pushing them out as soon as they finish the updates, and the N5 just ended up taking more time than the other devices. Sent from my Nexus 5, behind six proxies

I bought my Nexus 5 off craigslist and they guy did the OTA for 5.0. It was utterly terrible! Not only did battery life suck, the lack of options made it barely usable to me! It was like Windows 8 haha! I was going to flash cm11 on it as it runs beautifully on my Nexus 4 and has all the options I want. Then I stumbled upon Cataclysm! Oh joy! Lollipop was never so sweet! Check it out along with ElementalX kernel. You won't be disappointed. Now my battery lasts all day and I have many of the customization and functional options I need. It's stable and wicked fast. My Nexus five is a quad core speed demon now!

Where is my damn Nexus 5 update?

Well, since Lollipop 5.0 totally screwed up my nexus 10. And yesterday I received 5.1 and my tablet is still majorly screwed up, I won't be so quick to download it on my phone when it arrives.... Tablet is basically bricked now

Factory Reset or flash the factory images if you haven't yet. This should be almost mandatory for large updates. I have been using a Nexus 10 for a couple days with 5.0.1 and it runs beautifully. People complain about not receiving the OTA when that is probably the worst way to update. The ROM community calls it dirty flashing for a reason. Posted via the Android Central App

Don't know what flash means and factory reset did squat.. Lollipop is garbage

Something went wrong with your update because I can assure you that my tablet is running better than ever it has no wings but some way somehow it FLYS! Posted via some candy

My Nexus 10 ran like garbage after the OTA update also but factory resetting it through recovery mode has completely fixed all issues.
Note: I did not back up any apps or app data, did a complete wipe and reinstalled all apps from scratch. I figured bringing in an old backup would probably just bring back the problems.

Any love for Nexus 5??? Posted via Android Central App on Nexus 5 or LG G2

Anyone else have problems viewing videos of any kind since lollipop update on a nexus 4? Mine will not play videos anywhere, whether it's YouTube, Facebook, or even through chrome. Posted via Android Central App

No problem with videos on Nexus 4 and 5.0. Actually, I experience hardly any issues at all and I've done a standard OTA, as opposed to a fresh install. Guess I got lucky... Posted via Android Central App

I did the standard ota also. I've just been noticing different things that just aren't working quite right.. Videos being one and the camera app force closing alot when trying to use it. It wouldn't even let me video anything last night for my daughter's performance. There's other little things too.. Hopefully this new update will correct some things. Posted via Android Central App

I wiped my Nexus 4 and installed the factory image and videos seem to play fine. It has various other problems though.

I'm really glad I have my G3 to use as my daily driver while waiting for 5.0.1 on my nexus 5. For them to do 5 last my only guess is it has the most hugs to work out. Which is good they are taking time to fix them. Posted via the Android Central App

thank you for the direct download link

Well Google updated my nexus 7 (2nd Gen) yesterday. Works much better.

Oh What are the actual fixes and updates that OS 5.01 has?

Hmm my 2013 nexus 7 LTE hasn't even got the 5.0 factory image release yet. What gives with Google not supporting a 12month old nexus device like this. That's why I purchased a nexus but have not received the expected support with most of the android updates which just stinks. Google are absolutely hopeless.

'Google is' absolutely hopeless. ~couldn't resist.... sorry.

(T-Mobile, North Carolina, USA) I Manually installed factory images of Lollipop 5.0 on my Nexus 4 and 7 - 2013 / Wifi, both bought directly from Google. Haven't noticed any problems to speak of, had folders in tray freeze after adding an App until power off then back on. Today got OTA 5.0.1 for Nexus 7, been on it about an hour and it seems OK, waiting for OTA update for Nexus 4. I thought of manually updating but it's easier with OTA and phone works fine on 5.0. No drastic battery drain that so many seem to be having.

On my Nexus 7 2013 WiFi, the 5.01 fixed the video crash issue, could not watch YouTube vids with 5.0 Posted via Android Central App

One thing I've noticed with my Nexus 6 is that the camera loads faster and is a smoother experience even with HDR on. Posted from the Nexus 6 via the Android Central App

OK Google, (ba ling)
When does the non-sucking version of Lollipop for Nexus 5 comes out? Posted via the Android Central App

Throw some 5.0.1 love to Nexus 5 owners, too, Google! :(

I got an OTA notification on my Nexus 6. It gave me an option to "Install Now" or "Later." I tapped Later. Now my System Updates says I'm up to date. How can I get the OTA notification to come back? I don't want to sideload it. Thanks!

Me me me me. I want it. I want it.
Folks need to learn to wait. Let them get it right (or as close as possible). Posted via the Android Central App

Perhaps those of us that saw it download and install with no version or build date change have questions, Waiting for it to magically fix rather than asking if anyone else had similar experience is not unreasonable or impatience, Oh great one.

Happy about the fact that N5 will be the last Nexus (apart from the Cellular version of the N7's) getting the update. I hope Google is working on some additional bugfixes and tweaks in order to improve battery life consistency, which is the only issue I've been experiencing so far running Lollipop.

The 2012 Nexus 7 Wi-Fi only has not received that update yet Posted via Android Central App

Never thought the Nexus 4 would get it before Nexus 5...
Android Central Newsletter
Thank you for signing up to Android Central. You will receive a verification email shortly.
There was a problem. Please refresh the page and try again.