Android 4.2.2 OTA for the Nexus 4 is a go, kills unofficial LTE [updated]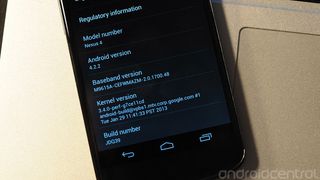 The Android 4.2.2 update for the Nexus 4 is rolling out to users, bringing all the bug smashing goodness you can handle to the latest Nexus phone. It's build JDQ39, just like we saw for the other Nexus devices and checks in at about 54MB. If you're curious about what this update brings you can have a look here.
If you don't feel like waiting, you can download the OTA package direct from Google right here and install is manually via a custom recovery or by sideloading. If you need a little help with that, I'm sure someone in the forums will be happy to give you a hand.
Update: AnandTech's Brian Klug notes that it appears LTE Band 4 -- was never supposed to be officially supported by the Nexus 4 and was more of a residual effect from the hardware, which basically is an LG Optimus G -- appears to be kaput.
Via: XDA
Android Central Newsletter
Get instant access to breaking news, the hottest reviews, great deals and helpful tips
Senior Editor — Google Ecosystem
Jerry is an amateur woodworker and struggling shade tree mechanic. There's nothing he can't take apart, but many things he can't reassemble. You'll find him writing and speaking his loud opinion on Android Central and occasionally on Twitter.
Anyone know if this 4.2.2 update (that has a new radio) breaks LTE in Canada?

Yes it does. It was required.

LTE still shows up in the phone settings menu after the update.

So? LTE doesn't work with this baseband.

I know what 4.2.2 brings to the N7 and N10, but do you guys think this will bring the "wake clock" fix we've been waiting on for battery life? Wasn't Google waiting on Qualcomm to release those drivers for the S4 Pro (and they're finally out now).

I'm hoping this fixing the charging issue, 2 N7's and the N4 do it. They can be plugged in all night and sometimes they won't charge all the way. I'd reset them and then they would charge. Almost positive this started with the 4.2.1 update.

My Nexus 4 experiences this at times, lately it's been happening a lot. it fluctuates between AC/USB charging through my stock included Powercable/Adapter. Figured it was the adapter but it could be a software issue. Doesn't happen all the time but when it does, boy does it bug me.

I pretty much only charge them through the stock charger and It has been happening more frequently lately to me as well.

Can't wait for them to merge the code into CyanogenMod

How come the OTA hasn't hit the devices yet? Rather I thought it was not region specific? Shouldn't all N4 users in North America get the update at least?

Heck I don't even have it on my Gnex or N7 yet.

My Nexus 7 shows nothing, i have a vzw gnex so i won't be getting it from them anymore since they stopped updating and are 4 updates behind.

As Canadians we always get thing last, except blackberries.

the Z10 came out in the UK first.

"not last" doesn't mean "first".

I got my 4.2.2 update this morning here in Canada :)

Flashed the update, things seem to running smoothly. The N4 was already smooth as hell, so I wasn't expecting a huge difference. The N7 update tho, made things a lot smoother for me (with occasionally hic-ups here and there)

is the new quick settings panel really useful or just as bad as the original?

Based on the fact that the difference in baseband version is minimal (.48 versus .33) hopefully means you could flash the old baseband.

Just updated via adb sideload ... thanks :-)

From the video posted by AnandTech - Brian Klug, I thought I saw if you choose LTE, it would go back to WCDMA preferred, but when choosing the other LTE settings it stayed. So maybe LTE is still available??? Please correct me if I'm wrong.

Is anyone experiencing issues with Wireless N WiFi? My apartment has both G and N networks, and neither my Nexus 4 nor my Nexus 7 have been able to detect the N network since I flashed 4.2.2. I did them both through CWM, if that makes a difference.

can anyone confirm if the OTG is fixed possibly? I know there is a 3rd party rom out there that makes it work, but just curious about the official 4.2.2

I can confirm that it still doesn't work on my N4 but still works on my N7.

Okay, everyone can stop saying that this junk phone has LTE.

It never had LTE. Why are you listening to people who claim it did?

Wrong. http://www.anandtech.com/show/6474/nexus-4-includes-support-for-lte-on-b...

"junk phone?" You must be broke and couldn't afford it without the carrier welfare.

Damn it! Oh wait...I don't have a Nexus...nevermind.

Then why did you bother to click through to the article...?

Not surprisingly, Sky Go no longer works with this update.

anyone tried flashing the update without the baseband yet?? I'm willing to bet it's just the new radio that does it. *edit* I was right.... http://forum.xda-developers.com/showthread.php?t=2147299 here's the thread with all the lte-capable radios :) http://forum.xda-developers.com/showthread.php?t=2087227 either flash the rom without the baseband or upgrade with the ota and then flash an old baseband over it ;)

I wonder if the new baseband will help with the connection issues a lot of people have.

LTE has been disabled. If you didn't get the update : Go.to apps Find Google services framework (under all) Clear the cache Clear the data Go back to update Click check for update Profit!

I was wondering when the update would push, but this worked a treat, many thanks!!

With this update they should have fixed this major issue with the Galaxy Nexus: http://code.google.com/p/android/issues/detail?id=39154 They didn't. Please AndroidCentral editors, bring some attention to this bug by posting a separate news item about it. Perhaps Google can hear us then. It affects Galaxy Nexus with V3U00M 08/2012 or 09/2012 NAND chips.

Whoops sorry(Double Post)

Got the update on my N7 and GN .... Phila. PA
Android Central Newsletter
Get instant access to breaking news, the hottest reviews, great deals and helpful tips
Thank you for signing up to Android Central. You will receive a verification email shortly.
There was a problem. Please refresh the page and try again.