Android 4.1.1 Jelly Bean OTA now appearing on some Nexus S variations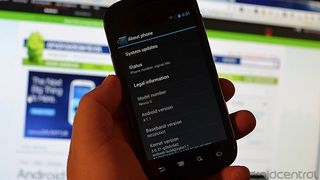 If you've been hanging onto your Nexus S, waiting impatiently for Google to start the roll out of Android 4.1.1 Jelly Bean to your device, you won't have to wait all the much longer. It seems as though the update is slowly rolling out as of right now. The update appearing shows as a 114.4MB file and is noted to of have loaded fine on several i9023 models as well as some i9020T models though we've not had much luck getting it load on our i9020T. If you're not wanting to wait for the OTA, you can download the zip file direct from Google servers though you may need to be running a custom recovery to get it on. (We used CWM 6 without any problems.) And of course, if you're unsure of how this all works best to wait until we get a full flashing guide up for you all.
Source: XDA (1), via: Android Central Forums
bring it to i9020a soon.. cant wait.

Kinda pissed stock recovery is still nerfed or else I would gladly install it myself right now.

I'd give my right arm for NS4G version, rooted of course.

no need, http://forum.xda-developers.com/showthread.php?t=1763781 no GPS or 4G though, if you're in to that kind of stuff

I9020A's are getting a 1MB 4.0.4 update to IMM76M. Prepping for Jelly Bean? :)

I was right! Got the OTA update to 4.1.1 today. I9020A on Rogers. Nice!

Unbelievable. My Galaxy Nexus is going to receive the update after the last Gen Nexus. Screw you, Verizon. Well, guess I'm rooting and flashing JB tonight.

What took you so long? I rooted my sprint gnex on July 4th. Jb is killer!

You are having no luck on the 9020T because the ability to update from the sdcard was disabled in latest stock recovery. You have to access cache using root to update manually.

I get a nexus phone because it's Google. Verizon gets their hands on it and jacks the meaning up. Never thought I'd say it but I'm going back to att to the gsm world.

If I flash the zip wont I lose root acces?

haha google blames other manufacturers, The Nexus S with the old 1Ghz A8 and 512mb ram get the Jelly Bean. While ...... =DDDDD

You think you are unhappy now wait until the Nexus 1 gets the update and we are all waiting with our vzw gnex to get the update. I use the Good app for work so I can not root and have it work. If I could root and still have my Good email I would. Next Nexus on a GSM carrier I guess

Ummm Google's already said the Nexus One won't officially be getting ICS, what makes you think it'd be getting Jellybean?

LOL, meanwhile in the HTC camp, they're "analyzing" whether the Desire HD with better specs has the "ability" to support ICS. Gotta love Nexus. I already miss my Nexus S, but luckily the HTC One S has a good mod community.

Times like these is when I daydream about getting an iPhone. My (yakjuux)Canadian Galaxy Nexus probably won't see Jellybean for another month, if ever.... Meanwhile Nexus S will be getting the updates. Even a Nexus phone isn't really a Nexus.

I have not been on these forums since upgrading my Nexus S 4G to ics. I heard about the jelly bean upgrade and I thought I'd check it out. To my surprise this was the first post I seen and I pooped a little in my pants(just a little). Is this coming out for the Nexus S 4G anytime soon or should I put it on my Christmas list next to new underwear?

Yes! It's downloading over the air for me in Norway right now. Throughout the day I would clear out the data from the Google Services Framework and then check for latest update. Finally, it worked (after about 20 times). I look forward to some Jelly Bean!

My Canadian i9020A just updated. Jelly Bean's running so smoothly! Love it!

Just got this update on my old nexus s (I updated to galaxy nexus a few months ago). This one was automatic, for my gnex I had to check a whole bunch of times. Really glad that google is showing such commitment to their nexus brand, this nexus s is two years old and it's among the first to receive this amazing update.

"is noted to of have loaded fine on several i9023 models as well as some i9020T models though we've not had much luck getting it load on our i9020T"
You have heard some people got it to load on their? i9020T's but you have not had much luck getting it loaded on your i9020T?? Have you or haven't you? on the i9020T? Some clarification would be great.
I am running CWM 6 on a i9020T and I was even able to track down the gapps file, but I cannot get it to load? Even if I toggle off "file verification" it still starts to load and then (error 7)'s out. Any help here?

for all Nexus S i9020t unlocked devices: System Settings>Apps>scroll the top by "running" to the right to All>Google Services Framework>Force Close>Clear Data (IMPORTANT)>Back out to About Phone>system update>your last check date should be 1969/1970>Check Now. This SHOULD work for anyone on T-Mobile, and maybe At@T

No go on AT&T right now, I got the manual 4.1.1 update for i9020a from Google, but you have to be running firmware IMM76M, I am still running IMM76D, and haven't gotten my 4.0.4 mini update yet. Can't seem to find that out out there anywhere.

I tried it but it doesn't work. (i'm on T-Mobile). but doing this in airplane mode does work.. hope this helps.

What were you able to do in airplane mode, force the download?

Followed the steps on this blog to force IMM76M update, still waiting on it to refresh and get JB AT&T i9020a http://erik.thauvin.net/blog/posts/3981/how-i-upgraded-my-att-nexus-s-i9...

It finally offered me the 4.1.1 update the moment I plugged it into a charger, I have a feeling that may be a pre-req.

Same Here... Wasn't working until I plugged it into the charger.. Then 4.1.1 popped right up. So now I have Stock Jellybean on my AT&T Nexus S.

I gave up and just flashed from yakjuux to takju. And right after got the Jellybean update. It's utterly ridiculous that Google has basically ignored all Canadian customers. All Galaxy Nexii in Canada, where the owner hasn't tampered with it, are on 4.0.1. And when you call Samsung Canada, they tell you that Google is responsible for updates. But there's silence when you contact Google. Ridiculous. You shouldn't have to flash ROMs to get updates. There's no way, I'm doing this to my gf's phone. When the day comes where she's getting a new phone, I'll recommend an iPhone.

My i9020t got the JB 4.1.1 update on 7/20. Works well for the most part, somewhat sluggish at times while using Google Now. Overall, extremely pleased with my Nexus S, thanks Google for supporting the NS! Up for renewal in the fall and will be looking forward to picking up the next Nexus.

If you have 4.0.4 stock rooted . Just install voodoo ota root keeper from play store, backup your root. Then install the update zip . Once booted go to ota rootkeeper and click 'restore . I have jb rooted myself using this method.

After having tried different 'tricks' (e.g. stoping and removing the google's services framework data) to get the OTA JB update, the following did the trick for me: 1. stop google market and google services framework
2. remove data for both applications
3. delete your google account within the synced accounts
4. do a cold reboot (i.e. remove your battery) After I re-entered my google account informarmation the update showed up for me! I'm very happy, as memory management on my nexus s now is way smother than on ICS. Also several bug fixes for e.g. the SMS app (messages didn't show up and no alert notification was played).

Potentially stupid question: is there any reason this wouldn't work on my Sprint Nexus S 4G? I'm pretty rooting/ROM ignorant, if you couldn't tell.
Android Central Newsletter
Thank you for signing up to Android Central. You will receive a verification email shortly.
There was a problem. Please refresh the page and try again.