Android 4.1.1 Jelly Bean finally pushed to Motorola Xoom WiFi testers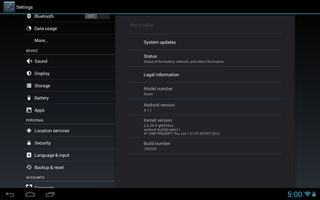 After a little bit of a delay, Motorola and Google are now pushing out the Android 4.1.1 Jelly Bean update to Motorola Xoom WiFi owners who signed up for the testing process. Overall, it's Jelly Bean. Not much else can be said about it really. Everything you would expect to be in place, is indeed there with one exception. That one exception appears to be Chrome. You still need to download it from the Google Play Store in order to have it loaded.
All that said, there still isn't any timeline for a full blown release but it shouldn't be all that long of a wait. The OS update does feel good and added some pep to the now aging Motorola Xoom. If you're looking to load this one up, there is a few options to choose from whether you're rooted or not. One is to use a USB host cable, the other is to flash a recovery that will support the update. For me, this method in the forums worked but if you're looking to try out the USB host method, you'll find the link below. Worst case, you may have to wait for it to go official.
Guide: XDA, Thanks, Chad!
Another Google Easter Egg launch Google now. And speak Do a barrel row
Google is so funny

I dont see the link to the USB host method

I see that he kernel is 2.6. Devices (most?) that have shipped with ICS originally, have the 3.0 kernel. Anyone know why there is a discrepancy? or a reason why not ship the 3.0 kernel?

That is a VERY good question. My Evo LTE is Kernel 3.0.8! Something is strange here. The Xoom before 4.1 is 2.6.39.4. Never noticed that.

I believe this has to do with the fact that most Tegra devices that have ICS shipped with it lacks Linux kernel 3.x. It's quite sad actually, Linus already said that NVIDIA's Linux support is horrid and this doesn't help change anyone's opinion that NVIDIA has terrible Linux support. My ASUS Eee Pad Transformer Prime has ICS 4.0.3 but lacks a 3.x kernel.

my understanding is that they didn't update the kernal

cool. a reason to power up my xoom again. i think i'm in the test group because i received 2 versions of ICS early. i really do love my xoom but rarely have the need to use it anymore.

Got it this afternoon, really slow for the first hr now it seems to be running nicely still playing around with it

same here, give at a few hours and a few reboots, and it gets infinitely smoother

Yeah Much better having alot of fun playing around with it

Now the 6 month wait begins for Verizon to push to my 4G Xoom.

Where the heck is ICS for the Galaxy Tab units for North American?!?!

USA Xoom WiFi = Nexus.
Galaxy Tab = wait and wait and wait. Still waiting for ICS on the Evo 3D, too; a year after release...

The USB method did not work on my completely stock wifi Xoom. Impatiently waiting for the OTA

Can you upgrade from ICS 4.0.3 to JB? I've tried to upgrade to 4.0.4 but it fails. After scouring the forums apparently this is a known issue. I'd like to avoid having to send it back to Motorola, it's less than 4 months old.

I got it today for my Xoom wi-fi, and I have to say, it is a POS. NOTICEABLY SLOWER! Too many jerky spash screens. And, try adding Facebook under "Settings->Accounts" - the FB screen comes up, and stays there. Nothing. NADA. Wish I could roll it back.
Android Central Newsletter
Get the best of Android Central in in your inbox, every day!
Thank you for signing up to Android Central. You will receive a verification email shortly.
There was a problem. Please refresh the page and try again.