Android 10: Evaluating performance on Pixel XL, Pixel 2 XL, Pixel 3 XL, and Pixel 3a XL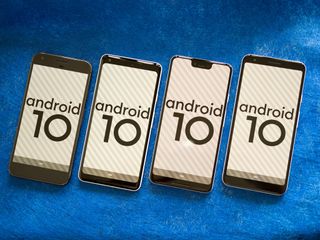 The stable Android 10 update started rolling out to the Pixels two weeks ago. Google has been making phones for nearly four years now, and while it hasn't pushed any boundaries in hardware design, it introduced several groundbreaking software features. Google leads the pack when it comes to computational photography, consistently achieving stunning results with average camera hardware when the rest of the industry is moving to bigger and higher-res sensors.
With Android 10 now available on all three generations of Pixels — including the three-year-old Pixel XL — now is a great time to evaluate how the update is performing on Google's hardware. It also gives us a chance to revisit older devices and see how they're faring in 2019.
Benchmarking three generations of Pixels
Before we get to what it's like to use Android 10 on each Pixel, let's take a look at benchmark scores across all three generations. Synthetic benchmarks don't really provide an accurate representation of real-world usage, but they do give us an insight into how the hardware holds up. As a refresher, the Pixel XL is powered by a Snapdragon 821, the Pixel 2 XL features a Snapdragon 835, the Pixel 3 XL has the Snapdragon 845, and the 3a XL is running the Snapdragon 670. Let's get started.
AnTuTu
AnTuTu Benchmark v7.2.3 (Higher is better)
Swipe to scroll horizontally
| Device | Overall score |
| --- | --- |
| Pixel XL | 160381 |
| Pixel 2 XL | 204410 |
| Pixel 3 XL | 262312 |
| Pixel 3a XL | 160650 |
AnTuTu Benchmark v7.2.3 (Higher is better)
Swipe to scroll horizontally
| Device | CPU | GPU | UX | Memory |
| --- | --- | --- | --- | --- |
| Pixel XL | 53096 | 62264 | 38790 | 6231 |
| Pixel 2 XL | 70655 | 81963 | 43434 | 8358 |
| Pixel 3 XL | 74224 | 121853 | 52735 | 13500 |
| Pixel 3a XL | 61295 | 45373 | 41866 | 12166 |
AnTuTu gives us an interesting insight into how far mid-range chipsets have come in the last three years. The Snapdragon 670 outdoes the Snapdragon 821 at CPU-related tasks, and even posts a better overall score.
3DMark
3DMark Sling Shot Extreme (ES3.1)
Swipe to scroll horizontally
| Device | Overall | Graphics | Physics |
| --- | --- | --- | --- |
| Pixel XL | 2378 | 2458 | 2134 |
| Pixel 2 XL | 2997 | 3090 | 2713 |
| Pixel 3 XL | 3334 | 3328 | 3357 |
| Pixel 3a XL | 1679 | 1512 | 2736 |
3DMark Sling Shot Extreme (Vulkan)
Swipe to scroll horizontally
| Device | Overall | Graphics | Physics |
| --- | --- | --- | --- |
| Pixel XL | 2233 | 2326 | 1959 |
| Pixel 2 XL | 2842 | 3027 | 2341 |
| Pixel 3 XL | 3233 | 3420 | 2715 |
| Pixel 3a XL | 1560 | 1409 | 2500 |
3DMark focuses on the GPU, and here we see the Snapdragon 670's Adreno 615 GPU fall short. It isn't able to hold up to the Adreno 530 on the Snapdragon 821, and lags severely behind the Adreno 540 and Adreno 630 on the Pixel 2 XL and 3 XL.
GeekBench
GeekBench 4.4.2 (Higher is better)
Swipe to scroll horizontally
| Device | Single-core | Multi-core |
| --- | --- | --- |
| Pixel XL | 1561 | 3883 |
| Pixel 2 XL | 1782 | 6031 |
| Pixel 3 XL | 2355 | 8254 |
| Pixel 3a XL | 1621 | 5125 |
GeekBench 5.0.1 (Higher is better)
Swipe to scroll horizontally
| Device | Single-core | Multi-core |
| --- | --- | --- |
| Pixel XL | 315 | 890 |
| Pixel 2 XL | 363 | 1455 |
| Pixel 3 XL | 482 | 1800 |
| Pixel 3a XL | 351 | 1336 |
GeekBench is another CPU benchmark that evaluates the single- and multi-core performance, and here again, we see the Snapdragon 670 doing well.
Pixel XL Holding up astonishingly well
I didn't think that the first-gen Pixels would receive the Android 10 update, but Google included the devices in the beta program following user demand, and both phones have picked up the stable update as well. Considering both phones debuted with Android 7.1 and received two platform updates already, Google wasn't under any obligation to deliver Android 10 to the devices.
But I'm glad it did, because the Pixel XL is holding up really well in 2019. The phone launched three years ago, but Google hasn't changed the core experience all that much in three generations: having switched between the Pixel XL, Pixel 2 XL, and the Pixel 3 XL over the last two weeks, it's remarkable how similar they feel in day-to-day usage. The Snapdragon 821 still has a lot left to offer, and you get the same 4GB of RAM across all three generations.
I didn't run into any issues in the week I used the Pixel XL alongside the Pixel 2 and Pixel 3. The Android 10 update installed without any hassle, and I didn't encounter any bugs in day-to-day usage. Animations are just as smooth and fluid as on the Pixel 3 XL, as were the gestures.
The only thing that threw me off when using the Pixel XL is the size of the bezels. The phone has massive top and bottom bezels, and after using devices like the Note 10+ and the OnePlus 7 Pro in recent months, the bezels on the Pixel ended up being a distraction. This isn't an issue if you use the phone as a daily driver, however, after a few days, you just tend to ignore the bezels. Furthermore, the new gesture-based navigation adds a smidgen more real estate to the screen.
Image 1 of 6
Another area where the Pixel XL is missing out on is stereo sound. The Pixel 2 XL and 3 XL feature excellent stereo speakers, and I clearly felt their omission once I switched back to the Pixel XL. The positioning of the speaker isn't ideal either; it is located to the left of the USB-C charging port, and it's easy to cover up the speaker when you're watching a video. Active Edge is also missing on the first-gen Pixel XL.
That said, Google has also done a fantastic job bringing its latest camera features to older devices. Night Sight debuted at the end of last year, but is available on all Pixel phones, including the Pixel XL. That's a big deal as it extends the life of the phone, and with the device picking up the Android 10 update, it should still hold up for another year. Google obviously doesn't sell the Pixel XL anymore, but if you're getting a good deal on a used device, it is still a great phone in 2019.
Pixel 2 XL That display is still annoying
The Pixel 2 series formed the basis for the design aesthetic that has carried onto the Pixel 3 and Pixel 3a series. Google added a layer of ceramic finish over the metal body, giving the phone a matte look and making it easier to hold. Although the Pixel 3 and 3a feature glass backs, Google offers the same matte texture at the back. And while there's no major difference in the design between the Pixel 2 XL and the current-gen Pixels, I prefer the former because of that two-tone "panda" design. I'm glad it is making a return with the Pixel 4.
The bezels aren't too big at the front, and you get stereo speakers. But where the Pixel 2 XL falls flat is the display quality. The phone had burn-in issues after launch, and while Google rolled out fixes, the OLED panel itself is sub-par. Using the Pixel 2 XL alongside the 3 XL and even the 3a XL, it's easy to make out just how poor the display is on the device. Colors have a bluish tint, and while you can mitigate the issue by switching to a saturated color profile, it is a low point for the device.
Furthermore, the Pixel 2 XL was also the only device out of the four Pixels that I had an issue with while installing the Android 10 update. It was on the boot screen for over 20 minutes, and while the update finally installed after that, it was an anxious wait. Along with the installation issues, I also noticed a few instances where the phone froze up during browsing and a few app crashes. It wasn't a huge problem, but seeing as how I didn't see any issues on the other three Pixels, I wanted to point it out.
Image 1 of 6
Aside from the errant crashes, Android 10 has been relatively stable on the Pixel 2 XL. If you manage to get a Pixel 2 XL with a decent display, it is a great option in 2019. The hardware has plenty of grunt left, the overall design is near-identical to the Pixel 3 series, and it is possible Google will roll out next year's Android R update to the phone, just like it did with this time around with the Pixel XL.
Pixel 3 XL The most refined Pixel yet
In spite of that ugly cutout, the Pixel 3 XL continues to be my favorite Pixel device. The design itself is largely unchanged from the Pixel 2 series, but Google fixed a lot of the underlying issues. The biggest change is the display; the Pixel 3 XL has one of the best OLED panels you'll find on any phone today, with vibrant colors and excellent sunlight legibility levels.
The Pixel 3 XL is just under a year old at this point, so the hardware on offer is relatively new. The Snapdragon 845 easily runs anything you throw at it, and there really isn't much missing from the device. You even get wireless charging and IP68 dust and water resistance, and when you combine that with excellent stereo speakers and a fantastic QHD+ display, it's easy to see that the Pixel 3 XL still has a lot to offer.
I used the Pixel 3 XL for several months this year, and it was my daily driver for most of the Android 10 beta releases. There were obviously a few issues during the first two beta builds, but after that it was smooth sailing. The stable Android 10 build fixed a few lingering bugs that affected the proximity sensor, and I haven't had any issues after switching over. If anything, the battery life is marginally better on the stable release.
Image 1 of 6
With the Pixel 4 series on the horizon, the Pixel 3 XL is getting an attractive discount to $599 (opens in new tab), making it a fantastic choice. It will receive updates for two more years, and if you take a lot of selfies, there's no other device that comes close.
Pixel 3a XL Mid-range wonder
Android 10 is the first platform update rolling out to the Pixel 3a XL, and it makes a great mid-range phone even better. The 3a XL is one of my favorite phones of 2019, and what Google managed to do with the device is incredible. Sure, the Snapdragon 670 chipset isn't quite as powerful as the flagship Snapdragon 800 series at gaming, but in most day-to-day scenarios you don't notice a difference.
This is the most recent Pixel, but also the one with more modest hardware. There is definitely a lot of things the Pixel 3a XL gets right: the 3.5mm jack is back, and it's great value when you consider the camera on offer. The image quality is right up there with what you get on the Pixel 3 series, and when you consider the 3a XL retails for several hundred dollars less, that's a big deal.
Image 1 of 6
Like the Pixel 3 series, I didn't have any issues with Android 10 on the Pixel 3a XL. I'm used to the new gestures at this point, and while it's infuriating to use slide-out menus now, I prefer this to the two-button navigation on Pie. That said, it would've been better if Google took a similar approach to OnePlus.
How is Android 10 working out for you?
That's a quick look at Android 10 on all three generations of Pixels. How are you liking the update on your phone? Did you run into any issues after installing the update? Share your experience in the comments below.
Best of Google
(opens in new tab)
Still the best camera on Android.
The Pixel 3 XL continues to be a standout product in 2019, and the camera in particular is still the one to beat. What Google managed to do with a single sensor is incredible.
Android Central Newsletter
Get instant access to breaking news, the hottest reviews, great deals and helpful tips
Harish Jonnalagadda is a Senior Editor overseeing Asia at Android Central. He leads the site's coverage of Chinese phone brands, contributing to reviews, features, and buying guides. He also writes about storage servers, audio products, and the semiconductor industry. Contact him on Twitter at @chunkynerd.
My Pixel 3 XL works as good now on Android 10 as it did the day I got it.

My Pixel XL is running like a champ on Android 10 :) Edit: I will say though, that when ever I use other Android Devices in my house hold on older OS versions, I really miss the new back gesture. At first I didn't think I would like it but after a couple days it grew on me.

I'm so happy the notch has had its 15min of fame. What a terrible idea and appearance on any phone.

They broke chrome browser. It freezes. Garbage software. So disappointed. Whole phone is slower. 3xl.

Pixel 2 XL. The only significant changes going from 9 to 10 were bad:
- Now WhatsApp is horribly laggy when trying to bring up the chat window or photos during a call.
- Switching between apps with the new gesture sometimes results in crashes that kill apps.
- I'm noticing app crashes across the board, including when using Google apps, which never happened in 9.
- Tap to Translate is now awful because it can't pop up the translate bubble upon copying text (due to Google removing clipboard monitoring). I understand Google feeling that they need to restrict their own apps in the same way that they restrict other developers' apps, but... Ugh! Some minor changes were nice though - the fonts are easier to read.

Hey, personally haven't had an issue with the screen at all, but I have had lockups. Clear the app cache and it goes away.

I don't use WhatsApp or Tap to Translate but my Pixel 2 XL hasn't had any of these other issues. Also, regarding the author's install, mine was fast and simple. I have noticed in the past that certain apps (older apps targeting early APIs) can cause the "Optimizing Apps" process of the install to take forever. Uninstalling them, updating, and then reinstalling them solves the issue. Source: I have my own personally written apps that need to be rebuilt using new APIs and I am lazy. :P

I've had the Pixel XL, Pixel 2 XL and now the Pixel 3 XL and I've love every phone. I sold my friend my Pixel XL and he is still using it today with Android 10 and no issues. I'm looking forward to getting my Panda Pixel 4 XL with 8GB RAM and 128GB storage as soon as I can pre-order it. Also, for anyone who is frustrated with the way Google did the menu slide out gestures for Android 10, I have a neat little trick for accessing the menu slide out that works every time for me and won't activate the back gesture. Simply slide your finger at a 45 degree angle up or down from the left side of the screen and the menu will pull out with no "peek" necessary and won't activate the back gesture. Give it a try and let me know if it works for you like it does for me.

Thank you for the tip for the sliding gesture. It's been killing me.

I was frustrated too with that gesture. Swiping up ONLY from the BOTTOM left at a 45 degree angle works best for me. Also, I reduced the sensitivity of the back swipe.

The Pixel 4 is going to have 6GB not 8GB. Swiping at a 45 degree angle does make it a lot better but it's still not much better than 50/50.

Installed without issue on my pixel 1 and 3. I am getting better battery life. Keeping it unlocked at home now works. Unlocking my Chromebook now works. I think my pixel stand may be charging faster again. I use Nova launcher so I lost the two button gestures which I quite liked. There is virtually no discernible speed difference between the two. Zero crashes since it was installed.

I'm just sitting here patiently waiting for Android 10 to be ported over to LineageOS 😅

I have a Pixel 2 XL and have had tons of problems. I'm so mad I updated. I get frequent crashes and freezes. I get worse battery life. I see multiple second delays when I try to make an actual phone call. My biggest gripe might not be their fault, but my gear sport watch battery now runs out in a few hours while I was getting multiple days before the update. The watch app in the phone keeps crashing too. Samsung needs to fix this, but apparently Google changed something that caused it to break. I have to keep the watch on low power mode now to make it last the day.

Same on my Pixel 2 XL. Issues I've noticed are: poor Bluetooth connectivity, touchscreen issues (not registering touches), various crashes, and some calling issues. Not sure about battery life. But it does seem snappy overall. I'm a loyal Pixel fan and yet it's like we're the beta users for the rest of Android. Android 9 was buggy for a long time until it finally was rock solid. We mock Samsung for slow updates, but by the time they get it, Google has cleaned up their sloppy releases. Going to look very hard at the Galaxy S11. Not going to get the Pixel 4XL.

Bluetooth was sketchy on my Pixel 2 XL after the update to 10. I fixed issues with each problem device by removing it from my Pixel and, if applicable, removing my Pixel from the device. After re-pairing each has been working as well as before the update.

I have a Pixel 2 XL updated to Android 10. I'm not having any of those issues. I've had a Google phone for the last 6 years. I had a Nexus 5, a Nexus 5X and currently a Pixel 2 XL. This is actually the first time a major update DIDN'T cause a noticable decrease in battery life for me. I haven't had any app crashes or delay in making a call. I have heard from several Verizon users that the My Verizon app was causing a delay in making a call but I don't have Verizon so I can't comment from personal experience. From what I've read Verizon released an update to the My Verizon app to fix that issue. Not sure if your problem is related.

I had the phone delay issue on my 2XL as well (15-20 secs), but it just went away a week later. Other than that, 10 has been great.

I'm loving the performance and battery life on my Pixel 3a, and the camera is just awesome. But I'm really annoyed by the subtle/not-so-subtle yellow tint that almost covers half the screen, so much that I'm wondering wether I should returned. I know I'm not the only user affected by this, and I actually I should consider myself lucky. I'm worried getting it replaced will only get me a worse screen. Is anyone actually happy with their screens? It can be very subtle so I suspect some people won't even notice.

Two issues I've noticed since updating my Pixel 2XL. First, it lost the ability to auto lock with all my flip cover cases. Still auto wakes when I open them, but no longer shuts off when I close them. Very annoying. Second, the nightsight functionality of the camera is much, much worse. Half the time I get blurry images now, like looking through a fishbowl, and the brightness is nowhere close to what it achieved on 9. Everything else seems the same.

I don't know why people ever complained about the notch on the pixel 3XL. The iPhone has a notch albeit not as tall and other devices have a notch. It doesn't affect the phone or using it in almost any way. The only issue I occasionally have is when I swipe down to see notifications. I'm used to the Pixel 2XL so the notch is still new to me, but I actually like it and think it gives the phone character. The 4/4XL got rid of a few features that I really liked about the Pixel 3XL and 2XL in a fingerprint scanner and front firing speakers. I opted for getting the 3XL instead of waiting for the 4XL due to those reasons. I had a 2 year payment plan for the 2XL and got it on release day. I wanted to do the same thing with the 3XL but they offered me payments instead of paying the $900 up front which I planned on doing. So I'm late to the 3XL game and will be with the 4XL.

I have the 2XL and my screen is just fine thank you very much. In fact the screen looks even better with the android 10 update. I have had zero issues with the stable version. I was a little worried because the prerelease was rather buggy but the bugs all went away with the final release. very happy. I intend to hang onto my 2XL for at least a 3rd year and who knows how much longer. I thought about the 4 but I really don't want all the bezel that is required for the hands free stuff. waving my hand at the screen just seems like a useless toy feature.

The only problem I've encountered is the alarm not working now on my husband's pixel 2xl. I have the 3xl and my mother has the 1st Gen pixel XL and we've not had any problems. We ended up having to download a 3rd party app for him as an alarm alternative.

I agree with the positive reviews except for one glaring issue that was left out of the article. I'm having the "weak LTE signal" issue that many users are reporting in the Android Central Pixel 3 forum and on Google's own community Pixel Phone Help site. In weaker signal areas I now get just 1 or even zero bars where I used to get 2 or 3 and can't stream anything in the exact spots I could before. Even in very strong signal areas I see the bars jumping up and down constantly from 1 to 5, then back down and up standing near a known Verizon tower near my work. I never had these issues before 10. This needs to get fixed. There are now 90 posts about this here.... https://support.google.com/pixelphone/thread/13566467?hl=en

I have the same issue and calling Google support they offer to replace my phone even when I pointed out it was an issue with the software update! Hopefully the software fix comes out soon!

I've had network connectivity issues going from the last beta to the released version of Android 10 on my Pixel 3 XL. (Just to clarify didn't have any Network issues with the last 3 betas) Network reception on T-Mobile has taken a hit, more noticeable in places with 1 or 2 bars before the update. It's also much slower to detect a network once it shows no network. I've walked outside my work building where I should get full bars and it still takes a couple of minutes to pickup the signal unless I toggle airplane mode or restart the phone. Have also had some glitchy flashes with the always on screen when notifications come in. Other than that seems to be doing well with everything else. The full gesture navigation is harder to use when watching screen videos and takes more taps and swipes to go back compared to previous UIs.

Both my daughter and I have the pixel 3x.after the update to Android 10, both of our phones would not make outgoing calls for 30 to 45 seconds. We did find an article online and went in and had to do a separate cashed delete. Other issues are around the pixel stand. We both have pixel stands and the functions aren't working as they were before even though we have gone through the settings for the pixel stand and redid them. The phone does not go dark on this stand, so white lettering is standing out. It will also flash as if we're activating it over and over for at least the first 10 or 15 minutes that it's on the stand. We both have had issues with connectivity to our internet. I've literally had to turn off my Wi-Fi when I'm in my house and just use my data because the browsers are slow, including chrome, and also pages are loading extremely slow including Facebook. So my once speedy excellent pixel 3xl is now acting like an old phone that the hardware and software doesn't match. There is one positive thing out of all the bugginess, my unlock feature is finally working when I'm at home when it never did before the update. Both my daughter and I are very disappointed in the Android 10 update. My son has the Pixel 2, and it is very slow now after the Android 10 update.

Good grief. Are we seriously relitigating the 2XL screen nonsense? A screen shouldn't be judged on vibrancy, it should be judged on accuracy. Is the 2XL screen perfect? Hell, no. But the author comparing it to other screens' vibrancy is as stupid as going into Best Buy and choosing a TV based on the cynically over-saturated 'Store Mode' — the first thing any smart person does once they get their new TV home is turn that **** off! Of the three display color settings available for the Pixel phones, 'natural' is the closest to the sRGB standard with a D65 white point. If you want your screen to look like an over-saturated Galaxy screen with a sickening warm white point, go buy a Galaxy. You don't get true HDR and a wide color gamut just by dialing up a saturation setting. There are absolutely issues with the 2XL display (which you can observe most easily by turning your brightness down low and scrolling up and down a webpage) but the way this author discusses the screen demonstrates that he has no idea what the display's issues actually are. I'm one of the most anally retentive people I know when it comes to screen technology and I reckon my 2XL will hold me out till the 5 just fine.

Not very happy with Android 10 on Pixel 2 XL. Install was easy, but my phone reboots on it's own at least once a day. Doesn't seem to matter which app I'm using. It even rebooted one time overnight, which killed my morning alarm clock :(

Everything works great on my Pixel 3aXL

The performance and battery life on my Pixel 2 XL with Android 10 isn't any different than it was on Android 9. Overall I guess Android 10 is ok. I have more complaints than good comments but nothing major. I'm most upset that Google removed the menu button in the navigation bar to access the old menu that was accessed from the old hardware menu button on pre-ICS phones and the back gesture interfering with swipe out menus( swiping at a 45 degree angle helps but isn't great). Other than that I don't like how dark mode is implemented (it's so inconsistent), I don't like the change to Lift To Check and Double Tap To Check.

I got 1st gen Pixel and Pixel 3 running on 10 and they both work great, my 1st gen Pixel does get warm after a bit of normal use though so I don't use it as much as I'd like but that phone holds up quite well.

Man I miss my Pixel 2 XL since I lost it last year. I'll be getting a Pixel 3a XL early next year so when Android 11 rocks up and they do a similar article, I'll be able to comment at least, currently happy with my Nokia 8.1 except for the camera which I'm having to use GCam.

I can take or leave my 3XL. Samsung phones still have a better display. And I do not find this phone that great in Sunlight. I do like that Google phones get prompt updates.

I'm hesitating to upgrade my 3a XL because of all the horror stories I've read here and elsewhere about things like boot issues during the upgrade and sensors not working. There seem to be many issues and it's really bothering me that some people report no problems at all and others have major issues.

No comparison to android 9 benchmarks? Also my pixel 1st gen outperforms the xl? I thought the xl was better...

Since the update on original Pixel XL unable to search contacts for calls or texts. That sucks and Google (or someone) needs to fix it. When I say search, I mean typing in a contact and having the contact show in the pane. Since the update I've had to scroll through all of my contacts to find my intended. Sucks!

At this point, I would really like to have the smaller Pixel 3. I'm still using my Pixel 2 and other than the battery life, it is really excellent. But that time is nearing... Flicked via the BlackBerry keyboard on my Pixel 2

my pixel 2XL is working just fine with the Android 10. I'm going to be seriously debating whether I get a four immediately or wait till they offer a buy one get one or something a couple months in since my wife is wanting in the Pixel game too.

Android Beta installed effortlessly on my Pixel 2XL and the official update was so seamless that I did not notice. My display was just fine, even without the saturated mode setting. I think we need to disengage from year old information. I bought it to replace a Sammy daily driver that I lost recently and preferred it over the notch-u*ly (you people can be so ridiculously finicky about words) Pixel 3XL. Pixel 3aXL is a lower class of phone, period! To each his own!

I agree, I love my Pixel 3 XL with Android 10. So freaking smooth!
Android Central Newsletter
Get instant access to breaking news, the hottest reviews, great deals and helpful tips
Thank you for signing up to Android Central. You will receive a verification email shortly.
There was a problem. Please refresh the page and try again.