Amazon Prime Video now works on Android tablets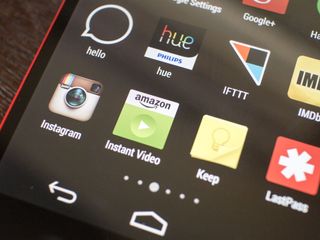 Previously the Amazon Prime Video app only worked on Android phones, but Amazon has been expanding compatibility and now Android tablets will work as well. Recently Amazon expanded playback to the Fire tablet as well as iOS devices, but Android tablet users were still not able to play videos on their devices.
To browse content users need to launch Prime Instant Video from their devices web browser, and they will then be able to watch on their tablets. The app is only available through Amazon's own Appstore at this point, which you can install here (opens in new tab) if you need.
Jared started off writing about mobile phones back when BlackBerry ruled the market, and Windows Mobile was kinda cool. Now, with a family, mortgage and other responsibilities he has no choice but to look for the best deals, and he's here to share them with you.
Are you sure this is new? I've been using it on my Samsung Galaxy Note 10.1 2014 Edition for months now.

It's new. Previously you had to jump through hoops (download phone, not tablet, Amazon store .apk, then install Amazon's app store, install prime streaming app, etc). This is a real app that even grandma can just install and it works, no .apk hoops required.

Wow that's awesome...I've always thought it was because they wanted people to use Amazon Tablets to stream Prime Content....not because it was just simply not supported.. Posted via the Android Central App

And then would I be able to use it with Chromecast? I canceled Prime a couple months ago once we figured out Prime videos would not play on any of our phones or tablets nor cast to Chromecast. Tried on Droid MAXX, Droid Turbo, Droid Mini, Moto Xoom, LG G Pad 8" and HTC Nexus 9.

No. Amazon wants you to buy a Fire TV or Stick to do that.

I just tried mirroring the screen to my TV via Chromecast while a Prime video was playing. It worked, but not well.

I did that with my Nexus and it got so hot so quick. I just ended up buying a Fire TV Stick and I like it a lot more than Chromecast. It only cost slightly more. Posted via BlackBerry Classic

It's great except for those of us who have a ton of Google Play video/ a Google music subscription, or if you just simply want to cast your screen. For me giving all that up just to have videos that are mostly on Netflix anyway would be a horrible trade off. But I got 2 free ROKU's from my internet provider so now I can have amazon prime and google play video all in 1 device. I still mostly use Chromecast cause it's much quicker to play. But it's great for the Amazon Prime part. Via Nexus 6: "Takin updates for granted."

I guess you're right. But I only stream my movies and shows via Netflix or Amazon so it's perfect for me. Posted via BlackBerry Classic

IN order to get this to work. I had to delete both the Amazon and Amazon instant video apps that had been installed on a tablet. Once both had been deleted, I installed the "Amazon for Tablets" and then installed a new Amazon Instant video app. Video would not work with the original apps installed on a Dell tablet and no updates were available.

They may have not rolled out for your tablet yet, so just wait. Post brought to you by the T-Mobile S5.

Got the update earlier. It broke the app on my G3, says it is not supported on my device. However if you select chrome when it asks you where to play it does work in chrome but it will not work with the shopping app that it makes you have. Posted via the Android Central App

I'm happy this app is available. I'll be able to enjoy my Prime Video in addition to Netflix. Posted via the Android Central App

I've been doing this for months on my Nexus 7 (2013), using the Amazon Appstore and the version of the Amazon store and Amazon Instant Videos from that store.

Too late for me. I was looking for this years ago. Ended up dumping prime and now just netflix and google play movies

I am very much confused by this article. Did other
tablets have problem using this app? My Amazon Prime Video app(from Amazon app store)
has been working flawlessly since October. My tablet
is a Samsung Galaxy Tab S 10.5.

Yes Amazon only supported a limited number of tablets. Posted via Android Central App

Finally! via AC App on VZW Moto X DE/N7

What a concept! Wait. You mean it didn't, before? That's just stupid. Posted via the Android Central App

That's great but it's still NOT a stand alone app like Netflix.. u still need to have the regular Amazon app to use it..

It's still a less pleasurable user experience, the way you set it up and use it; maybe I just need to get used to it... That said, it works fine on my Nexus 9 as of today ☺ Posted via the Android Central App

Agreed. It's still kind of wacky but now that I can catch up on Hannibal and The Americans, I'm not going to complain. Posted via the Android Central App

Finally! Posted via my Samsung Galaxy S6

What happened to the link??? Rocking the Note 4

Amazon needs to put this app in Google's app store. That is how legitimate apps are installed on Android devices. If I wanted to use Amazon's app store I would have bought a Kindle Fire tablet. Posted via the Android Central App

Yes they make it so damn hard putting it in their app store instead of Google Play. Stop hating Google Amazon! Posted via the Android Central App

I really don't think it's that hard but I suppose it depends on the user. Uncheck one thing in security settings for unknown sources then go to Amazon and download the APK and install. Posted via Android Central App via my Sprint Tab 3 LTE.

I believe it was the other way around. Google pulled Amazon's app last December because of the App Store integration. I doubt Amazon would have any problem with having its app on GP. Posted via the Android Central App

I think I'll try this on BlackBerry 10 when my phone arrives Monday afternoon. . HDMI out should work nicely. Works great on my Nexus 7 2013 and Galaxy devices. Posted via Android Central App via my Sprint Tab 3 LTE.

It has been working on BB10 since November - http://crackberry.com/how-get-amazon-prime-instant-video-blackberry-10

They should have it as a stand alone app like Netflix app.. and also using this "fake" prime app and having it go through the web sucks

Anyone try this on Android TV?

You should be able to just see a list of the videos available, click on the video and then it plays. You shouldn't have to jump through hoops just to get the video you want to see.

Yeah this is still craptastic...it should work no differently than it does on iOS and Fire devices. No Amazon App Store requirements, no having to navigate through the web site. Launch app, play content, it's not that hard. :)

Tried it yesterday on my Yoga 2 (10"). Won't play HD. HD is only supported on a very limited list of tablets. Stupid.

I can watch Amazon Prime movies from my laptop using Google Cast.
I have a Nexus 7 and cannot get it to work. Nor can I download the Google cast
app.
My N7 does cast to TV on Netflix.
What am I doing wrong or does N7 just not support the app?
Android Central Newsletter
Get the best of Android Central in in your inbox, every day!
Thank you for signing up to Android Central. You will receive a verification email shortly.
There was a problem. Please refresh the page and try again.