Amazon outs Motorola Droid Bionic desktop dock, car dock [updated]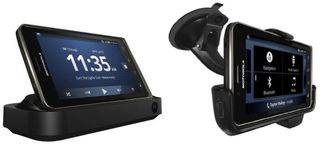 Update 2: ... And Amazon's pulled the pages.
Might we be getting our best look at the Motorola Droid Bionic here, from Amazon? If a pair of product pages are to be believed, we most certainly are. And is that a chrome ring we see around the phone?
At the left is the desktop dock, which is billed as "A station with an extra sense. With ESP technology, you decide which apps and short cuts to keep on your home screen and the dock remembers." In addition to charging the phone, it's also got a 3.5mm audio jack for outputting music, or taking calls.
And on the right is the vehicle navigation dock with rapid vehicle charger. It's also said to have that same ESP technology, which really is just a fancy way for saying the phone knows when it's docked and will switch to car mode -- just like other docks.
No pricing or release listed on either, though you can sign up to be notified when they're available.
Source: Amazon (car dock (opens in new tab), desktop dock (opens in new tab)); via Droid Bionic forums; Thanks, sfay93!
Update: Droid-Life spotted a nice rear shot of the desktop dock, showing three USB ports and an HDMI out port. Pic's after the break
Android Central Newsletter
Get instant access to breaking news, the hottest reviews, great deals and helpful tips
Boom goes the dynamite Can't wait for this phone!

The new Bionic is looking great
It's a shame that it will be a CDMA only (with LTE)

Why would that be a shame?

Because I want a GSM one
I've always liked the Drive X , but Motorola made it clear for that they wont make a gsm variant
This is the downside of being an Android fan who isn't in the US

It will come Ice, it just takes time. Trust me, seeing all of the sweet phones everyplace else has had for over a decade, it is nice to finally get some quality here and when Moto realizes they can make money with Europe, they will jump on it and start making two variants. it is just that 4G is new here so they are focusing on getting the US market saturated with it.

I suggest finding a Milestone X. Thats basically a Droid X for GSM also, i don't know if you guys realized but on the Amazon product page it states it will have a wireless remote with it. The dock almost seems like its going to be a media hub that can show and let you control your Bionic on your TV via HDMI/USB (must be the reason for the 3 USB jacks, Keyboard, Mouse, charger) Oh and I made this from 14 images off the Amazon image zoom tool, it spliced the original picture into those slices but putting them back together was actually easier than i thought it would be. http://i990.photobucket.com/albums/af23/NCX_Designs/ncx_BionicFULLdock_s...

Looks nice and thin. I'm digging the silver trim. Hopefully this means it is getting close to release.

Wow, did a little looking, and the product photos are 1000x1000! Nice quality look at the Bionic!

Now this looks different from any other Moto phone I've seen. Some of the other pictures look... ambiguous. That white metal trim actually looks pretty good. Desk dock phone is on 3G but the car dock is 4G. Top left power button, USB obviously on the left side of the phone and I imagine the HDMI is right next to it as usual. The border around the edge of the screen is too thick for a 4.5" so I'm assuming the 4.3" rumors are true. Nice looking beast though. I'm fired up.

the 4g logo is different than the usual verizon 4g lte logo looks like unless they changed it for this phone.

Now is the Bionic confirmed to have an inductive charging back plate like the patent suggested? If so I may not invest in the dock since it would just be for my bedside.

I have a feeling next week we will hear a lot about the bionic, I mean if its coming August 4th, than per-order next Thursdays July 28th.. Like Rebecca Black says "we so excited".. Hell yeah we so excited....

Damn I gotta have this phone! And the docking station, and the laptop dock! If only the laptop dock is cheaper than that of the ATRIX....

Gotta say, the latest of the Droid lineups are NICE!! Liked the first Incredible and first Droid slider (for a minute) but Im really impressed with these.
Android Central Newsletter
Get instant access to breaking news, the hottest reviews, great deals and helpful tips
Thank you for signing up to Android Central. You will receive a verification email shortly.
There was a problem. Please refresh the page and try again.