Amazon Echo Buds (2nd Gen) vs. Apple AirPods (2nd Gen)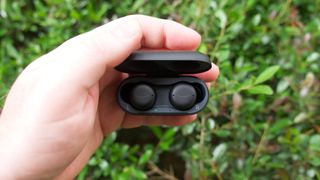 (Image credit: Jeramy Johnson / Android Central)
Amazon Echo Buds (2nd Gen)
The Echo Buds (2nd Gen) put Amazon in a better position to take on competitors, especially those that are similarly priced, and improvements in audio quality, active noise cancelation, and overall fit make these newer buds worthy as an upgrade from their predecessors.
Amazon Echo Buds (2nd Gen)
Smaller and better fit
Hands-free Alexa access
Improved ANC performance
Maintains EQ support
Great support on both iOS and Android
Faster charging
No multipoint Bluetooth
Finicky touch controls
VIP Filter still not ready
Apple AirPods (2nd Gen)
Apple's AirPods have become iconic, and they continue to be ubiquitous because of their convenience, but these second-generation earbuds illustrate the weaknesses inherent in the product line. Their age and lack of depth shows when you start regularly listening to them.
Apple AirPods (2nd Gen)
Great microphone quality
Super compact design
Wireless charging case
Up to 24 hours battery life with case
Poor sound isolation
No ANC option
No customizability on non-Apple devices
More expensive
Comparing sequels is always more interesting, especially when it comes to tech. For example, the Amazon Echo Buds (2nd-Gen) came out and the improvements made their predecessors immediately outdated. The AirPods (2nd Gen) carried on the same tradition from their own predecessors, but that legacy approach hasn't aged as well, and there are performative consequences because of it.
Amazon Echo Buds (2nd Gen) vs. Apple AirPods (2nd Gen): What sets them apart?
The best wireless earbuds stand out for being good at more than one thing, with sound quality, comfort, and compatibility being the key drivers. The AirPods have compatibility down pat — with iOS devices. Things aren't as seamless for Android users, like the lack of fast pairing and the built-in H1 chip's incompatibility with the operating system. Naturally, Siri doesn't work on Android phones and tablets, so that leaves smart assistants, like Alexa, to fill in the gaps.
Both of these earbuds replace original versions, and come from companies with their own voice assistants. Amazon took bigger steps to address previous shortcomings, whereas Apple chose only to tweak what it felt was already a winner when it released these AirPods in 2019. The Echo Buds (2nd Gen) are a 2021 product, so it's no surprise that timing is almost everything when it comes to this comparison.
Swipe to scroll horizontally
| Header Cell - Column 0 | Amazon Echo Buds (2nd Gen) | Apple AirPods (2nd Gen) |
| --- | --- | --- |
| Durability | IPX4 | N/A |
| Bud battery life | 6.5 hours | 5 hours |
| Case battery life | 19.5 hours | 24 hours |
| Wireless charging case | Yes | Yes |
| Connectivity | Bluetooth 5.0 | Bluetooth 5.0 |
| Digital assistant support | Alexa, Google Assistant, Siri | Siri |
| Supported audio codecs | SBC, AAC | SBC, AAC |
| Speaker size | 6mm drivers | 6mm drivers |
| Active noise cancelation (ANC) | Yes | No |
| Ambient sound mode | Yes | No |
The numbers don't tell the full story on battery life. The Echo Buds can play up to 6.5 hours when ANC is off, but when it's on all the time, that number maxes out at five hours. The AirPods can barely muster that much at the best of times, and assuming you raise the volume often, it will be closer to four hours. Apple gains an edge on the charging case, delivering one extra charge (and maybe more) over the Echo Buds. These AirPods also came with two variants, with the only difference being a wireless charging case, but that model has since taken over as the most common available for the second-generation AirPods.
In fairness, when these particular AirPods launched in 2019, it wasn't as common to find earbuds with ANC, but now that it's ubiquitous, the lack of the feature sticks out. Even if Apple did include it, their open-fit design would negate most of the noise-canceling effect anyway. Amazon wisely developed the Echo Buds to use different sized ear tips, helping you get a better seal to keep sound from leaking out too much.
Fit is critical with any pair of earbuds, especially for features that involve drowning out background noise or amplifying it in ambient mode. The AirPods don't need the onboard mics to pipe in any background sound because you'll get plenty of it passively coming through, as is. The problem is that the AirPods are both one-size-fits-all and one-sound-suits-all. You can't seal the audio into your ears enough to hear more of the bass, and since the earbuds sound pedestrian to begin with, you can't do much to make them sound better, either.
The original Echo Buds weren't all that amazing, but Amazon used better drivers for the newer pair, and with ANC thrown in, music and other audio content just sounds better across the spectrum. Assuming they fit comfortably, you should hear and feel consistent sound that you can also tinker with through the basic equalizer (EQ) in the Echo Buds app.
Ironically, that app support extends to using the Echo Buds (2nd Gen) with iOS devices, too. While you can tailor the audio to your liking with Amazon's earbuds on an iPhone, you can't do the same with the AirPods. Where Apple didn't leave everyone out on the lurch was with the onboard controls. They're a little more effective and reliable on the AirPods compared to the Echo Buds.
While it is entirely aesthetic and subjective, Amazon offers the Echo Buds in black and white variants, whereas the AirPods are always just white.
Amazon Echo Buds (2nd Gen) vs. Apple AirPods (2nd Gen): Talk and voice assistance
The AirPods have long been heralded for their phone call quality, and these earbuds were among the pairs to establish that narrative. You probably won't get any better performance from the Echo Buds, but you should expect them to do better than the original Echo Buds could.
Beyond that, the easiest thing to compare is how their respective voice assistants work, which is important because that is a big part of the value proposition for both brands. Amazon integrates Alexa into the Echo Buds with hands-free access and ties it into the extensive gamut of Skills available. Wake Alexa and tell it what to play a song, artist, or album on Spotify. Control smart home devices or ask for details, like weather, a daily schedule, and more.
Siri does much the same, albeit for Apple users, limiting the cachet the voice assistant could have for Android users. If you're looking for a similar experience using an Android device, you will have to accept trade-offs.
Amazon Echo Buds (2nd Gen) vs. Apple AirPods (2nd Gen): Which one should you go with?
The AirPods (2nd Gen) are no longer the latest iteration of Apple's entry-level earbuds now that a third-generation pair is out. But it doesn't matter in the grander scheme because the integration isn't going to be there for Android users. These AirPods show their limits in more ways than one, whereas the Echo Buds (2nd Gen) approach every device with the same integrative expectations. Pair them with your phone or tablet, and you should get the same experience, either way.
Being the newer pair, the Echo Buds (2nd Gen) are better value, especially when you can get them at a lower price. Amazon could very well release a new version sometime in 2022, though should still continue supporting these earbuds for some time. Apple will surely do the same, only there's not a whole lot left to work with.
Moving on
Amazon Echo Buds (2nd Gen)
A natural extension of Amazon's ecosystem

Amazon's encore attempt at its Echo Buds bring in proper ANC and newer drivers to improve sound where it counts.
Budding legacy
A plus worth a listen
Everyone recognizes the AirPods, and while sometimes convenient, they aren't the best when you want good sound or using Android.
Sign up for Black Friday email alerts!
Get the hottest deals available in your inbox plus news, reviews, opinion, analysis and more from the Android Central team.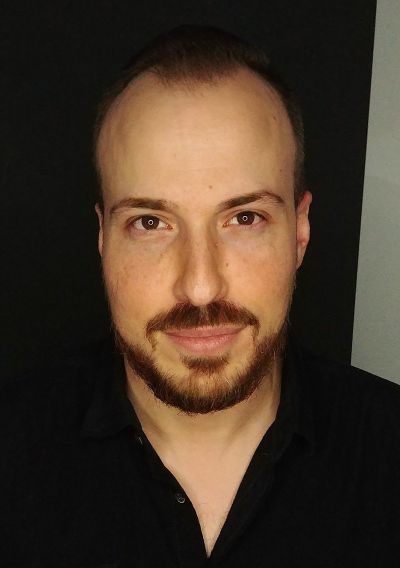 Contributor, Audio Reviewer
Ted Kritsonis loves taking photos when the opportunity arises, be it on a camera or smartphone. Beyond sports and world history, you can find him tinkering with gadgets or enjoying a cigar. Often times, that will be with a pair of headphones or earbuds playing tunes. When he's not testing something, he's working on the next episode of his podcast, Tednologic.