Alcatel OneTouch officially announces the Pixi 4 family, consisting of 3 phones and a tablet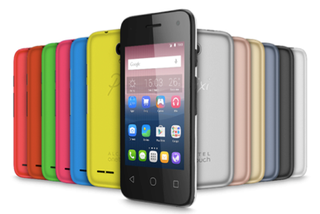 As expected, Alcatel OneTouch has officially announced its new Pixi 4 family of devices at CES 2016, which consists of three smartphones and a tablet. This revamped lineup from Alcatel OneTouch is meant to be a premium style entry-level device, meaning you won't find top of the line specs, but you'll find great value in each of these devices. Combining a comprehensive user experience in design, audio, battery life and with the camera, the Pixi 4 line makes a pretty good complete package.
On the phone front, you'll have your choice between three different size displays, which include 3.5, 4 and 6-inches, and the tablet will come in a single 7-inch variety. Internally, the 3.5-inch phone will have lower specs, though the exact specs are not yet available. The other phones, along with the tablet will feature a powerful quad-core processor, and with the included power-saving features, you are looking at 25 percent longer battery life. On the tablet and all of the phone models, you can expect a louder and cleaner sound from all of your apps, videos and music playback.
At this time, Alcatel OneTouch has yet to announce official pricing or availability on the Pixi 4 family of devices.
Press release:
ALCATEL ONETOUCH Launches the New PIXI 4 Family:
A Line of Premium Entry-Level Devices
CES, LAS VEGAS, January 5, 2016 – ALCATEL ONETOUCH announces a brand-new PIXI experience: the PIXI 4 family offers premium entry-level smartphones and tablets with a comprehensive user experience in design, audio, camera and battery life.
"Compared with other smart devices in the same segment, the PIXI 4 family offers an unprecedented user experience thanks to features like Arkamys optimized speakers and Polaroid filters," said Dan Dery, Chief Marketing Officer at ALCATEL ONETOUCH.
Seductive Design - With its compact form, the PIXI 4 family is among the slimmest models in the entry-level segment. It comes in a rainbow of colors, from cool, metallic silver to eye-popping, candy-colored brights.
Loud and Clear - Sound is louder and clearer on all apps, music and video players, and streamed content thanks to Arkamys optimized speakers. And when it comes to the hardware, the quad-core CPU (available on the 4-inch smartphone, 6-inch phablet and 7-inch tablet) allows users to open multiple apps instantly and makes browsing a breeze.
The XL Experience - The large displays of the phablet and tablet are perfect for viewing multiple windows. The spacious display of the PIXI 4 6-inch phablet is nonetheless easy to manage with one hand thanks to its dedicated software. In addition, commands are activated with just a touch of a finger, such as double-tapping to switch the phablet on.
Compared to the previous generation, the PIXI 4 7-inch tablet is even more compact and thin. It runs on powerful chipsets with a new IP52 feature (splash and dustproof); it is also voice-call-enabled. The pre-loaded HERE MAPS application is perfect for travelers and can be used anywhere to browse maps, even offline.
And Smart Too - What's the use of having all these features if the device is out of power? The PIXI 4 family has thought of that too. With smart power-saving functions, it offers up to 25 percent longer browsing.
Jared started off writing about mobile phones back when BlackBerry ruled the market, and Windows Mobile was kinda cool. Now, with a family, mortgage and other responsibilities he has no choice but to look for the best deals, and he's here to share them with you.
Alcatel really stepped up its game in 2015 with the Idol 3. (the phone I am using right now as a matter of fact) The Idol 3 has pretty much made my G4 a glorified camera. It seems that's pretty much all I use it for on most days. If any of the 4 devices mentioned in this article are close to the Idol in quality, they may earn some more of my $$ when it's time to buy my granddaughter her first real cell phone. Posted via the Android Central App

thusinhngheo622@yahoo.com Posted via the Android Central App

My sister has an idol 3 and it's am amazing phone. Though it's pretty fragile, the screen cracked and the touchscreen stopped working. Had to pay $100 to fix the screen but got the device back within 3 days. I bought a tempered glass screen protector for it now.
I'm looking forward to the idol 4. If they chose to go with a snapdragon 820 then I'll probably get it. The dual front speakers and screen on the idol 3 rival my oneplus one. I hope they improve this with the 4 Posted via Android Central App on 1+1

There are articles about this floating around. The idol 4 will supposedly feature a snapdragon 652 which, supposedly again, is no slouch. http://www.androidheadlines.com/2015/12/alcatel-onetouch-idol-4-will-hav... Posted via the Android Central App

How is it compared to snapdragon 801? Posted via Android Central App on 1+1

Man, if they can bring it with the sound on these, and especially if it comes w marshmallow, I might be interested in the 4 inch version, even though that's a bit small I really don't understand why more companies don't make good sounding phones. From what I've heard of the Idol 3, the sound was pretty good. Posted via the Android Central App

The idol 3 sounds fantastic. Been rocking one for the last 6 months. Anxiously awaiting a marshmallow update on the 3 and the announcement of the 4. Posted via the Android Central App

Why hasn't anyone talked about the name? To me, it reminds me of the Palm Pixi.

We did when they had another Pixi line last year. Remnants of buying Palm assets. Posted via the Android Central App

3.5, 4, and 6 inches... That's an odd selection of sizes. Almost everyone wants a a phone in the massive gap in between. Posted via the Android Central App

I couldn't understand it at first either, but after thinking about for a few minutes I believe they are saving the 4.7" and 5.5" sizes for their One Touch Idol 4 lineup. Posted via the Android Central App

Interesting to see what they will be running? Kit kat?
Lollipop 5.1 (would be sweet). Marshmallow 6.0 ya think
Which carrier? Prepaid?
Posted via Android Central App
Android Central Newsletter
Thank you for signing up to Android Central. You will receive a verification email shortly.
There was a problem. Please refresh the page and try again.