Adobe Flash player for Android updated, brings security fixes and enhancements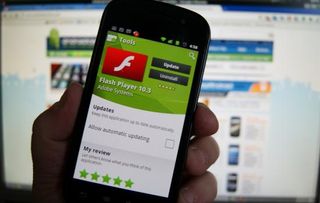 Adobe has updated the Flash player for Android to version 10.3.186.3, which fixes security issues and provides feature enhancements for certain phones and websites. It's always recommended to update your Flash player, and this update is no different. Besides the security enhancements we see every month or so, the specifics for this update are:
Enabled NEON optimizations for OMAP4 (Cortex A-9) based devices.
Corrected an issue on the Samsung Galaxy S where H.264 video at resolutions of 720p and below was not displayed.
Fixed an issue where app packaging would fail for Android Apps using Flash Player in WebView that set android:hardwareAcceleration to True in their AndroidManifest.xml.
Fixed a crash on the HTC EVO that some users encountered with specific video.
Fixed an issue that caused video frames to stop rendering on long streaming videos (> 1 hour) on some Motorola devices.
Fixed an issue where touch events were getting delayed with Kongregate.com games.
Fixed an issue where games on Kongregate.com freeze when users exit from Full-Screen mode.
The security specific fixes are outlined by Adobe here, and you'll find the link to download or update after the break.
Thanks everyone who sent this in!
Senior Editor — Google Ecosystem
Jerry is an amateur woodworker and struggling shade tree mechanic. There's nothing he can't take apart, but many things he can't reassemble. You'll find him writing and speaking his loud opinion on Android Central and occasionally on Twitter.
First post! Adobe Flash is awesome.

Yaaay adobe flash Yaaaaaay.......probably get another update in a week to fix its messy holes.

that app its a waste of time it wont work on my optimus v. i guess they should not play people like that.. if they gonna make an app make it work and dont do that.. when they fix it i will rate 5 stars

Xplo, it won't work on the Optimus V because the CPU of the V does not support it. Get yourself another phone if you want to have Flash.

Great little update. You definitely won't get this update on your iPhone. Adobe does there best for android and that's appreciated

they should make the app work

WTF are you talking about? The app works. Also, if you want to reply to someone, hit the reply button for that person. Don't post in general.

This is probably a dumb question, but I made an account to ask it anyway. If the QR code doesn't work (I can read the code, it just says the app can''t be found.) and searching the app name doesn't bring up anything from Abode Systems, can I not update it? I have an unrooted HTC Desire from Cellular South still running 2.1. This is probably an obvious "no", but I would like to know.

you have to get a new phone dude.... you phone does not read QR like is suppose to.. the CPU is like the one in my phone.. thaks for reading

You bought a low end handset, do more research next time. Cluttering a thread with your disappointment and spewing vitriol won't get you Flash.

in the other hand, Lee_R3D bought a high end handset and it cant even read QR codes, such is life

Lee_R3D has a phone running 2.1, if he roots and installs a 2.2 or higher rom he will have flash capabilities. Like Honda said, the Optimus V is hardware limited and incapable of running flash, regardless if it has 2.2 or higher. Quite frankly, the Optimus V has so many hardware bugs that it isn't worth $hit, and you should sell it asap before it goes even further down in value.

I don't have to root to get 2.2, I could actually get it of the U.S. Cellular website if my my life depended on it. I'm not sure if the process they lead you through is rooting and I wouldn't know if it was. I just don't want to root it.

So spewing his discontent is cluttering a thread? Stop grabbing your ankles and let the guy speak his mind. Isn't that the purpose of having a blog commenting system, kid?

I bought a high end handset a year ago. If you did some research, you'd realize that U.S. Cellular has no high-end devices by current standards. kbye.

Android FroYo version 2.2 and above can run Flash. No go on 2.1

im switching to iphone.. androids have to many issues

Still no Flash on iOS but best of luck to you.

Yes, coincidentally similar to many of its users.

The new market won't let me update Flash on my rooted Nook Color running CM7. Several apps no longer appear in the My Apps screen of the Market. When I do a search for those apps they are recognized as being installed, but they do not indicate that an update is available and there's only an uninstall button. I'm getting sick of Android.

Ok, I respect that you're running a moded Nook Color, I have on also, but BN's stock OS. But, just like over-clocking a PC, jailbreaking an iOS device, or running a Hackintosh, you're kind of your own and the problem(s) you're experiencing aren't necessarily the same as others, or in this case the entire OS. I also have a Nexus One(2.34) and an ASUS Transformer(3.2). Both are running the stock OSs and both devices rock to say the least. I've not had any major issues on either devices, no more than on my iOS devices --like my DOUCH-Pad as an example. They work great and are reliable. Flash updated just fine on both of them. Maybe it's time to consider investing in a tablet like the ASUS? But the again, there are quite a few peeps hacking the Nook and the problems you're experience might be resolved in the next day or so.

You're right. It's not fair to blame the OS since I'm using a hacked NC with a third-party ROM. However, I wish that the new Android Market would give me the option to install, but with a warning that my device is not officially supported. Until then I'll probably have to back up the apps on either my rooted D1 or DX and transfer them over BT to the NC and install them. I've considered getting a "real" tablet, but am waiting for the prices to drop and for more tablet-specific apps to be developed. I got the NC as an affordable way to see how I would use a tablet and incorportate it into my lifestyle. So far, the way I've been using it, I don't think I can justify paying more than $299 for a "real" tablet.

So I downloaded and installed on my HTC desire. However, it didn't install over the old version, but installed just like a downloaded app. How do I get it to install over the old version?
Android Central Newsletter
Get the best of Android Central in in your inbox, every day!
Thank you for signing up to Android Central. You will receive a verification email shortly.
There was a problem. Please refresh the page and try again.