Acer Iconia Tab A500 getting its Android 3.1 update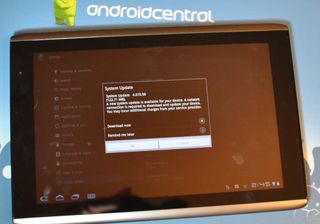 Have an Acer Iconia Tab A500? Have an Acer Iconia Tab A500 that's not running Android 3.1? The wait should be short, as updates are rolling out now. We just got ours, and system update 4.010.08 is weighing in at 122.71 MB. The whole process should take a few minutes, and afterward you'll have the framework for things like Google movies, usb host and a slew of other treats.
So if you've got an Iconia Tab, hit up your system updates and get to downloading. If you're the type who likes to tinker and needs the manual download link, you can find it right here. Thanks, Ritesh!
As soon an I saw the Android Central tweet about the update being availalble I went and snagged it. So far the keyboard definitly seems more responsive and less lag proned. That alone is a huge improvement and a welcome change. I'm aware most of the changes are under the hood but I'm hoping that full sized USB port will start having some use now.

i still havnt received the update so I would like to try the manual update so can someone please give me instructions on how to do it? I'd really appreciate it. Sorry for sounding like a newb I've only had the tablet a few days

There's nothing wrong with being a newbie, we all start out that way and you've found a great place to get information. Go into settings and on the left hand side it will say about tablet. Tap about tsblet and on the right on the top it will say system updates. Tap on system updates and it will check for you. You will be prompted to download now or later. Hit now and wait about ten minutes and you'll be on 3.1. Good luck and drop by the Androidcentral Iconia forum if you have any more questions.

I've been doing the system check in the settings an it keeps saying that my system is up to date. There's a link in the post to update manually that's what I need instructions on

Just saw a commercial for rent a center. They have the iconia tab for $20 a week! Thought that was humorous.

I got mine. Downloading right now! I will let you know how it works

i got the notification earlier today at about 1240 CMT. Everything's seems to be a bit snappier all around. Haven't tried the new apps yet but I've been able to use USb mass storage sense pulling it out of the box it was just a pain to get to in the file system.

I got the update last night when I got home from work. It is more responsive and so far I am liking that fact. As for the new apps it installed I haven't messed around with them either.

**UPDATE** Since I posted earlier today I have found a pretty substantial bug that effects the way the Tablet operates. There looks to be a bug in the software.. My Wireless will now not connect to a wireless network. When I came home to connect up to my network it basically just acquires an IP address and then drops. It's like it's stuck in an infinite loop. I noticed the following message as it trys to connect up to my network. Obtaining IP address
Remembered, secured with WEP I am already seeing multiple postings on this across the web.. I guess I will try to contact Acer to see what they say. As of right now there is nothing on their support page to address this problem.

I am having the same issues as well. I brought my tablet on a recent trip immediately after this update and I couldnt connect in the airport, my friends house or one of the hotels I stayed at. It keeps looking for the connection and then just states that its disabled.

I have the same problem, waiting on level 2 support for a fix. I do not recommend update until this issue is resolved because you will not have access to the internet

Hi guys, I had the same problem as well. What seemed to work was going into the Wireless settings and making the handset forget the 'remembered' connection point. Once it's no longer a remembered point, reconnect, type in your PW and it should connect. At least this was my experience...

Can someone give the link to the update from above. i still havent got the update and i want it

Can someone give the link to the update from above. i still havent got the update and i want it

I am buying this thing in Q4.
Android Central Newsletter
Get the best of Android Central in in your inbox, every day!
Thank you for signing up to Android Central. You will receive a verification email shortly.
There was a problem. Please refresh the page and try again.