Acer announces the Liquid Z410 smartphone with 4G ahead of CES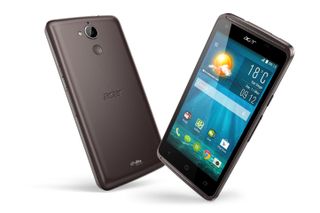 Acer has announced the new Liquid Z410 smartphone ahead of the upcoming CES 2015 event in Las Vegas. The device, powered by a 64-bit processor, will offer consumers 4G LTE and a mid-range package at an affordable price. The Liquid Z410 will be available in February at a starting price of €129.
This low price will bag the purchaser a smartphone with a 4.5-inch qHD display, MediaTek MT6732 CPU with the ARM Mali-T760 GPU, 5 MP rear camera (with front-facing 2 MP shooter), and a battery that will power through 400 hours of standby.
Acer states the new device will be on display at CES 2015, so be sure to remain tuned to our feeds as Android Central heads there for live coverage. Availability at launch will include Europe, Middle East and Africa. See the press release below for more details.
Ready to Boom: Acer Introduces the Liquid Z410 4G Smartphone
Acer announces the Liquid Z410 smartphone, a small powerhouse: with LTE 4G connectivity, 64-bit superfast processors, excellent audio, great camera, and prolonged battery life ready to boom!
The Liquid Z410 will be on display at Pepcom's Digital Experience! Event on Jan. 5th at The Mirage in Las Vegas.
Heroic Speed and Power
With the Liquid Z410, Acer makes speed and power available to all. Featuring an ultra-performant 64-bits quad-core processor, and supporting 4G LTE (Cat. 4) connectivity for fast browsing, streaming and downloading almost anywhere in the world, this smartphone enables fast task management and clear calls at all times.
Thanks to its powerful Mali-760 graphic chip, the Liquid Z410 additionally promises high-quality visuals and a seamless graphic performance, securing a smooth user-interface experience. Because Acer knows a smartphone is your daily envoy, the Liquid Z410's battery will last for up to 5.5 hours of talk-time, or 400 hours in standby.
Positioned right under the camera and encircled by an elegant textile pattern, the AcerRAPID™ key allows users to access a rich set of customizable actions with one touch. Easily operated by either hand, AcerRAPID™ is designed to add speed, flexibility and personalization to the user experience. Furthermore, the Liquid Z410 comes with Acer QuickTouch enabling users to quickly control their phone with a simple one-finger gesture.
Swiping a Z shape on the locked display launches the music player and swiping left or right commands previous and next songs, while a C shape opens the camera and a V shape enables dialer functions. The combination of AcerRAPID™ and QuickTouch empowers the Liquid Z410 to get things done faster than ever.
Multimedia Sidekick
The 4.5-inch IPS qHD display with 245 ppi definition ensures selfies taken with the 2MP 80° wide-angle front camera will appear crystal clear. The rear camera features a 5 MP Autofocus snapper and LED Flash. It is one of the major points Acer focused when developing the Liquid Z410: boasting a brand-new user interface, it enables quick settings and different modes for taking pictures.
Furthermore, it comes with several pre-installed modes that make capturing memories easier than ever: Presentation mode optimizes note-taking by converting pictures of a sheet of paper or a screen into .jpg, .pdf or .ppt files; Dual Shot lets users make collages of simultaneous shots or videos from the front and rear cameras for Picture-in-Picture and Video-in-Video. Finally, the Liquid Z410's camera is voice commanded, so that users can focus on their subjects rather than logistics: simply say "Cheese" for a photograph to be taken, or "Selfie" to switch to the front camera and shoot after a three-second countdown!
To complete the multimedia experience, the Liquid Z410 also offers front-facing speaker DTS Studio Sound™, which secures astonishing sound and spacious wide-effect. DTS Studio Sound™ brings professional cinematic experiences to the Liquid Z410, with bigger sound-field, higher vocal clarity and lifelike, natural details.
Equally Beautiful Inside
Beyond the exclusive camera features, the Liquid Z410 is compatible with the best technology enhancements brought by Acer. AcerEXTEND will enable users to take full control of their smartphones via cable or wirelessly using their Windows-based PC, typing with their keyboard, using drag and drop and rich sharing – taking the multitasking experience to the next level.
Acer QuickMode offers different user needs: kids getting their hands on their first smartphone or elders in need for a big and bright screen with simple text on it.
Availability
The Acer Liquid Z410 will be available in EMEA from end of February at a starting price of €129.
What is with midrange phones. They should be getting better along with the high end phones. This would still be a downgrade in terms of specs to any nexus 4. Before you say "No LTE", it is actually pretty easy to get that working on a Nexus 4. You can probably still find Nexus 4s online for cheaper than you can get this.

Also 4.5 inch qHD is NOT mid range. Can't go less than 720p if over 4.3 inch. Posted via the Android Central App

You're silly. I have a 480p screen on my 4.5 inch phone and it looks pretty dam good. Posted via the Android Central App

No, it doesn't... You just don't know any better.

Lol truth. The last qHD phone display I had was the HTC One S on T-Mobile. Sure it was bright and colorful, because it was amoled, but the display just looked so fuzzy and pixilated. When compared to the 720p displays that were out at the time it looked even worse. Granted I do have perfect 20/20 vision so maybe I'm just more adept at perceiving screen resolution.

Moto G gave everyone a heart attack Posted via the Android Central App

Is this the super high res qHD or the super low res qHD? Posted via the Android Central App on the 2nd Gen. Moto X

Definitely the latter at that price. Posted via the Android Central App

qHD is low res. QHD is high res Posted via the Android Central App

Thanks guys. I was not aware of the difference in the acronym. Posted via the Android Central App on the 2nd Gen. Moto X

I agree, I really think they should of went with a flagship , at least an 8 mega pic camera and a better screen.

This article is right next to the announcement for the Xiaomi Redmi 2. And honestly it's the better device in every way.

Horrible specs. A mid range these days should have a Snapdragon 600-800 or S4 Pro processor. Posted via the Android Central App

LOL Posted via the finally lag-free LG G3 on CM12

Well it's true, I honestly don't see this being mid range at all. Even the Moto X is considered mid range Posted via the Android Central App

Not everyone cares about screen res..
Not everyone holds a phone 2 inches from their eyeballs..
Not everyone gets caught up in specs like wanna-be nerds..
Not everyone wants to drop a ton of their paycheck on a phone..
Not everyone wants to own a Galaxy Note 4..
But I do.. And I would not settle for less... But there are those that adhere to the statements I made above.

Gtfo Posted via the Android Central App

For those of you whom are thinking on getting the phone, here is what I think: - Touchscreen a bit slippery, something to get used to
- Camera needs huge improvements, especially on the focus and color
- Speakers too soft, but DTS makes music listening awesome
- Too much bloatwares, including Agoda and BeeTalk. Gotta love System Doctor though
- Better watch for the battery, it's lasts you for half a day on high usage
- it's able to draw my app list and their sizes in Settings/Apps quickly
- It's able to run Smash Hit almost flawlessly on maximum settings I do suggest you guys to perform system update first, reset (wipe /data and /cache), then use the phone as you wish, otherwise your phone will hiccup the moment you start it up. Happened to me that's why
Android Central Newsletter
Thank you for signing up to Android Central. You will receive a verification email shortly.
There was a problem. Please refresh the page and try again.