8 Important Considerations When Switching To An MVNO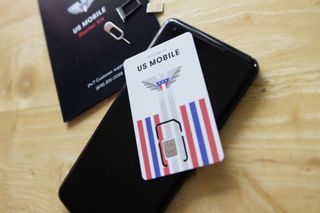 (Image credit: Android Central)
Having good and affordable cellular service is an important thing for most people so there are a few important considerations when switching to an MVNO. We use our phones for everything from keeping in touch to keeping entertained when we have a few quiet moments. It's pretty great that we have such powerful machines in our pockets and nobody is happy when their service lets them down. That's why it's worth taking your time and checking out a few things before you switch carriers.
This can be especially important when switching to a prepaid alternative carrier, sometimes called an MVNO. Because they aren't the ones installing new facilities and building out the physical networks they operate on, they sometimes have to do things a little differently. These differences usually mean the service is cheaper every month, but it can also pose a few problems if you haven't done your homework before you made the switch.
That's what we're here for! Android phones and the service that powers them is our job and our hobby. We love to get in the mix and try things like switching away from the Big Three as much as we like writing about it. With that in mind, here are some things you need to think about when you're ready to switch to an MVNO as your new carrier.
Get the right coverage
Coverage needs to be the first thing you look at. MVNOs have the luxury of using the networks the big carriers have built, and we all know that not everyone has equal coverage on every carrier.
One of the best things you can do is talk to people you know and see what service they are using. If you hear a lot of praise for one particular carrier and complaints about another, you have a good starting point when it comes to picking the right MVNO. You should check the coverage map for each carrier you're considering even if you'd had good luck on the base network.
You need to make sure you know what you're looking at here. Nobody is trying to deceive you, but they all want their map to look as good as it can. A lot of these maps include extended coverage, which is really coverage purchased from another carrier. While this can be a great way for carriers to quickly fill in dead spots on coverage maps, the experience might not be as consistent as standard service.
A lot of MVNOs don't have this same extended coverage either, so you should also check the specific coverage maps on the website or app for the carrier you are considering. At the same time, some carriers like US Mobile let you choose between two different LTE networks, and Google Fi combines three networks into one for compatible phones.
These warnings extend to 5G as well with some carriers asking customers to get a certain plan to access 5G. Most T-Mobile MVNOs include 5G on all plans. Cricket uses AT&T and only offers 5G on its unlimited plan. It's also worth considering that while Verizon has launched a nationwide 5G network, it's not available on all of the MVNOs based on the network just yet. Keep up to date on 5G coverage to be sure you sign up with the right carrier.
Make sure your phone works
One of the best parts about using an MVNO is that you can save even more money by using the phone you already paid for. As long as your phone works on at least one of the big carriers in the U.S. there's an MVNO that offers great service for you.
It's not that difficult to make sure the MVNO you want to use supports the phone you already have. If you're up on all the technical jargon you can check the radio bands on your phone against the radio bands listed on every alternative carrier's website. You'll usually find these on the FAQ portion and if they match, you're in business.
If you don't want to get bogged down in frequency numbers and all the different network bands, sites like WillMyPhoneWork can tell you if your phone is compatible with most any network worldwide.
Keep in mind that the more network bands your phone can access on a carrier, the more complete your coverage will be. T-Mobile, for example, relies on a newer 600Mhz band to increase its coverage that isn't supported on all older phones.
Your phone needs to be unlocked
Unless you bought an unlocked phone outright, most phones will need to be SIM unlocked before they can be used on another carrier. This has nothing to do with your phone's security (that's a different type of unlocking) and only lets your phone accept programming for a new network. Carriers have their phones SIM locked as a way to cut down on equipment loss — a locked phone only works on the carrier who locked it, and only as long as you're making the payments.
In the U.S., carriers are required to unlock a phone once it's paid for. Most will also unlock a phone after you've been a customer for a while as a show of good faith. You can get your phone unlocked by the carrier by making a phone call or going into a store. Customer service will be happy to help you provided you've met any obligations they require.
There are also third-party unlocking services that will send you a code to unlock your phone. If you go this route, be sure to do a quick web search on the company to make sure they have decent customer feedback. Getting your phone unlocked by a third party is exactly the same as having a carrier do it; once you enter the code, you're good and can use a phone on any compatible network.
Know how much data you'll need
Most of us don't need unlimited data. The big carriers have been moving to unlimited plans for most people with the main difference between plans being prioritization and extras like hotspot capabilities. But if you're not someone who needs a ton of data every month you're probably overpaying if you sign up for one of them.
You can check how much data you've used recently pretty easily. Your phone has a setting in the Wireless and networks section that tells you how much you have used in the past 30 days, but it's a good idea to get a bigger sample size here.
At your carrier's website, on your bills, or in your carrier's app you should find a statement for the past few months that will show how much data each phone number on the account used. Get an average for the past couple of months, then add 1GB to it for a "just in case" bumper.
Take this number and look at the MVNO you're considering. Chances are there is a plan that will cover what you need. The best part? You don't have a contract and can adjust things next month if you need to!
What if you need more data?
Life isn't static. Even with careful planning, you might have a month where you had to use more data than you budgeted. It's important to know what happens and how you can add more data on a temporary basis.
Most every MVNO will sell "extra" data in 1GB increments. It's usually a little more than it would be if it were bundled into a prepackaged plan, but it won't be outrageous. Most companies charge about $10 per GB.
What you need to do is check how you can add it right from your phone, so when you're close to using your allotted amount you can tap a few buttons and fill up your data bucket. Most of the time, your carrier will have an app that can accomplish this. You'll find specific information on the company's website along with any other services they offer, such as international roaming or auto-refilling.
Some carriers will simply cut off your data but others will slow it way down but keep it working. This slower data can receive emails and messages, but that's about it. Anything else will feel like you've gone back to dial-up days unless you can hook on to a Wi-Fi point. Don't get stuck with no data and no way to buy more!
Get ready for add-ons
Wireless carriers can be strict about what they allow on their networks, and MVNOs are no different. For the most part, an MVNO's business model — buy wireless service in bulk and resell with no frills — means it will have some restrictions on what you can and can't do, like tethering your phone or using your phone to call and text with someone outside of the U.S.
Chances are none of us are planning to run a server from our phone, but if you want to tether a laptop or tablet through your phone once in a while or call and text relatives in Mexico, you need to know the rules so you know what to expect. Many MVNOs will have simple and cost-effective add-ons you can apply if you need more than just the basic service.
There most likely is an MVNO that will work for you, you'll just want to be sure you have the right one. Just take the time to read the terms and see what you can and can't do while using the service. If you're unsure of anything you see, call, or chat with a sales rep through the website and get squared away.
Advanced features may not work
Many of us have phones that support things like HD voice calls (VoLTE) or Wi-Fi calling. They're nice features if you use them regularly, but most of the time they are very phone- and network-specific. An MVNO may not have them at all, or you may need phones designed to run on a specific carrier to use them.
This works the same way for the Big Three, though, support for unlocked phones is improving all the time. Because most MVNOs don't sell phones under their own brand, you'll have to investigate if any of the features they offer need a specific brand of phone.
US Mobile offers Wi-Fi calling, and it works really well — as long as you have a phone that supports T-Mobile's Wi-Fi calling feature. Verizon offers its own Wi-Fi calling, and it's also supported on US Mobile. Most phones that support Wi-Fi calling are built to work on both networks so you're OK with either a Verizon or T-Mobile phone, but not a Sprint or an AT&T phone. It can be a little confusing even to smartphone veterans!
Read our US Mobile review to learn more
You don't need any of these extras to have good, cheap cellular service. That's the best part. But if you see something you don't understand, you can drop a question in the comments and someone can help give you an answer.
Prioritization is a thing
Prioritization means a carrier like T-Mobile identifies which phones using the network are doing it through an MVNO and gives priority to its direct customers. Only a certain number of phones can be connected to a cell tower at a time, and we're always switching on and off to make sure everyone has a turn. We've all probably been somewhere that a lot of people were using their phones and the service got really slow — that's because the line to get your turn was long and you noticed the wait time.
When things get extreme, MVNO customers can experience even slower service because direct customers are given priority. I use MVNO carriers almost exclusively because I love the value they offer. But I do get to see prioritization in action every year on The Mall in Washington, D.C. during the annual July Fourth celebration. There are three-quarters of a million people jammed into a four-block area, and we're all on our phones. Folks who pay AT&T (for example) directly for service have very poor service. People like me using an MVNO have practically no service.
There's nothing you can do about this, and no secret hack you see on the internet is going to work. It just happens when there are way too many people using just a few towers. Tower upgrades are improving things and in the future, 5G should help as well. The rest of the year, I get the same service I would have from one of the Big Three at a much lower price.
Bonus number 9 thing!
You're going to have extra money every month. You'll have the service you are used to in almost every way, but it costs a lot less and you only have to pay for the amount you'll need. Some MVNOs only charge you for the exact amount you use!
Saving enough for a nice night on the town because you switched phone companies is a great feeling. You'll love it.
Updated November 2020: We made sure the information was still great and relevant for the latest phones.
Senior Editor — Google Ecosystem
Jerry is an amateur woodworker and struggling shade tree mechanic. There's nothing he can't take apart, but many things he can't reassemble. You'll find him writing and speaking his loud opinion on Android Central and occasionally on Twitter.
Jerry,
Another great article from you. I appreciate the information about MVNO. I'm considering a carrier change to reduce costs! Thanks

In December I bought a 6P and wife a 5X and left $5/month leased Galaxy S5s behind at Sprint for Cricket. Couldn't be happier. Saving big money. My job requires occasional international travel, I might try Google Fi on for size. It's a rare need. But for $70/month, NO SURPRISES, it (a MVNO) does 99.999999999% of what I need it to do. Thanks for the detailed article.

What do you if I may ask that requires international travelling.

I've heard good things for CRICKET...

I've been on Cricket for almost 2 years and it's been great. It works for me and my family in our area.
I pay $110 (flat, no fees) for 4 lines. I get 8GB and the other 3 lines get 3 GB each. I could actually get a 5th line (3GB) and pay nothing.

Which service do they use?

AT&T, but it's speed restricted.

Cricket is not an mvno, they are wholly owned by ATT

But they are run like one. AT&T postpaid and GoPhone get network priority. Cricket is a second class citizen the same as Straight Talk, Net 10 and the others. This comes directly from my AT&T National Retail Account Manager.

The loss of roaming is what keeps me away from mvno's as that is a big loss when living in rural areas. I wish coverage maps would actually show where towers are, would be so much more useful than the extremely overstated colored areas they show today.

Try using the OpenSignal and Sensorly coverage maps instead.

Been on cricket, they were good, but speeds were capped at 8Mbps, which is not bad until the ATT network gets congested, then your data slows to a crawl. Probably going back to ATT from Fi. Fi and my Pixel don't get along data wise. I've made backup options to Wifi and made other changes, bud I use more than 2GB/month on the Pixel then I ever did on the 6p. So as GoPhone doesn't hinder data the way cricket does looks like I will be going with the 6GB/mo option and save $30/month over Fi. Love Fi, just not feeling the data my Pixel is using there.

talk to Google fi people and see if there's anything you can do. I use 5x and use virtually no data at all. Pixel being same as software from nexus similar. I see that you had 6p so more compelling reason to talk to Google.

I use the "Data Saver" option in settings on my Nexus 6p, and that did wonders for my data usage. Yeah, my apps won't sync until I'm on wifi- or if I open them while on LTE, ut in reality it hasn't affected my usage or experience one bit. Maybe that will work for your Pixel.

The funniest thing about a mvno called ting is that it's gsm network is based on T-mobile and ting's LTE network works better than T-mobile's itself.... Lolz

I been driving trucks for 11 years. 9 of the 11 years I was on at&t great service. Last 2 years I've been on cricket with an unlocked note 4 and I can't tell I left at&t until I pay my bill. I'm saving money I can tether because I'm unlocked and rooted. Most of my truckers friends all call at once and I'm tethered to my tablet's Google maps while 5 of us talking about traffic,weather,news and disease engines.

Yes, those pesky disease engines !

Been using Fi for a year and don't miss Verizon.

"Verizon's HD Voice, for example, you'll need to have a phone that says Verizon on the back" This is bad information. My Nexus 6P bought directly from Google has no carrier branding, but it has a Verizon SIM and does use its HD Voice.

This was confusing, but Jerry was being facetious. He just meant that the feature requires the phone to be from Verizon itself. Doesn't necessarily mean there needs to be physical branding.

The big carriers lock their phones, because of equipment loss? You bought, or in the process of buying your phone. Who's equipment is it anyway? They should lose that right, when you have it in your hand. That's why I'll never buy a locked phone, no matter how good it sounds again.

It's not considered yours until you pay it off. They'll unlock it once it's paid off.

That's a blanket statement that's not close to being true. Some do, some don't. I still have cricket phones, that won't be unlocked, because I got it from them.

Prepaid phones typically need to be used for a year before they are eligible to be unlocked because they are sold so cheap compared to the same phone directly front the OEM or major carrier.

I've been on Project Fi since last September, and haven't missed Verizon once. The service is just as good as I got from Big Red, data speeds are great- but my bill is only $33/mo. Yeah, I'm locked into a Nexus or Pixel; but that's not a downfall for me. I much prefer Google's offerings anyway. I cannot recommend Fi enough.

One of the biggest advantages that MVNO's have? If you don't like your current provider, you can try out a new one for a month any time you feel like it.
Just have to be sure to buy a phone with a radio that supports all the major 4G spectrum and your options are almost limitless.

2 year contracts are a thing of the past. All 4 major carriers let you do month to month service and try for a month or two before Porting your number in.

Have been on Straight Talk ($45 / M w/ 5 GB 4G Data on At&t, download limited to 5 MB), Total Wireless ($35 / M w/ 5 GB 4G data on Verizon, download peaked to around 7 - 8 MB) and now on At&t Go Phone ($40 / M w/ 6 GB 4G Data on At&t, download not limited at all 20 MB+, rollover data for 1 month, and can roam for free in Mexico and Canada). Verizon's service is best where I live so Total Wireless had the best coverage but At&t is also good. The new Go Phone offering is the best I Have seen. and therefore switched and haven't looked back. So far I got 2 friends to switch once they heard the details.

Just to add to this, GoPhone now has an 'Unlimited' plan for $65/mo. Just like postpaid you get deprioritized after 22gb but also your data speed is capped at 3mbs.

the data speed capped at 3 mb is why I didn't want to go unlimited! The 6GB plan is great for me!

My wife and I both have Pixels on Total Wireless (VZW MVNO) and couldn't be happier. 60$ for 8gb shared is perfect for us, was a small hassle to port numbers in but overall we're happy.

Great article.
Thanks.
Have a few Pixels on Fi. They mostly use T-Mobile signal.
Thing is my Sony Z3 has a much stronger signal utilizing same sim same location.
Going to switch over to Mint. Sale pricing makes it a no brainer.
If sale ends and prices get out of hand will switch to another.
And your correct, saving cash to do what you like is a good feeling.

Elron when you switch to Mint can you give some feedback? Thinking of switching from Verizon, would love to know your thoughts.

Bought a mint sim and tried it out.
Works for me. YMMV depending on the signal.
Verizon has the rep of having the strongest signal around me.
While it may be true it's not by much. Seems like years ago their dominance was greater.
Will give it a three month trial. If it doesn't meet my expectations will switch again.

Just an update to anyone considering MintSim. I ordered one of their sims and when I tried to activate it, I could not get it to work. I contacted their customer service (which was very fast and friendly) and was told that they don't offer service where I live. I live in SE Kansas and their map clearly shows coverage for my town. In fact, I've been using a T-Mobile sim for over a year now so I know they have coverage. This issue is that they don't have numbers available for this area. That's fine, but they should have a way of checking and letting a person know because now I'm faced with returning the sim and hoping they'll do the right thing and credit my card back. To anyone considering this company, I'd recommend calling them first to see if service is available to your specific zip code. Their prices can't be beat :).

Just switched over to MintSIM so far so good. and only $50 for 3 months was a no brainer for me.
Android Central Newsletter