Five Watch faces to check out for your Samsung Gear S2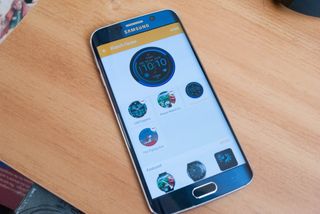 When it comes to the watch faces available for your Samsung Gear S2 you might be lamenting the relative lack of options compared to Android Wear. Not to fear though, they have been adding options of all sorts for those of us who like to swap out our watch faces on a regular and consistent basis. Whether you want a geeky watch face, something simple, or a watch face that will help keep an eye on your health, there is something here for you. Just remember that you'll need to download all these watch faces from the samsung gear app, not the Google Play Store.
Let's take a a look at some of your options for the Samsung Gear S2.
Around the World
The Around the World Clock watch face is one that looks nice and simple, until you actually pay attention to it. There isn't anything to stylize on this watch face, because there is actually a lot of detail hidden in there. The screen has skylines from around the world, with the details you need to get through your day displayed in the middle of the screen.
If you pay attention to this watch face you'll notice that not only does it have some fantastic landmarks, but it's animated. Clouds and planes will circle around the world, on your watch. In the middle of that screen you'll find the details you need from a watch. The time, displayed in a 24-hour format, dominates the middle of the screen. Just above it is your watch's battery percentage, and below it is the date.
You can snag the Around the World Clock watch face for free through the Samsung Gear app.
Future Health 12h
If you're health minded, or you like to keep track of your steps with your smartwatch, you should check out Future Health 12h. It's a well designed, free, futuristic-looking watch face that keeps you in the loop on your health. It's got a ton of information for you at a glance, but manages to convey everything without looking cluttered or messy, which is always a plus.
In the middle of the watch face you'll get an analog readout of the current time.Just above that is your beats per minute from the heart rate monitor, as well as the full date. At the bottom of the screen is a readout that has the number of glasses of water you've drank, your activity level, and the number of steps you've taken that day. On the right side of the screen, next to the time is your battery level indicator. Around the edges of the screen you'll see three circles of color. These are actually a secondary readout of time, and stand for the hour, minute, and second, matching up with the analog time readout.
The Future Health 12h watch face is available for free on the Samsung Gear app
CWF Cygnus
When you're hoping for a watch face that gets you the time in a few different formats, you should consider CWF Cygnus. This watch face will only give you the date, battery life, and the time. It's a fairly simple watch face as well, having absolutely no options to stylize or adjust things. That's because it's designed to look like an older watch when it's on.
The first thing you'll notice when using the CWF Cyngus watch face is that you get multiple readouts of the time. There is a digital 12-hour and 24-hour format time readout on the bottom half of your screen. There is also an analog format that is overlaid on top of the watch face, with second indicators along the edges of your screen. On the top left of your smartwatch is the date readout, and you'll find the battery life on the upper right.
You can grab the CWF Cygnus watch face for free on the Samsung Gear app.
Ironman Chest Analog
There is always a way to add some geeky flair your smartwatch, and if you're a Marvel fan you need to look no further than the Ironman Chest Analog watch face. This face is minimalist, but it will get you the time and do so with some heroic style. The feature of this watch face is most certainly the background.
The background in question, is a glowing blue arc reactor from Iron Man. The main display is a minimal analog display with a few other features displayed. You get the hour, minute, and second ticked off with slender white hands that can at times be a bit hard to see against the bright blue and grey background. Thankfully there is also a digital time readout in 24-hour format on the upper half of the screen. You'll also find the date on the right of the screen, but it's only displayed with the day of the month that it is.
Add some geek to your smartwatch with the free Ironman Chest Analog watch face on the Samsung Gear app.
The Flying Ace
Once a Peanuts fan, always a peanuts fan, right? If that's the case then get excited, there is a Snoopy animated watch face. It's extremely minimal in terms of most features, or giving you any information other than the time. That is, of course, because it's an animated watch face starring everyone's favorite Peanuts character.
The top of the screen has a clear and easy to read 12-hour digital readout of the time. The bottom half of the screen is taken up by Snoopy the flying Ace, wearing his flying helmet and google, sitting atop his doghouse while the clouds roll past. If you tap the screen you'll get a few different animations. There is a high speed flight, a chunk of debris flying past Snoopy, and if you tap a third time Snoopy will smile and wave your hand. It's a super simple, but definitely cute watch face to check out, and it's absolutely free.
You can snag The Flying Ace watch face for free on the Samsung Gear app.
Jen is a staff writer who spends her time researching the products you didn't know you needed. She's also a fantasy novelist and has a serious Civ VI addiction. You can follow her on Twitter.
Can't find around the world. Hmm Posted via the Android Central App

Try searching for the developer. Kajetan wilczek. it should show up Posted with my NOTE 5 on damn verizon!

Around the world watch face makes me think about planes flying around tall buildings... It's a stretch, but once you see it, can you unsee it? Posted via the Android Central App

I mean... That's pretty much what it is.. Hard not to see or unsee. Lol.... XDA: Shayneflashindaily

My boy on g+ does customs faces Sean grondin.
Hope you see this buddy ;)
XDA: Shayneflashindaily

I can't find Around the World clock either. Searched by author. Still nothing. :-/ Posted via the Android Central App

These are all great and so are the developers! Everyone should also check out Yin Yang Face and Yin Yang Face: Fire and Ice - Some of my team's creations... Just search for them on Gear Apps. :) Posted via the Android Central App

The Future Health 12h looks pretty slick. Especially those 3 circles representing the hour, minute and second.

Had the flying Ace watch face downloaded for my niece and ended up having to reset my Gear S2 and now I can't find the Flying Ace watch face anywhere it's like it never existed and it was only 3 hours after I did the download of it to begin with

Same here. I had to reset today and now its gone. Super bummed. If i can find who the developer was I'll try to contact them and see whats up. probably licensing issues, I would assume.

Same thing Got new S7 edge and had to do light reset The flying ace and my other snoopy watch faces are gone. The dev is Apposter he does Samsung watch faces.

That's just odd I wasn't sure if it was a glitch in my account or what but now I know it's gone I'm wondering if it was a copyright issue but it's all over the Internet that Apple had Micky Mouse & Samsung got Peanuts but everything Peanuts has vanished which bites because I have to admit I was rather fond of the flying Ace reminded me of my childhood & of course I was eager to show it my Niece lol

got it bACK LOGGED INTO SAMSUNG ACCOUT ON DIFFERENT DEVICE PAIRED GEAR S2 AGAIN THIS TIME LOGGED IN SAW WATCH DOWNLOADED CHECK IN MY APPS AND IT WAS THERE. cHECKED GEAR MANAGER IN OTHER PHONE AND IT WAS IN MY APPS. Oh crap just noticed all caps my bad.

Thanks now I just have to find someone who will let me use their phone for a minute. Did it show back up on your S7?

Thanks I used someone's S6 and signed it my account after connecting my Gear S2 and there was Snoopy I downloaded it then deleted everything from their phone then reconnected to my S7 logged in and Snoopy was back that's totally weird but if you still don't have it on your S7 if you can use someone's Galaxy S6 or older to do the same once you connect back to your S7 it should be back for you to download
Android Central Newsletter
Get the best of Android Central in in your inbox, every day!
Thank you for signing up to Android Central. You will receive a verification email shortly.
There was a problem. Please refresh the page and try again.