5 reasons it's worth buying an Android Wear watch right now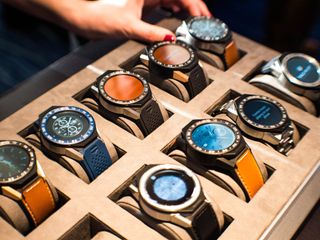 Android Wear is the software that powers an increasing number of awesome smartwatches that sync up to your phone. From notifications to fitness to apps, they're better than ever, and now may be the right time to pick one up for yourself — be it a low-key LG Watch Style to a fancy (and expensive) Tag Heurer Connected.
It helps you work out! 💪
With the rollout of Android Wear 2.0 earlier in 2017, staying fit using your Android Wear device became even easier than ever. You'll get access to the features you may have already known about like step trackers, but the big change came with Google Fit.
Google Fit is now better able to communicate with your watch to tell what kind of activity you are engaging in. It also includes mini-games for working out and an update to cycle tracking for gym goers. All of these things add up to make your Android Wear device more invaluable than ever for getting fit and staying that way.
Track notifications
Android Wear has always been great at conveying notifications from your phone to your wrist. But with recent versions, it's getting smarter about sending the right ones, and allowing you to respond in the most convenient way possible.
With Android Wear 2.0, you can respond using your voice — that's not new — but there's also the option of using an on-screen keyboard, or emoji (🙄) or writing individual letters. Whatever suits your fancy.
Most people are programmed to pull their phones out of a pocket as soon as they hear a notification. When you wear an Android Wear watch, you realize, with great relief, how much less that happens. That alone is worth the price of admission.
Stay organized with Google Assistant and apps
There's something about being able to just say, "OK Google, remind me to pick up milk on the way home," and have it turn into a usable reminder on your wrist. Or to download an app like Bring! (opens in new tab) and have a cross-platform, Wear-friendly grocery app that works completely independently on the wrist.
Android Wear 2.0 comes with its own Play Store, and a bunch of apps that make it possible to do an increasing number of things without a phone nearby.
Easy-to-reach remote
Many people have opted into the Google ecosystem, using Chromecast or Google Home to help stream music and programs. If you like dancing around to Spotify when nobody is home, but need to pause the music to answer the door, fumbling for your phone can take just a few moments too long.
Android Wear acts as a remote control, letting you pause, play and even fast forward media all with just a few swipes and taps. Of course, you can always reach for your phone, but if you have the controls right on your wrist, then why worry about it?
Pay without a hassle
When Android Pay was released, it suddenly made picking up milk from the corner store a much quicker process (as long as the merchant supported NFC payments). Instead of having to reach for your wallet or fumble with cash, you had the option to just tap your phone and pay using the connected app. While it has taken a bit, with the addition of NFC chips to newer Android Wear devices, mobile pay has come to the wrist.
Of course, you still need to properly set up Android Pay on your device, and connect a card, but once you do that you can pay with a tap. Since your smartwatch can pay the bills it means you can just move your wrist without ever having to pull something out of your pockets.
See at Amazon (opens in new tab)
Do you have an Android Wear watch?
Android Wear watches have been around for a few years now, and they're only getting more awesome as time marches forward. Have you picked up an Android Wear watch? Do you use it for everyday things, or just specific reasons? Is there a reason to pick up an Android Wear watch that we didn't cover? Let us know about it in the comments below!
Jen is a staff writer who spends her time researching the products you didn't know you needed. She's also a fantasy novelist and has a serious Civ VI addiction. You can follow her on Twitter.
If you can find a cheap used Moto 360 (2nd gen) I'd definitely get one. I have a LG Style and a Moto 360. Got the Style because I didn't want to wait for Android Wear 2.0 but now that the Moto 360 got updated I dont even use the Style anymore. The battery life on the 360 is way better than the LG and the 360 has a heart rate sensor. The watch is worth it for the notifications alone.

I had the Moto 360 first Gen I was thinking about getting the 2nd but I ended up getting Huawei watch first gen and didn't look back. The watch is nicer looking Moto and others simple and not too complicated. I also like the fact that it gives me 2 days of battery before I charge. And if I ever need to replaced the battery myself it can be done and it's simple enough that anyone with knowledge can do it themselves.

The problem with the 2nd gen is battery life, it has been used very much good luck on it lasting a "work day"

Recently bought an LG watch style. Don't have android pay yet here with TD in Canada so not too worried about the lack of NFC capability. Pretty silly that it was left out, however. All in all I like it, but it's a lot smaller than I expected.

So why is "now definitely the time to buy"? This post is a very high-level listing of a few 2.0 feature enhancements released six months ago. I don't understand. What am I missing?

I have an Asus Zenwatch 3 which I consider the best looking of the AW watches. My favorite function is while driving. I press and hold the crown until I feel a vibration which indicates Google Assistant has fired up. I then just say "Play some music" and a random playlist plays on my car stereo. If I don't like the playlist I just repeat the process. Best part is that I never look at the watch or the stereo, it just works. Much easier than futzing with the car stereo while driving.

Even easier just raising your wrist and saying "ok google, play...." then your not even having to press anything

I've had the Fossil Q Explorist (https://www.amazon.com/dp/B074JH1S4J) for about a month and a half and it is a fantastic device. Battery life is stellar and it does what I need it to do. It doesn't have LTE, NFC, or a heart rate monitor, but I have a phone for the first two and I know my heart is beating and don't need a monitor to know that. I'm not saying these features aren't important to other folks, I'm just saying they're not important to me. I waited this long to get an Android Wear device because I wanted a smartwatch that actually looks like a watch. I know that can be said about prior generations, but this watch has an OLED display and doesn't have a flat tire. But anywho, the Q Explorist is great.

Still using a Pebble. I want notifications with the ability to respond via voice quickly and battery life with an easily Outdoor readable always on display. I'm not hating on Android Wear here, but I don't know of anything still that can hit all those points. When Pebble servers die, that's when it will be the best time for me to switch to Android Wear. Flicked via the BlackBerry keyboard on my Pixel

Still loving my Pebble, too! These other watches sound like you have to charge them every night, but I use my Pebble for sleep tracking.

I bought a new LG watch sport for $239. At that price it is well worth it. I don't use the cellular data so I would like to see the next gen of this watch offer a non lte version.

I have just brought a huawei watch. Nice watch. Few things i dont like about it tho i cant control my phone settings eg. Do not disturb only turns on off the watch not phone same as sound and airplane mode. There should definitely be a option to do this on the watch that syncs with phone. Also no nfc

Which watch is that in the image under the title "Easy to reach remote"?

Google Lens is telling me it's a Huawei watch, and it does appear to be true.

I would suggest avoiding AW 2.0. It's buggy, slow and compared to Samsung Gear devices the battery life is horrible. Do yourself a favour, either wait or get a Gear S3 or Sport, you get all the features plus sleep tracking and 3-4 days battery life. Trust me I switched from an S3 to an Huawei Watch 2 4G. Big mistake.

I agree the Gear S3 is pretty slick but when I used the first gen Gear S, it felt "left out" on many apps and functions. Forced to use Samsung Messaging for voice to text SMS replies, doesn't work inheritenly with GroupMe, Allo, Skype. Have those things been fixed? I am really attracted to the rotating dial, slick look, speed and battery life but I like those functions on Android Wear.

I have a 2nd gen Moto 360. I have been happy with it since buying, but wish it was a little etter as a fitness tracker. I recently got a Galaxy S8+. I'm considering getting a new Gear branded watch.

I shelved my LG Urbane in favor of a Garmin Vivosmart HR+ for the great fitness software, all day heart rate monitoring and sleep monitoring. The Urbane has hopeless heart rate monitoring and Fit is awful. I looked at the Huawei Sport Watch 2 but the software has a lot of comments about bugs including trashing user data. It would be great if Garmin came out with an Android Wear watch but the Vivosmart has notifications, GPS, long battery life, and does much of what my Urbane did albeit a much simpler display and a obvious fitness device look. <$100 refurb.

I am a big defender of Android Wear, especially 2.0. Sure, there is some improvements to be made but I am always surprised how well it "just works", especially inherently, compared to Tizen (Samsung Gear S3). Many phone apps have a lot of functionality without the need of a "phone app"...something you can't say about Tizen. GroupMe lets you reply and "like" messages without a matching phone app. Allo, Skype and your choice of an SMS apps all allow responding. Google Assistant is quite useful...you also get Google Maps and some surprising apps like Neato (Robot Vac) that work great. It may me messy in spots but I say give it a chance, especially with all of the choices you have. I use a Huawei Watch 2 Sport and my wife has a Fossil Venture and both are a joy to use. We use Google Fit to measure steps and while it is basic compared to Fitbit, it works rather well.
Android Central Newsletter
Get the best of Android Central in in your inbox, every day!
Thank you for signing up to Android Central. You will receive a verification email shortly.
There was a problem. Please refresh the page and try again.