Tag Heuer doubles down on luxury smartwatches with the Connected Modular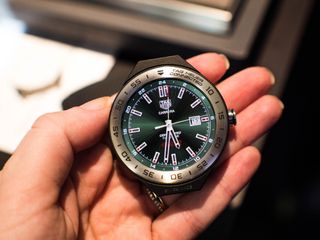 Not only is designing a smartwatch difficult from a technical perspective, it's a unique challenge from a design perspective. The tech world wants lighter, thinner, faster, and more battery. If you go look at an actual watch, especially an expensive one, you'll find almost none of them fit this description. Luxury watches are often huge, flashy things that stand out on the wrist and demand to be noticed, not to mention considerably more expensive than your average Android Wear watch.
Last year the folks at Tag Heuer bucked the Android Wear trend with a watch that was expensive by techy standards, but greatly exceeded company sales expectations. In response, the company has doubled down on the luxury part of the Connected line with the ability to swap out many different pieces on the watch body to match your needs. It's called the Connected Modular, and if you were hoping the price was coming down this year you should probably stop reading now.
As specs sheets go, the Tag Heuer Connected Modular isn't going to wow anyone familiar with smartwatches. Like its predecessor, this is an Intel-based watch with a single crown button on the side that doesn't rotate. Unlike its predecessor, there's only 512mb of RAM onboard. The 410mAh battery powers a 287ppi display in a 45mm casing that is 7.5mm thick and can handle water down to 50 meters. There's no heart rate monitor, no barometer, no LTE radio, and the watch itself charges with a magnetic pin dock. You get WiFi, Bluetooth, NFC for Android Pay, and GPS onboard. Oh, and this watch is the first smartwatch to ever be certified as "Swiss Made" to help indicate quality.
The Tag Heuer Connected Modular comes in several base kits.
Where this watch really gets interesting is in all of the things that aren't underneath the display. As our initial reporting suggested, the Connected Modular separates in several unique positions. The lugs, straps, and buckles on the watch will all be replaceable, with many different options ranging wildly in price. If you decide you'd rather not have Android Wear 2.0 on your wrist for a day, the whole watch body can be swapped out with a special Calibre 5 movement from Tag. There is also a limited tourbillon movement to be available with one of the models available at launch.
It's not all hardware with this watch. Tag has seen the benefit of not only including custom watchfaces with its branding onboard, but making it easy for users to create their own Tag watch face. On top of several unique Tag faces with customizeable options built in to the watch, users will be able to create personalized options in the new Tag Studio app. This app will include many different Tag inspired options, as well as updated later on with pre-set options from Tag Ambassadors like Tom Brady and Mats Hummels. Most of these faces will support the new Android Wear complications feature, so they'll be more than just nice looking on your wrist.
Naturally, these features come with an impressive price tag. The base model of this watch with a rubber strap is going to run you $1,650. There will be other kits available at higher price points with different modular options available, going all the way up to $18,500. And, to appeal to those eager to get their hands on one right now, Tag Heuer has made the watch available starting today. You can head to the Tag Heuer website, or check out your local store and be able to walk out with one on your wrist.
A close look at the Tag Heuer's detachable buckles and lugs.
While these watches are unlikely to appeal to the budget focused and tech-obsessed among us, the Connected Modular will appeal greatly to those who collect nice watches and appreciate the ability to appear as though you're wearing many different watches just by swapping core pieces. This particular feature is one notably missing from even the most expensive of Apple Watch variants and is something Tag Heuer is going to be able to do very well.
For those still eager to use the original Tag Heuer Connected, the Android Wear 2.0 update will be rolling out starting today.
Wow. If I had a spare 2 grand laying​ around I would be all over this. Gorgeous.

My Lilly Esin once in a blue moon got a new choice of the crop Chevrolet Corvette Stingray Coupe by unavailable off of a laptop... flash it out
,,,,,,,,,,,,,,,, http://www.moneytime10.com

These are the specs that should be in the typical, affordable smartwatch. If Moto came with these specs for around $250 then I'd be all over it. I don't need LTE but NFC for Android Pay would be nice. As for this watch, if I had $2000 just laying around I'd buy it.

Does this come with the same "buy this and then get $1,500 (or whatever) off of a real Tag watch in two years" guarantee like the original Connected did?

I will be speaking with them as I am very curious about how they will honour the original agreement with this development. Looks great though. I thought about the first one but after feeling like the screen resolution was too low for the price I ended up leaving with a mechanical watch instead ! Super execution of a "smart" watch. This is what I always imagined the smart what experience should have been all around.
Perhaps the mechanical movement option module is what you were able to buy into with the guarantee.

Hopefully the guarantee sticks around and is honored properly. There's no way I'm ever going to be in the market for a smartwatch this expensive, though, even if the price is mitigated a bit down the line. That said, I do think that the way TH engineered this deal is a really good, clever way to get younger people with money more or less locked into their brand, and I'm glad that it apparently paid off well for them, considering the sales numbers.

No, because you can just buy the Calibre 5 movement and snap in in whenever you want. No need to wait two years.

They also are offering a "bundled" option where you can buy the the Cal 5 or the Tourbillon with the 45.

Ripoff? They publish the price, consumers can buy, or not. It's our choice.

I have a pretty nice collection of TAG watches but didn't pop for the original Connected and was waiting to see what this second gen iteration would be like. The modular options are nice, but the screen resolution is disappointing and I still think its too much money (for me) to spend on something that at best would last a couple of years (until you put the Calibre movement in, anyway :) ). I have the LG Watch Sport which is my "weekend" watch, and a Moto 360 2 that I wear at work, but I think I may try the new Movado Connected II for a more dressier smartwatch option.

This is a gorgeous watch and an incredible, clever design. I wish it was priced where it made economical sense for me, because it would be a no brainer.

I have worn a watch since I was about 12 years old and I am a watch fan. The first Tag connected did not appeal to me, THIS one does. $1,700 for a TAG is not bad. The rose gold one however is $4,100! I am waiting to see what Movado brings to the table later this year but I am FINALLY excited for smart watches!

Same here. I'm intrigued (would need to see it in person) but Movado and some others are weighing in later in the season, and I'm looking forward to seeing what they put out there. That said, I'm *still* getting compliments on my 1st Gen Huawei almost weekly, so I'm in no huge rush...

Really considering this... but a hefty price.. Gorgeous
Android Central Newsletter
Get the best of Android Central in in your inbox, every day!
Thank you for signing up to Android Central. You will receive a verification email shortly.
There was a problem. Please refresh the page and try again.