'4G ready' Xperia Tablet Z hitting Vodafone UK for as little as £99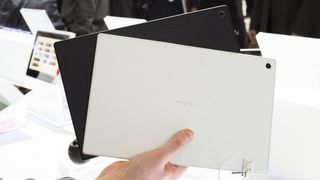 Two different data plan prices save you a good amount of money up-front
Vodafone UK just announced today that it will be carrying a cellular data-enabled version of Sony's latest tablet, the Xperia Tablet Z, in both black and white for £199 on a £28 per month data plan or £99 on a £32 plan. As a price comparison the 16GB Wifi-only model of the Tablet Z is currently retailing for £399, and those plans will get you a respectable 1GB or 2GB of data per month to use on the glass-laden waterproof device. Just as a quick refresher, the Xperia Tablet Z is a 10.1-inch 1920x1080 resolution tablet with a Snapdragon S4 Pro processor, 2GB of RAM and both 8MP rear and 2.2MP front cameras.
The carrier hasn't yet flipped the switch on its LTE network -- hence the "4G ready" branding -- but the tablet will indeed support the upcoming network as soon as its available. Vodafone is making a strong effort to have customers on LTE devices in preparation for the upcoming network launch, but we're not sure how many people are going to bite on a tablet like this before the LTE network is ready with a relatively expensive plan.
4G Ready Sony Xperia Tablet Z
now available at Vodafone UK
Experience the best of Sony with Vodafone's first 4G ready tablet - the Sony Xperia Tablet Z - now available for £199 on Vodafone Mobile Broadband price plans for £28 per month including 1GB of data.
The new HD Sony Xperia Tablet Z brings you unparalleled power and performance, and as its super sleek Sony Omnibalance design is water resistant it remains unaffected when submerged in 1 metre of water for up to 30 minutes.
Combined with its dust resistance and anti-shatter durable tempered glass front panel, you're free to use your Sony Xperia Tablet Z wherever you are without a worry – whether you're in the kitchen, by the pool, or even at a muddy festival.
Enjoy stunning graphics on the brilliant 10.1" Reality Display – powered by Mobile BRAVIA Engine 2 for enhanced clarity and colour – as well as an immersive wide-screen cinema experience with strikingly colourful scenes on the most vivid display imaginable. Furthermore, 3D surround sound technology and Clear Audio+ bring you a richer audio experience, so you can listen to music as it's meant to be played.
The Sony Xperia Tablet Z runs on Android Jellybean, and operates on the latest Snapdragon S4 Pro Asynchronous quad core processor, providing remarkable speed and powerful computing - so you can enjoy unlimited entertainment at your fingertips without excessive battery drain.
The Sony Entertainment Network comes pre-loaded, so the Sony Xperia Tablet Z is bursting with apps, music tracks and films ready for download or streaming, and you can tap into Google Play for access to over 600,000 Android apps.
The Sony Xperia Tablet Z adds to Vodafone's range of '4G-ready' devices. Getting one of our 4G-ready devices means a customer will be good to go as soon as Vodafone 4G arrives, bringing them ultra-fast internet and the best mobile video they've ever had from us. Once a customer has got their new device, we'll let them know the moment Vodafone 4G is available in their area, and we can then talk about adding Vodafone 4G to their monthly plan. For more information visit vodafone.co.uk/4G-ready.
For further details on the Sony Xperia Tablet Z, please visit the Vodafone online shop.
Andrew was an Executive Editor, U.S. at Android Central between 2012 and 2020.
wow. This makes me wonder how expensive the contract is :D

It tells you in the article, 99 upfront and 32 a month for 24 months for tablet and 2GB of data a month, or 199 upfront and 28 a month for 24 months for tablet and 1GB of data a month, totalling 867 and 871 respectively (yes, this means the more upfront one is actually more expensive for less data in the long run, so don't even consider it). It should be noted that the 4G/LTE model of the tablet is 499 (why compared it to the wifi model, not a fair comparison), so you're paying 368 for 2 years of data, averaging 15 a month. Obviously in pounds, not allowed to mention money in the comments.

I was really looking forward to getting the US wifi only version of this...
...then the new Transformer Pad Infinity was announced. Now I'm not so sure.

"Once a customer has got their new device, we'll let them know the moment Vodafone 4G is available in their area, ***and we can then talk about adding Vodafone 4G to their monthly plan.***"
(emphasis mine) CHEEKY BITCHES!
I'll wait for T-Mo or EE, thank you very much.

I wonder if the 4GLTE UK version would work on one of the carriers here in the USA?
Android Central Newsletter
Get the best of Android Central in in your inbox, every day!
Thank you for signing up to Android Central. You will receive a verification email shortly.
There was a problem. Please refresh the page and try again.