3 Reasons To Buy Amazon's Cloud Cam and 2 Reasons Not To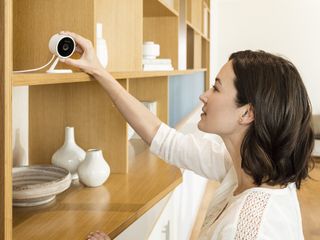 The Amazon Cloud Cam is the first branded plug-and-play camera released by the behemoth online retailer, and overall it's a great option for anyone shopping for home security cameras.
There's a number of compelling features that make the Amazon Cloud Cam a top consideration — and only a few drawbacks that might make you take pause. Let's dive in!
Better price than the top competition
If the bottom line factor for your decision is price, the Amazon Cloud Cam can't be beat. Priced at just $119 each, it beats out its top competition from Arlo and Nest Cam. If you're planning to install more than one throughout your home, the deals simply get even better: buy two for $199.99 or three for $289.97.
You're able to connect up to three cameras with 24 hours of cloud storage, alert notifications, and unlimited sharing included with your purchase, but if you want more advanced features or support for more cameras you will require a subscription plan — and I'll be touching on those a bit further down.
Amazon Cloud Cam vs. Nest Cam vs. Arlo: Which connected camera should you buy?
Works with your other Alexa-enabled products
One of the killer features of the Amazon Cloud Cam is the compatibility with Alexa. You probably expected that, but depending on the number of Alexa-enabled products you have in your house it could be a real game-changer.
You can tell Alexa to cast your Cloud Cam to your Fire TV, Fire Tablet, Echo Show, or Echo Spot to quickly see what's happening in another room in your house — perfect for those times when your kids have been a little too quiet in their playroom.
This is where Amazon's low-cost hardware really comes in handy, as you can pick up a Fire Tablet for $50 and get good use out of it just for monitoring your Cloud Cam on top of its other features. Amazon also offers a bundle that includes an Echo Show and Amazon Cloud Cam for just $300. Considering that the Echo Show itself sells for $229, that's a great deal if you're already somewhat committed to Amazon's AI assistant ecosystem and are looking to build onto it.
Two-way communication, Person detection, and Zones
Another benefit of going with Amazon is the number of smart features included in its products. The Amazon Cloud Cam allows for two-way communication, meaning you'll be able to send and receive audio using the camera's built-in microphone and speaker.
Other great features include person detection, which allows your Amazon Cloud Cam to use facial recognition to detect and tell the difference between a member of your family or an intruder. This means you won't get alert notifications every time your kid comes home from school — unless that's something that you want.
Another great feature designed to cut down on unnecessary alert notifications is Zones, which let you go into the Amazon Cloud Cam app and highlight areas of the camera's viewing angle that it doesn't need to monitor for movement alerts. This could be a ceiling fan that would otherwise constantly trigger the movement detection or a window that looks out on the street with passing pedestrians and cars.
These features highlight the incredible AI computing that powers Amazon's products, but if you're thinking they're included for free, well…
The subscription service is expensive but necessary if you want the best features
Amazon offers three levels of subscription plans: Basic which includes 7 days of cloud storage, support for three cameras and the Person detection and Zones features for $6.99 a month (or $70 for the year), Extended which offers 14 days of cloud storage, support for up to five cameras and the advanced features for $9.99 a month (or $100 for the year), or the Pro level which supports up to 10 Cloud Cams and includes all the advanced features for $19.99 a month (or $200 for the year).
By comparison, Nest Cam offers a similar subscription plan model that's a bit more expensive for the top-tiers but also allows for 24/7 continuous recording (Amazon only offers clip recording) and a cheaper basic option at just $5 a month, or $50 for the year.
Arlo's cloud subscription plans start out offer 7 days of cloud recording and support for up to 5 cameras for free, with the mid-range tier offering 30-days of cloud recording and support for up to 10 cameras for $99, which is equivalent to Amazon's Pro-level subscription but at half the price.
So while you might initially save money on hardware, Amazon certainly intends to make up the difference through its subscription service — but if the features offer exactly what you're looking for it might be easy for you to justify the cost.
Ask yourself if you want Amazon peeking into your home
This one is a bit of a dilemma that we should always consider when dealing with Amazon, a company that ultimately wants to sell you more things. If you already have Amazon products in your home — and there's a lot of options out there — chances are you've already considered this and are fine with it.
But when there are other options out there, it's worth considering whether you want to install cloud cameras controlled by Amazon. Amazon states in its Cloud Cam Terms of Service that it will "process and retain your Cloud Cam Recordings in the cloud to provide and improve our products and services" — that's a pretty vague statement when we're talking about a company whose main service is getting you to buy more things.
What do you like (or not like) about Amazon's Cloud Cam?
The connected camera market is exploding, and Amazon is a reliable, trustworthy name that offers a good, affordable product. Do you use a connected camera, or a Cloud Cam in particular? Let us know in the comments!
Get the Android Central Newsletter
Instant access to breaking news, the hottest reviews, great deals and helpful tips.
Marc Lagace was an Apps and Games Editor at Android Central between 2016 and 2020. You can reach out to him on Twitter [@spacelagace.