ZTE Blade Z Max hands-on: A giant smartphone for any budget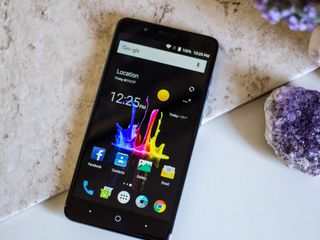 Don't turn your nose up at a budget device. For many smartphones users, that's often the only kind they can afford, and they shouldn't have to settle.
The ZTE Blade Z Max is one of those devices that may seem like it skimps on features because of its comparatively meager price tag, but it's a nice little big smartphone for those who consume content rapturously and don't care too much about wielding the latest specifications. For $130 at MetroPCS, the Blade Z Max offers a whopper of a battery for those looking to get through an entire day without having to cart around an extra battery pack. It also comes with a dual camera setup that's similar to what some of the flagships are offering.
Big body, big screen
The ZTE Blade Z Max's 6-inch Full HD display hearkens back to the Nexus 6 days when large screens were still in vogue. I miss this form factor a bit, if only because it was easier to type on the screen with two thumbs. The Blaze Z Max is suitable for that, as well as displaying all your favorite video content. It's outfitted with a 1080p display, and though its colors aren't as premium or as calibrated as what you'd see on a Galaxy S8, for example, apps like YouTube and Google Photos look just as they would on any other flagship device. The Blade Z Max also has Dragontrail Glass protecting the front. It's essentially another version of Corning's Gorilla Glass, though Japanese company, Asahi manufactures it. It's also worth noting that while the display is pleasantly smooth to the touch, it slides around when placed face-down. I've already had it slide off my desk twice.
The chassis design of the Blade Z Max is a little dated when spotted from afar, though the soft-ridged back side helps add a bit of that next generation design touch. It's grippy, which is nice considering the front side is slippery. There's a speaker grill on the back, too, as well as a headphone jack on the bottom. There's also a comfortably placed fingerprint scanner on the rear, which is surprisingly fast and responsive for a smartphone this price.
The Specs
Swipe to scroll horizontally
Category
Spec
Operating System
Android 7.1.1 Nougat
Display
6-inch Full HD IPS LCD
2.5D Dragontrail Glass
Processor
Qualcomm Snapdragon 435
RAM
2GB
Storage
32GB
Expandable
Yes, up to 128GB
Battery
4,080mAh
Charging
USB-C
Qualcomm QuickCharge 2.0
Water resistance
No
Rear Camera 1
16MP
PDAF
Rear Camera 2
2MP
PDAF
Front Camera
8MP
Audio
Dual-mic noise suppression
Dolby Surround
Connectivity
LTE 2CA
802.11 a/b/g/n dual-band
Bluetooth 4.2
Security
Rear fingerprint sensor
SIM
Nano-SIM slot
Network
MetroPCS
Dimensions
6.54 x 3.33 x 0.33 inches
Weight
6.17 ounces
Inside, the ZTE Blade Z Max runs on a 1.4GHz Qualcomm Snapdragon 435 processor and 2GB of RAM, which is worrisome if you're considering playing mobile games of the sort, even the simpler ones. The memory standard for most mid-range smartphones these days is now 3GB of RAM. At least there's 32GB of onboard storage in addition to a microSD expansion slot. The Blade Z Max also charges by USB-C, so you won't be stuck in an archaic charging ecosystem because you were on a budget. And if you're finding that you're often scrambling for a charging station halfway through the day, the ZTE Blade Z Max's 4080mah battery should be very enticing.
The Blade Z Max comes with Android 7.1.1 right out of the box and features the latest security patches. The interface is relatively tame compared to other versions of Android in the budget realm, though there's a bit of configuration with the way the icons look. The settings panel also offers a few options that aren't typically available on other Android devices, like the ability to switch around navigation buttons. MetroPCS has bundled some of its apps, too, like Lookout Security & Antivirus, and you can't delete them. Still, you'll have roughly 19GB of storage space to claim your own.
Dual Camera on a budget
In addition to a whopper of a battery, the Blade Z Max also offers dual rear-facing cameras. ZTE equipped this one with a 16-megapixel camera and a 2-megapixel camera. They work in tandem to help achieve bokeh and "portrait mode" effects, as well as a cheesy sort of mono-color effect.
From left to right: The ZTE Blade Z Max's mono-color mode, portrait mode, and bokeh mode.
The camera is pretty capable for a budget device. It also comes equipped with a time-lapse, multi exposure, and panorama mode, as well as a fully robust manual mode. Not only is there a helpful on boarding experience for newcomers to the manual camera experience, but you can also set up to 60-second intervals for continuous shooting. There are also built-in photo and video filters if you're into that sort of thing, and the 8-megapixel front-facing camera comes equipped with a smoothing-out beauty mode.
Will the Blaze Z Max become one of those devices that allow you to leave your camera at home? Not on the pivotal days of your life. But for recording confessionals and sharing them with social media, it's pretty competent. The camera isn't as fast as other devices, but it offers some flagship-like features that you won't typically get at this price point.
How much is it again?
The ZTE Blade Z Max will be at MetroPCS for $130. It will replace the aging Z Max Pro, and ZTE is hoping this particular smartphone will help officially establish its mid-range lineup in the U.S. If you're on a budget carrier, expect to see this particular series of devices to pop up in the future. We'll have a full review of the device for you in the comings weeks, including how it works on the MetroPCS network.
Be an expert in 5 minutes
Get the latest news from Android Central, your trusted companion in the world of Android
Florence Ion was formerly an editor and columnist at Android Central. She writes about Android-powered devices of all types and explores their usefulness in her everyday life. You can follow her on Twitter or watch her Tuesday nights on All About Android.