YouTube working on paid subscription music service, according to report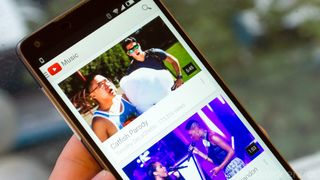 In a somewhat puzzling bit of news, rumor has it that YouTube will launch its own subscription music service. According to sources of Billboard, YouTube is planning a two-tiered subscription music service that builds on the music label deals Google secured for Google Play Music All Access. Sources claim that a YouTube music service would have a free, unlimited tier that offered on-demand access to full music videos — on the web and mobile — and a paid tier with no ads and some sort of offline listening.
While YouTube naturally declined to comment on its plans, we're a tad confused as to why Google would release a music subscription service from its YouTube brand when it already offers a great service in Google Play Music All Access. YouTube is currently a huge destination for music videos, so it will be interesting to see how Google leverages that mind share into a potential subscription service going forward.
Source: Billboard
Andrew was an Executive Editor, U.S. at Android Central between 2012 and 2020.
This makes no sense to me either. I guess we will have to wait on official word to really have an opinion of how this will work out for the consumer. Posted via Android Central App

That about sums it up. Is it April 1??? Posted via Android Central App

i hope audio quality gets better.

Yeah why would take away from Music? Kinda weird ----------------------------------------------------
My S-Pen went through hell to deliver this important message to you

Dang.....I'm going to start a music service.... Posted via Android Central App

I guess it is a good way out to the huge copyright claims youtube gets.

Not getting it here either in relevance to Google's already owning their own music service.

What if it is part of the All Access package? Not only the music, but also the video clips? Posted via Android Central App

That would be fantastic, but I doubt they will do that.

Could be a marketing tool to enhance visibility of the service Posted via Android Central App

All Access makes YouTube ad-free? Sounds like a good deal to me Posted via Android Central App

People keep saying, "but they already have Google Music All Access!?!?"......yes, they do. For Android devices. This could essentially get all those teens that use YouTube on their iPad of iPhone.

Google already working on an All Access app for iOS. See also http://www.theverge.com/2013/10/3/4798584/google-music-ios-app-reportedl... Posted via Android Central App

If this has free ad based mobile listening I'd be the happiest person Alive :) Posted via Android Central App

Just hope this works better in Canada then Google Music does.... Oh wait, Google Music doesn't work here! (well the player does, but not the subscription service) Posted via Android Central App

Fat chance. Posted via Android Central App

If Google were smart....which most of the time they are....they would bundle this with they Play Music All Play. Charge an extra fee for play videos of the music in your library and access Youtube music. Posted via The OG

looks like one with kit kat lol

I came here to post exactly that question. I still don't have an answer. Looks damn good, whatever it is.

Well, i think they will give it with music all access (or maybe raise the subcription a little) because having them separated makes no sense. But then again...having Quick Office and Google drive still separated after years of owning it also makes no sense.

Google. Smh. "Google Play Music All Access" is all I need. Posted via the Android Central App on my Note 2

I can understand why. Streaming music != music videos. If the report is true it's because Google wants to be the next MTV/VH1/CMT etc.

Google owns YouTube and Google already has a music subscription service? Is this just another way to bring in the money?

I could see this working, follow with me on this, its basically like having MTV when they used to play videos with no commercials. If you can stream any video with no ads or commercials I could see a few people wanting this... Still, it would compete with All Access.

I'm okay with it as long as there's no ads. Posted via Android Central App
Android Central Newsletter
Get the best of Android Central in in your inbox, every day!
Thank you for signing up to Android Central. You will receive a verification email shortly.
There was a problem. Please refresh the page and try again.