YouTube TV won't come to Roku or Apple TV until 2018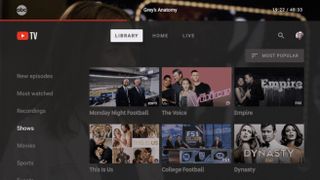 This past November, YouTube TV finally started making its way to the big screen. The app first launched on Android TV and Xbox One consoles, and this was soon followed up with a release on select Samsung and LG smart TVs. Two of the biggest platforms still missing out on YouTube TV are Roku and Apple TV, and it looks like we'll have to wait a while longer before we get to use it.
YouTube TV was originally scheduled for a launch on Roku and Apple TV at some point before the end of 2017, but when speaking with CNET, a representative from YouTube stated that this has been pushed back to Q1 of 2018. The reason for this delay is unknown, but it certainly is irritating for owners of either television platform that have been anxious to give YouTube TV a shot.
Since its launch, Google has expanded YouTube TV to over 80 markets across the United States in an attempt to get as many people using it as possible. I enjoyed my time with YouTube TV when I had it, but as good as the service already is, a delayed launch on Roku and Apple TV isn't going to do anything to help it.
The YouTube TV television app.
Competitors like Sling TV, DirecTV Now, and even newcomers like Philo are already available to use on Roku, and even T-Mobile has plans to jump in the Internet-based television market at some point next year. Apps for Roku and Apple TV should make a lot more people consider using YouTube TV, but with so much stiff competition in this industry already, Google will be looking at a pretty tough fight going into the new year.
T-Mobile is getting into the streaming television business with Layer3 TV acquisition
Joe Maring was a Senior Editor for Android Central between 2017 and 2021. You can reach him on Twitter at @JoeMaring1.
Uh... 2018 is in 2 weeks. Q1 2018 also begins in 2 weeks. So the news is that it will come and it'll likely be very soon, as in during the next 15 to 17 weeks. In other news, New Years Day isn't coming until Q1 2018.

Q1 makes up January, February, and March. In other words, there's a chance the app won't be released for three more months.

When it comes to Roku, I will probably cancel my Google Fiber TV and go with YouTube TV and Philo. Doing that will save me about $50 a month. Philo has all the channels that I need that are missing from YTTV. I'm not that concerned this has been delayed to Q1. In fact, I am glad they have updated the public about their plans.

Damn it I hate waiting. My wife and I have tried every streaming service and settled on youtube tv. We're casting it to our tvs right now, but would love to use it on the rokus and fire sticks that we already own. In b4 "buy a shield."
Also, can anybody confirm that google is encouraging me to invite 5 other people anywhere in the USA to watch my youtube tv for free?

that 5 is for household and also only 3 concurrent streaming is allowed at a time

come on, Google! Once YT TV comes to Apple TV, I'll say bye to Vue!

isnt vue getting expensive?

Yes! Mine jumped $10 for fun. I would love to cancel for something cheaper but it's the most comprehensive for the channels I want at an okay 45 price point

What are you guys all hitting for data consumption with your ISP's? Here's my concern. I have a 1TB data limit at home. Right now, we are routinely using anywhere from 400GB to 600GB even though we have cable tv that doesn't count against the data cap. I would assume that if we went all streaming, I'd blow right through 1TB and just end up paying silly Comcast another $50/month for more data. At that rate, what's the point? I either keep my 75 down internet and digital starter pack for $90/month or go internet only for what...$50/month + possibly another $50 if I go over my data cap plus the $35 for YouTubeTV? Seems like it will cost me more. I guess I'll wait these things out for now since my internet and cable are pretty affordable currently (have all my own equipment so no rental fees...no modem, no cable boxes, etc.).

I use YouTube TV and watch a lot of news, usually while I'm doing other stuff. I'll almost always watch 480p or 360p, because I don't really care what it looks like. I will watch prime time shows in HD, but the picture quality on most of the stuff on YouTube TV is bad enough that 720p or 1080p doesn't actually look very good anyway. I don't have a data cap, but if you do, at least YouTube TV gives you a level of control over how much data you use.

How many people at home, how many TVs streaming at once? How much cable TV do you watch now vs Netflix, Hulu, ext?

The Android and Android TV apps are so bad that I don't even use them, so I can't say that I really care whether there's a Roku app or not.

I really like YouTube TV but the app is terrible, I'll pay for it when it comes to Roku
Android Central Newsletter
Get the best of Android Central in in your inbox, every day!
Thank you for signing up to Android Central. You will receive a verification email shortly.
There was a problem. Please refresh the page and try again.