YouTube TV finally gets a proper Android TV app (Update: now available!)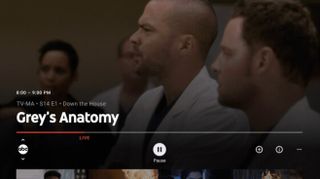 November 2, 2017 – The app is now available to download! You can grab it either from the Play Store (opens in new tab) or download the APK file here.
YouTube TV has been steadily growing since its official launch this past April, with the main focus being on the expansion to more and more markets so that the service is accessible to as many people as possible. This has been great to see, but something that's been sorely missing from the platform has been an Android TV application. Thankfully, after months of waiting, we finally have one.
The YouTube TV app on Android TV will work mostly the same as its mobile companion, but with an interface that's been designed to look as good as possible on the big screen. The biggest change is with the background moving from a white to dark grey color, allowing for a more "cinematic look."
Controls for pausing a show, seeing more information about it, and adding it to your library are easily accessible while streaming, and you can also bring up a full view of your library and Live guide while your content continues to play in the background.
In addition to being available on Android TV (including the NVIDIA Shield TV and televisions with Android TV built-in), the Xbox One, One S, and One X are also gaining access to the application. In the near future, YouTube says that it hopes to bring the app over to smart TV's made by LG, Samsung, Sony, and also the Apple TV. However, there's still no word on Roku or Amazon Fire TV avaialbility.
Android Central Newsletter
Get instant access to breaking news, the hottest reviews, great deals and helpful tips
Joe Maring was a Senior Editor for Android Central between 2017 and 2021. You can reach him on Twitter at @JoeMaring1.
Trying to get the wife to switch. Would save us $70 a month. She doesn't want to give up on the convenience of our current DVR (Google Fiber), which I will admit is just as good as my TiVo. I will also admit that YouTube TV substitutes DVR'ed content with on-demand content when available is annoying. One of the whole reasons to record something is to be able to skip the commercials. I can't get her to look past those two flaws currently. Hopefully, I can get her to change her mind.

May be promising to use the savings and get a new shiny phone end of the year will help..:)

Lol. I tried to phrase it as it would pay for one of our shorter 3-4 day vacations that we take 1-2 times a year. It didn't work. A new phone definitely won't work. She is happy with her Moto G 5 Plus.

I was getting a pretty good deal from Xfinity already due to the fact that I am blessed enough to live in an area with FOUR competing providers (Xfinity, AT&T and two local companies). But switching to YouTube TV still saved me $15/month. There were a few reasons that made me reluctant to switch at first, the commercial issue being one of them, however it ended up not being as much of a problem as I thought. The on-demand content is a bit "cleaner" as I no longer have to worry about the show not starting on time so the recording isn't cut off prematurely. When you skip commercials, it still takes some time and requires you to stop and interact. The commercials so far haven't been longer than 90 seconds total for me, sometimes even less. I usually take that time to do other things like use the restroom, get a drink, play on my phone... etc. and it goes by pretty quick. Because YTTV offers a free trial, I would suggest see if your wife can get used to it.

We've already used the free trial unfortunately. That's how I found out about the commericals. My wife was not pleased. Having 30 second skip on a TiVo for 7 years will do that to a person. For now I am going to let it rest. I will bring it up again soon. :-) EDIT: We also have several providers (Spectrum, Consolidated Communications, Google Fiber, and we used to have Uverse but there are no subscribers allowed for that). However, the only way to get a decent price is to hop from one provider to the next.

The on-demand and commercials are annoying. If I dvr something I want to skip the commercials.

The DVR replacement with OnDemand Content is really annoying and there is no rime or reason to when they do it.

Need more channels like PlayStation Vue, then I will love to switch...

Agree. More channels like MLB, NHL and NFL networks

I get Google wants to control YouTube so the third-party apps are missing big time. But look at mytube on Windows and windows phone. If you don't want third party apps, then reach the quality of the third party apps. Forcing us to use your pile of crap is ridiculous.

Sooooo is there a possibility of snagging the app somewhere and loading it on my MiBox3?

What about the Nexus player???

Yay! Finally! Now if they can just add about 4 more channels that they are still missing that I want, then I would pick them over DirecTV Now.

I feel the same way. There are about 3 or 4 channels I wish they would add and it'll be perfect!

I wonder if this will also include the nexus player...

It should be in the Play Store, it's not actually part of the 6.1 update for the Shield ala how Amazon video is included in the OS.

I keep checking the play store in hopes that it gets pushed out sometime soon =)

Not seeing it on my Sony with built in Android TV what gives?

Did Microsoft strike a deal with Google? Given that it's only available for anything with Android TV (naturally) and Xbox One. No Sony, no Roku and no Amazon. Something interesting.

Not in Nvidia Google play store. So I don't get what they are talking about.

I used a browser on my computer to download it as I want home at the time. I got it on my Nvidia shield TV and my Nexus player.

Isn't it only available in major markets?

I'm in Philadelphia market. Why is it so hard to get this

The only two snags I have seen on the Shield TV so far is that 1.) It wouldn't stream FOX... It told me that FOX wouldn't stream over internet. I assume that I could cast FOX from the phone app and 2.) I couldn't find how to exit the app when I was done using it. Other than those two issues, I am finally pretty happy with it!

Come on google why isn't the app available for the nexus player? It shows as not compatible on play store

Can someone explain how to get this for Shield, thanks. Cord Cutting News had a link but it says not compatible even though I can get the phone app

When will it be available for Sony Android TVs?
Android Central Newsletter
Get instant access to breaking news, the hottest reviews, great deals and helpful tips
Thank you for signing up to Android Central. You will receive a verification email shortly.
There was a problem. Please refresh the page and try again.