Philo live TV streaming service gets you 37 channels for $16/month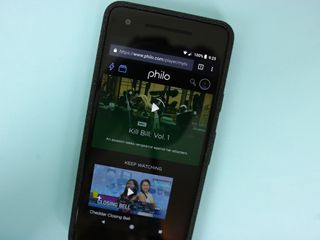 Ever since Sling TV was first announced in January of 2015, Internet-based television streaming services have been steadily increasing in popularity. While Sling's been expanding its features and content library, we've also seen competitors in the form of YouTube TV, Hulu Live TV, PlayStation Vue, and DirecTV Now.
To go along with all of the current options out there, we now have a new contender in the form of Philo. Philo was founded by Facebook co-founder Andrew McCollum, and based on your TV-watching habits, it might be the best deal in this industry that we've seen yet.
If you're someone that's a big sports fan, Philo isn't going to be for you. Unlike all of the other streaming options out there, you won't find channels for watching any of the games – big or small. Instead, Philo's main focus is on just about everything else.
Philo has two main plans that you can choose from, with the $16/month option granting you access to 37 channels and the $20/month one bumping the count up to 46. You can check out the full lineup below, but some of the highlights here include AMC, Animal Planet, BBC America, Comedy Central, Discovery, Food Network, HGTV, Nick, Sundance TV, History, TCL, and plenty more. If you upgrade to the 46 channel package, you'll get access to the likes of Cooking Channel, Discovery Family, Logo, and a few others.
No matter which plan you choose, you can stream in HD quality on up to three different devices at once and have access to a cloud DVR and on-demand titles. There's currently support for Roku, iOS, Android via the Chrome browser, and streaming on your desktop. A proper Android app will be coming soon, as will additional channels.
I've been using Philo for a few hours now, and I'm already impressed. For someone that doesn't care about sports, only paying $16/month for this variety of channels with support for DVR and on-demand shows is fantastic. Sling TV was previously the cheapest option out there, but trying to match Philo's offerings with it would cost you around $30 to $35/month.
Philo's still in its early days and is going up against a lot of stiff competition, but at least in my eyes, the service is already positioned to do exceedingly well.
See at Philo (opens in new tab)
Joe Maring was a Senior Editor for Android Central between 2017 and 2021. You can reach him on Twitter at @JoeMaring1.
Gots to have your princess cartoons!

Not really interested, but hopefully another small step towards true a la carte TV

This isn't closer to a'la carte. It's a bundle. It's a really great price bundle, but a bundle with no options to add or remove.

Philo has said that more channels will be coming in the future. It's not clear yet how those will be handled, but it's something.

You've got some impressive rabbit ears if they can pick up cable channels.

This in addition to YouTube TV would be the would be the perfect fit for my family. Between both it has all the channels we watch for $55. That would save us about $50 a month. I'm going to have to try out Phil to see how well it works.

This plus Playstation Vue is $51, but not sure I want all the bloat just to get A&E and the o history-History Channel. I can care less about Viacom and I already get the rest of the channels included in my base package.

Thank goodness, there aren't nearly enough streaming services.

More choices are always a good thing. Competition drives innovation and options.

Sports is ALL I care about, and about the ONLY reason I need live tv for. Any other shows and movies I want to see I have a variety of 'free' means to watch them... Nobody watches TV like the old days, unless you're an older person, in which case this rant need not apply, when will cable and TV providers realize this

Same for me. Well, I'd like AMC cut The Walking Dead

Sounds interesting; however there are two problems that would prevent me from switching from Cable to this:
1) no sports- I follow college game.
2) no news networks- we love FoxNews and wouldn't switch without that.

Looks good but without android TV, I can not take it. I wish if there is a way to get BBC World streaming alone. This is the only one I need among all..:)

It has Roku support. I'm in. YouTube TV works great and the cloud DVR is money. Just waiting for Roku support. Note: Chromecast puts it on your TV just as well. I've been a cord cutter for years and finally there's real options to cable. Will add this and still be well under a $100.00 a month for TV experiences.

This is not Live TV, this is Live Cable stations. The 5 broadcasters are not here, which is what most people consider Live TV. I cannot watch any local or national news, and there is not a single news station in the list.

A lot of people can get what you call "Live TV" from an antenna. Why would I want to pay to stream what I can get for a 1 time $40 investment? Or by going to a website?

Finally a streaming service that doesn't force me to pay the ESPN tax.

Without local channels, this is just a no-go! For what I get over on YouTube TV @ $35 (locals/DVR/sports), it's hard to even look at Philo as an option. Considering than you get locals/AMC/BBC America/IFC/Sundance TV/WE/BBC World News/ Sports / FX / Syfy / and Disney with the YouTube TV sub, it's hard to look back!
Android Central Newsletter
Thank you for signing up to Android Central. You will receive a verification email shortly.
There was a problem. Please refresh the page and try again.